This content contains affiliate links. When you buy through these links, we may earn an affiliate commission.
Book Riot has already covered great literary spots in both the Lower and Upper peninsulas of Michigan, but if there's one city worth taking a closer look at, it's Traverse City. Traverse City is located in the northwest of the Lower peninsula, right along Lake Michigan (look at the back of your left hand—the city is located at the tip of your pinky, where it meets your ring finger. Now get used to using your hand as a map, all Michiganders do it). The city is known for its beautiful views of the bay, great outdoorsy attractions, cherries, and wonderful food and wine options. But what most people tend to overlook is that there are some really great bookish attractions as well, and they fit around your food and wine tours perfectly.
The first thing you should know about Traverse City is that they are home to the National Writers Series, which works to bring amazing writers to the city year-round. Past visiting writers include Ann Patchett, Margaret Atwood, Rita Mae Brown, David Sedaris, and Gillian Flynn. No matter what time of the year you plan on visiting, check their NWS event calendar and see if you can catch a one-of-a-kind event!
When you first hit downtown, I recommend stopping by Morsels at 321 E. Front St. It's a great little coffee shop with excellent drink specials and a wide menu of "morsels"—sweet and savory bites. Morsels has a really great view of the water and good seating inside and out, but they also have a really cool wall dedicated to the morsels they've named after the famous people (mostly writers) who have visited Traverse City, along with their autographs! You'll be able to spot autographs from Diana Gabaldon, Sophie Kinsella, Lemony Snicker, Jodi Picoult, and many more!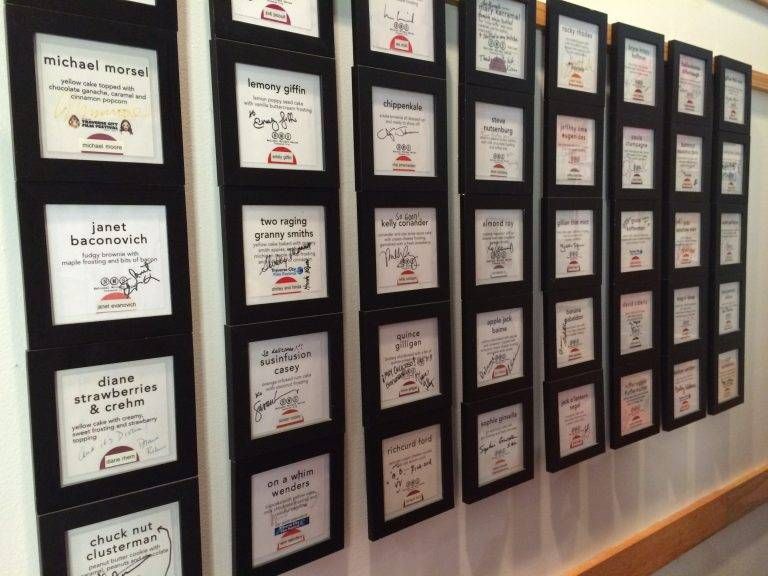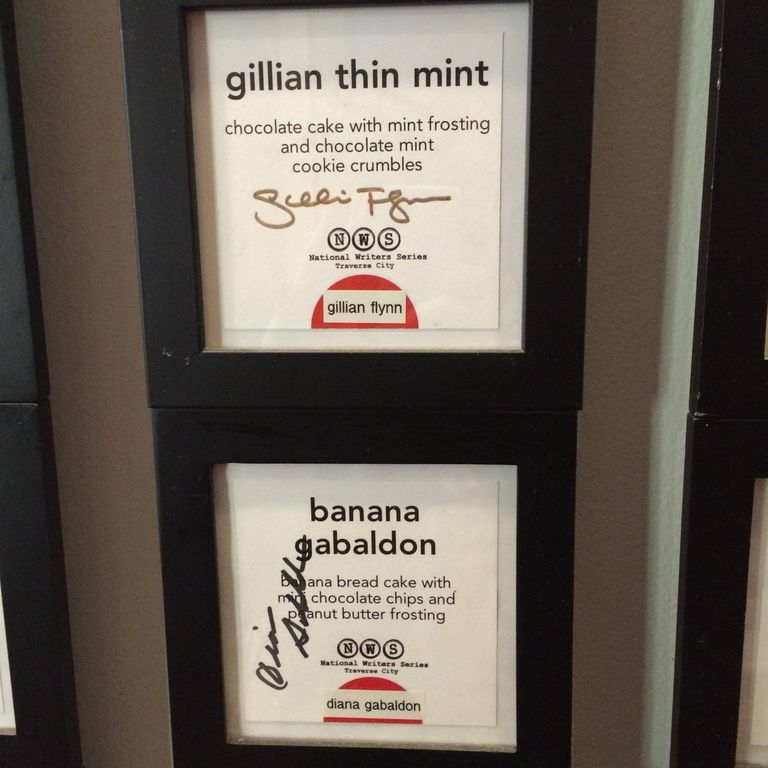 If you take a stroll down Front Street, there are plenty of tempting picturesque shops and restaurants, but most importantly, there is a Little Free Library right in front of the State Theater (233 E. Front St). You cannot miss it because it is a miniature State Theater and it is beyond adorable. Plus, every time I've stopped by, it's always packed with books. Chances are you can also catch a cool book-to-film adaptation at the State Theater, too! Last time I was in town they were showing the Swedish film adaptation of A Man Called Ove.
Now, Traverse City has a few independent bookstores to choose from (or marathon in one day, however you roll). On ront Street, you'll find The Higher Self Bookstore, Horizon Books, and Brilliant Books. If used bookstores are what you're looking for, check out The Bookie Joint and Landmark Bookstore. And a few blocks down from Front Street is Top Comics! It's truly a cornucopia of books (and comics).
If I have to pick a favorite, it's Brilliant Books. They're smaller than Horizon Books but the booksellers are so much more personable, and the store is better organized with a wonderfully curated selection. A large sectional sofa at the center of the store invites you to stayawhile and enjoy the complimentary coffee, and you can usually find a free coloring table nearby. In addition to a truly brilliant selection of great books, the store offers some really great sidelines from Out of Print and lots of great journals, stationery, and bookish gifts.
Brilliant Books is perhaps the most exuberantly indie bookstore I know of, and they pride themselves on being your favorite long-distance bookstore via their cool website (where shipping within the U.S. is always free) and amazing subscription programs. They offer personalized subscription services, which is pretty amazing. I have to be upfront—my friend Sara Grochowski is responsible for curating for the kids/YA personalized subscriptions, and she does an incredible job. She's a longtime blogger and kidlit expert, and I've lost track of how many times I've recommended gifting her subscription service to kids. All of these people-oriented details make Brilliant Books a must-visit indie if you happen to be in Traverse City.
What are your favorite destinations in Traverse City?