Toronto is one of my favorite cities, and part of that is because it's a city packed full of bookish things to do, places to go, and sites to see. Let's take a tour.
The Stores
There are so many bookstores in the city that it would require days to see them all and spend any time within them. If there's an interest you have, then there's a bookstore to fit your needs.
Do you remember the "Joy of Books" video of books coming alive in a book store? That was the work of Type Books, an indie bookstore with two stores in the city. This is a general interest store, featuring art books to kids books and more.
If you're a fan of science fiction or fantasy, Bakka-Phoenix Books (84 Harbord St) is a must stop. The "Bakka" part of the store's name came from Frank Herbert's Dune, and it's Canada's oldest SF&F bookstore, boasting former booksellers who have gone on to become well-known writers themselves, including Cory Doctorow and Robert J. Sawyer. The store features two levels of books, holds regular book events, and the staff knows their stuff.
Want a bookstore dedicated to all things children's literature, from picture books to YA titles? Mabel's Fables has you covered. Along with a massive selection of books, Mabel's Fables offers a ton of bookish events, from story times to book signings to foreign language classes for kids.
For readers who want books on New Age, mysticism, meditation, the occult, or Eastern philosophy, Seekers Books is a must-see. This walk-down store is packed to the brim with hard-to-find titles, as well as more contemporary books. The back of the store also features an impressive selection of children's and young adult books, many from long-run series that are hard to find. There is a great laid-back vibe in the store.
Sometimes what you want is a store that fills every bit of space with used books. If you're in the mood for hours of browsing old and often out-of-print books, like the smell of old books, and the comfort of stacks of books from floor to ceiling, take some time to visit both Ten Editions and Willow Books. Ten Editions even features rolling ladders to help you reach those high shelves.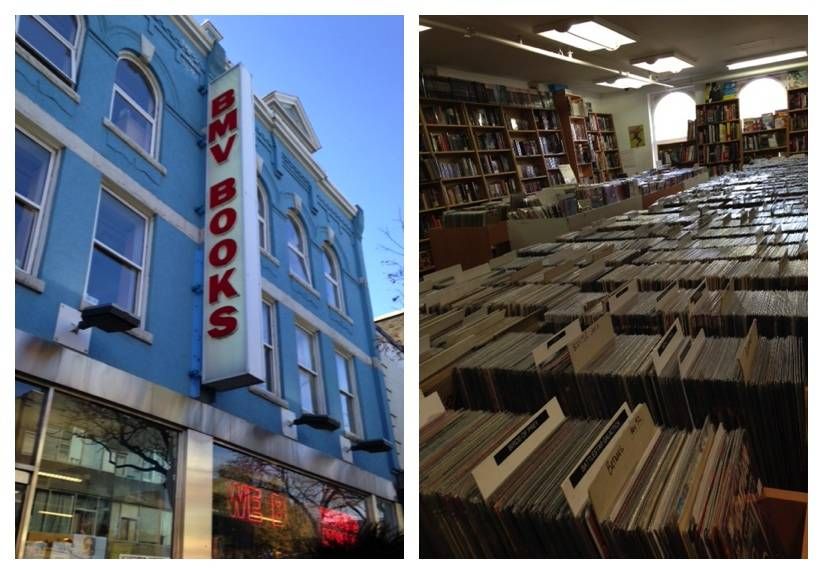 If you're a fan of used books but want the feel of a more modern bookstore, BMV Books will suit you well. BMV Books on Bloor also has an incredible comics selection on its top floor.
Speaking of comics, The Beguiling is your one-stop shop for both new and used comic arts. The Beguiling boasts the country's largest selection of alternative, underground, and avant-guard graphic storytelling. Like most of the other specialty stores, the store often hosts book events, signings, and more.
Finally — though certainly not the final bookstore in Toronto — while many may bristle at suggesting a mega chain store, the Indigo inside the Eaton Centre really is a wonder. The massive store offers an impressive selection of both the bestselling titles, as well as harder-to-find, smaller titles. For children's literature enthusiasts especially or those who don't get to venture much into bigger bookstores (or live in a bookstore desert), it's impressive. Maybe more impressive than the selection itself is that it's the kind of store where people are sitting and reading everywhere. It's always busy and packed.
The Sites
Now that you've got your bookstore fix, we're going to traverse the literary sites scattered throughout the city.
First up: two locations of the Toronto Public Library (TPL). The Toronto Reference Library is home to one of the world's largest collections dedicated to Sir Arthur Conan Doyle's life and work. The special collections feature many editions of Doyle's famous Sherlock Holmes stories, as well as his other work, and the room itself is 1893-styled. The photo to the left is what it looks like (via the link above).
Those who love children's literature can do no better than making a visit to the Lillian H. Smith branch of TPL and heading upstairs to the exhibits. The Lillian H. Smith Collection is dedicated to children's lit from 1911 through today and features early and first editions of many well-known titles, as well as book art from children's literature luminaries like Maurice Sendak, Marcia Brown, and more. The collection is for research purposes, but visitors can also check out the rotating exhibits from the collection. At the time of this post, the exhibit features war in books for young readers. The Lillian H. Smith branch of TPL also features a research collection and exhibits dedicated to science fiction, speculative fiction, and fantasy, The Merril Collection. There's a large collection of comics, as well as regular events and exhibits.
Literary landmarks pop up throughout the city. There's Gwendolyn Macewen Park, dedicated to the novelist and poet, as well as Robertson Davies Park, another Canadian novelist. For those who adventure out to the Toronto islands, there's the Franklin Children's Garden, from the well-known children's series about Franklin the turtle. Also dotting the Toronto landscape are a number of Project Bookmark sites — these are places where characters or narrators stood within a work of fiction or poetry where visitors can actually go and "relive" the story. You can go to famous spots from the works of Anne Michaels's Fugitive Pieces, poet Ken Babstock's Airstream Land Yacht, and Michael Ondaatje's In The Skin of a Lion.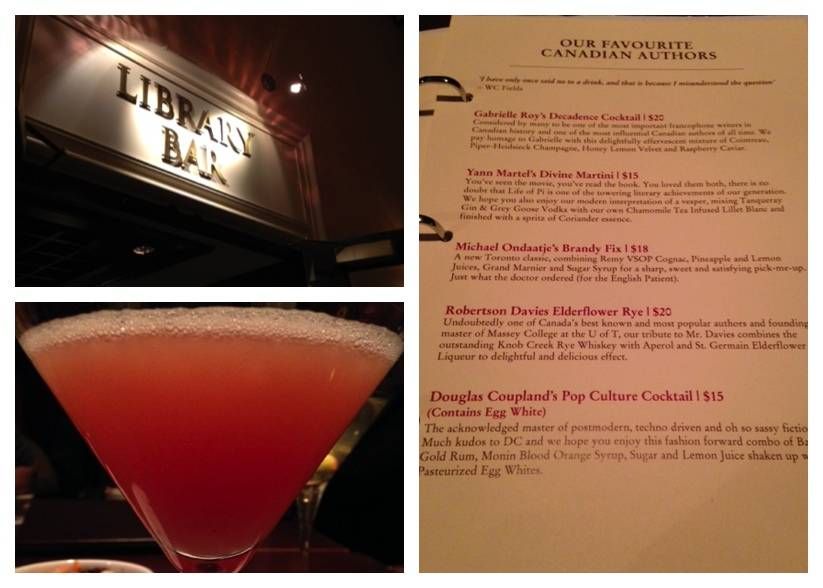 By now, it's time to settle in with a good drink. There's no better place to do so that The Library Bar, which features an array of drinks named after Canadian literary legends. While you're sipping your Margaret Atwood Margarita or Douglas Coupland Pop Culture Cocktail, you'll be sitting in a lounge that feels like an old private library.
And when you have finished your drink and are ready to retire for the evening, book a stay in the Hemingway Room, where it's rumored the famous American writer began penning A Farewell to Arms.
The Events
It's not just the bookstores, the incredible library collections, or the variety of literary attractions that make Toronto a great bookish destination. The city is home to a number of excellent events for those who are passionate about the written — or spoken! — word.
One of the most well-known literary festivals in Toronto is The Word On The Street. This free outdoor festival celebrates literacy and does so through promoting and championing Canadian reading and writing. Next year's event will be at the Harbourfront Centre on September 27th.
This was the inaugural year for INSPIRE: Toronto International Book Festival, a three-day long event featuring workshops, author signings, speakers, and books geared toward consumers. Unlike Book Expo America, INSPIRE is meant to be for general readers, rather than industry professionals. Though next year's event details haven't been released yet, INSPIRE was held in mid-November this year.
Want to help support the Toronto Public Library? Then you'll want to know about and take part in the Book Lover's Ball, an annual black-tie event through the Toronto Public Library Foundation. The 10th anniversary of the Ball is this February, and guests will be able to dine and mingle literary-style in the Toronto Reference Library.
In late October and early November, the International Festival of Authors (IFOA) offers up 11 days of readings, events, literary discussions, public signings, and more. IFOA is more than a single event; it's a charitable organization dedicated to bringing readers and authors together. It's through their site that readers can discover literary events of interest to them, too.
If you're a fan of comics, then the Toronto Comic Arts Festival is for you. TCAF is a week-long event celebrating comics and comic arts, which includes a two-day exhibition and vendor fair with comics creators from around the world. Next year's TCAF will be in May, with the exhibitions May 9 and 10.
This only scratches the surface of stores, sites, and events for book lovers. There is no doubt that Toronto is a literary destination for every type of reader.
Save