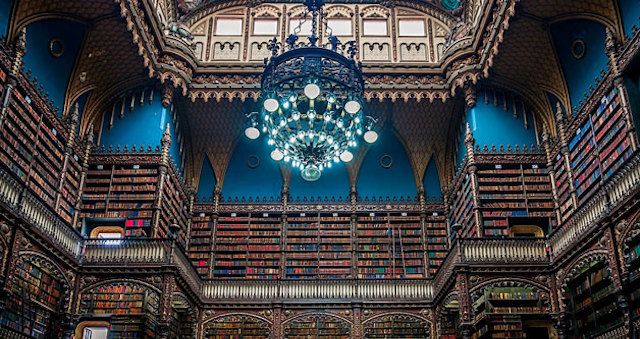 Rio de Janeiro is the kind of place that you can only think of like a dream. With a slow guitar playing Bossa Nova at the same time that the sun sets behind the waves painting the green tropical mountains red. Rio is a city that definitely doesn't lack beauty, and many writers, poets, and musicians can back me up. Having been the capital of the Brazilian empire and the republic up until the late 1950s, Rio de Janeiro is full of history, more importantly, bookish history. So get your sunscreen, bathing suit, and reading glasses, because this city has much more to offer than just looks, drinks, and parties.
As writer and 15 year Rio resident Elizabeth Bishop put it, "Mexico City and Miami combined is about the closest I can come to it, and men in bathing trunks kicking footballs all over the place. They begin on the beach at 7 every morning—and keep it up apparently at their places of business all over town, all day long. It is enervating, completely relaxed (in spite of the terrific coffee), corrupt."
Sit back on your lounge chair with a tasty cocktail or a cup of coffee (or cafézinho if you want to blend in with the locals) and let me show you the best literary/bookish sites in Rio de Janeiro.
This luscious library was first created by a group of Portuguese immigrants in 1837. It was built to emulate the format of salons called Reading Cabinets, popularized in France and Portuguese private libraries that were open to select members. The Cabinet would function both as a meeting place for intellectuals and a private library in which one could pay a fee to rent books. However, it wasn't long after the Monarchy in Brazil had fallen that the Cabinet got its royal seal. In 1906 that the Portuguese King Don Carlos I, a relative of the former Brazilian Emperor, gave the Cabinet a royal seal and crest, making it part of the Portuguese royal house. To this day, the Cabinet holds several books owned by both the Brazilian and Portuguese royal houses, including several books and paintings owned by the monarchs.
Today the Cabinet functions as a private library that is subsidized by the government. Unfortunately, you can't touch or take out any of the books. The library system itself is only open to a few researchers and paying members who have been pre-approved by the current associates' assembly. Even then, you can only take home a few books, as most of them are too valuable and old to leave the librarian's supervision. Nonetheless, the Cabinet is open to visitors from Monday–Friday from 9 am to 6 pm. So go get yourself some bookshelf inspiration and bask in the beauty that this library holds.
Statues on the Beach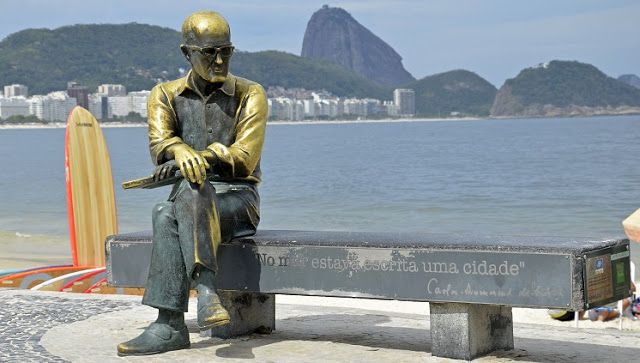 Along Rio's main shoreline in the South Zone, you will find several writers and famous musicians just casually sitting and waiting for you to take a picture. These are famous brass and metal statues of famous Rio residents such as writer Clarice Lispector and poet Carlos Drummond de Andrade. They not only have defined what it means to live in this beautiful city through their writing, but also have literally become part of the city themselves.
This chain of independent bookstores in Rio started in 1975 as a 'resistance bookshop' dedicated to furthering underground books and censored writers. Outspoken against the Military Dictatorship that ruled Brazil at the time, Livraria da Travessa has now expanded as far as Europe. Still, its heart will always belong to Rio. Although the bookshop has several locations spread across the city, I recommend you check out the one in Ipanema (yes, where that girl from the only Brazilian song everyone knows is from). There you can find a fantastic collection of titles, friendly booksellers, an impressive vinyl collection, and the excellent Bazaar Café on the second floor.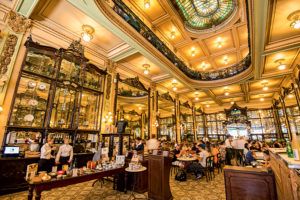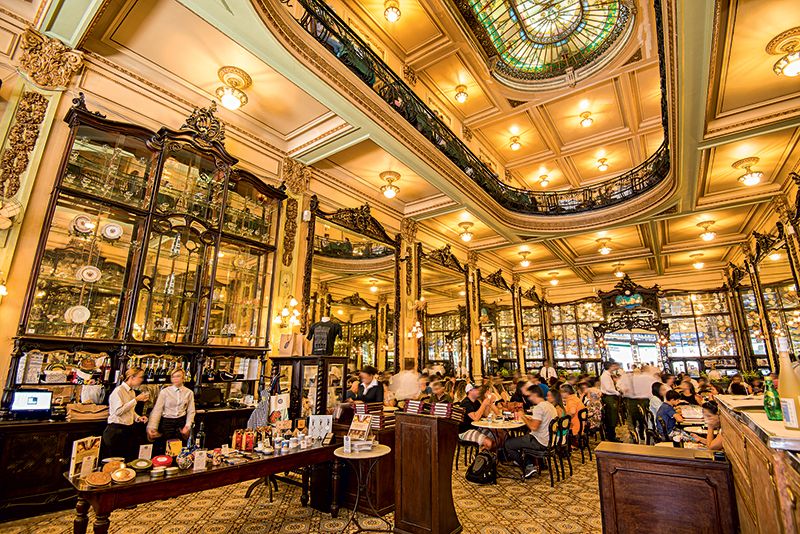 First founded in 1894, this jaw-dropping pastry shop and café is one of the most traditional and famous establishments in the city. With over a century of history, Colombo has hosted several prominent figures, from presidents, writers, and foreign royals. It is said that Colombo was also a meeting point for many meetups organized by writers and artists, from the royalists to the modernists. However, don't be daunted by the lines Colombo generally has, full of locals and tourists. It is worth the wait to sit and drink an amazing cup of coffee and taste all the Brazilian pastries you want. Just let the beautiful floor-to-ceiling mirrors and porcelain sets transport you to the Brazilian Belle Époque, while you read a book and sip on a cafézinho.
This cozy bookstore at the heart of Leblon is a must-visit in the Rio literary scene, always hosting author meetups and book release parties. This independent bookstore is a place where you might actually get a glimpse at many Brazilian artists and writers lounging in the café on the back of the store with newly bought books. Make sure to order whatever kind of cake they have in the daily menu—they are all as good as getting lost in the stacks.
The Cultural Center of Brazil's Bank is a beautiful art and history museum dedicated to both young artists and household names. Many of the temporary exhibitions are dedicated to Brazilian writers and their influence on the countries culture. Besides that, there are always modern art exhibits, as well as the permanent collection dedicated to the Brazil's monetary history.
Bar Garota de Ipanema
The Girl from Ipanema Bar does not have its name over anything, and the story has it that Tom Jobim himself wrote and composed the entire song there. If that's true or not, it has earned the bar its undying fame. One thing is sure, Jobim as well as other Bossa Nova icons such as poet Vinicius de Morais were all regulars in that bar in the 1950s and 1960s, when they wrote some of the most beautiful songs that defined Brazilian music internationally. Even if the legend might not be entirely accurate, I still recommend coming in for a drink or a bite to eat. Just enjoy the overall Bossa Nova feel the entire place has.