Featured
Literary Tourism: Richmond, Virginia
Richmond: come for the Southern comfort food and lovely river views and stately old Civil War monuments, stay for the amazing bookstores and literary sights. Or, if you're me, come for all of those reasons and stay permanently for all of those reasons, whatever. Let's get tourin':
Edgar Allan Poe Museum
Lots of cities lay claim to Poe- he was born in Boston and lived up and down the East coast, usually following money- but he grew up here with his foster family and would return over and over throughout his life. The first stop for any bookish person scootin' around Richmond should be the Edgar Allan Poe Museum. The museum is housed in the oldest building still standing in Richmond, "probably" built in 1737, according to the plaque outside the door.
Inside, you'll find an impressive array of Poe paraphernalia, including his engraved walking stick and items of his clothing, a lock of his hair, hand-written letters from Poe, several first editions of his works, portraits, busts, statues, and a lovely outdoor garden full of Poe-ish details (like broken glass glued to the top of the walls in homage to his "William Wilson", and bricks salvaged from the office of the Southern Literary Messenger, where Poe worked). The whole museum feels very old and a bit eerie but also lovely and therefore very appropriate for its subject matter.
Hollywood Cemetery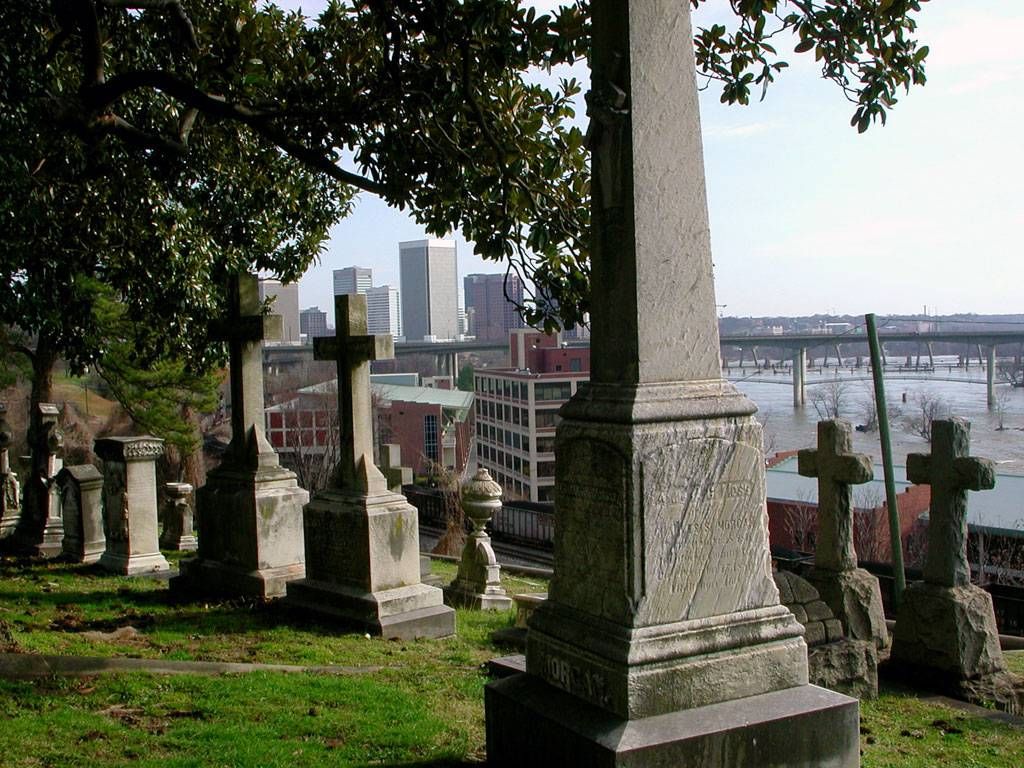 Hollywood Cemetery was opened in 1849 on some damn-fine river overlooks and currently houses two Presidents (Monroe and John Tyler), Jefferson Davis (the President of the Confederacy) and Varina Davis, his second wife and a columnist and author in her own right, and 25 Confederate Generals- but those are topics for a history tour. The cemetery is the resting place of William Burke, Poe's school teacher, and Thomas Ritchie, infamous pro-slavery editor of The Richmond Inquirer, who went into hiding after killing the abolitionist editor of the rival paper The Richmond Whig in what was supposed to be a friendly-fire-only duel.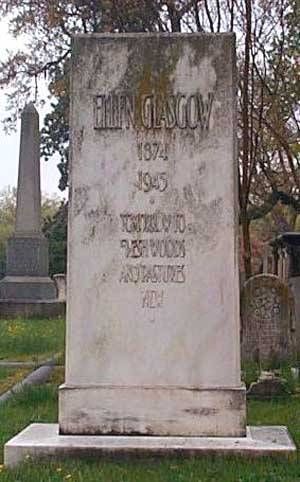 The graves of other notable literary figures include:
-The monument of Ellen Glasgow, a native and life-long Richmonder and novelist who won the Pulitzer in 1942 for her novel In This Our Life.
-The grave of early 20th century fantasy novelist James Branch Cabell, for whom Virginia Commonwealth University's main campus library, the James Branch Cabell Library, a place I spent many a late night, is named. The library is home to Cabell's papers, including letters from H.L. Mencken, Sinclair Lewis, and Theodore Dreiser.
-The grave of Virginius (WHAT AN AWESOME NAME) Dabney, winner of the 1948 Pulitzer for editorial writing for his opposition of the poll tax and Richmond's segregation system. He was also a direct descendant of Thomas Jefferson, and wrote a book arguing against the idea that Jefferson was in a romantic relationship with Sally Hemings. Mmm-hmm.
There are of course more, but I'm running out of room, get thee to Hollywood Cemetery. If you're not into walking miles and miles, take a Segway tour like I did with fellow Rioters Rebecca and Kit!
Bookstores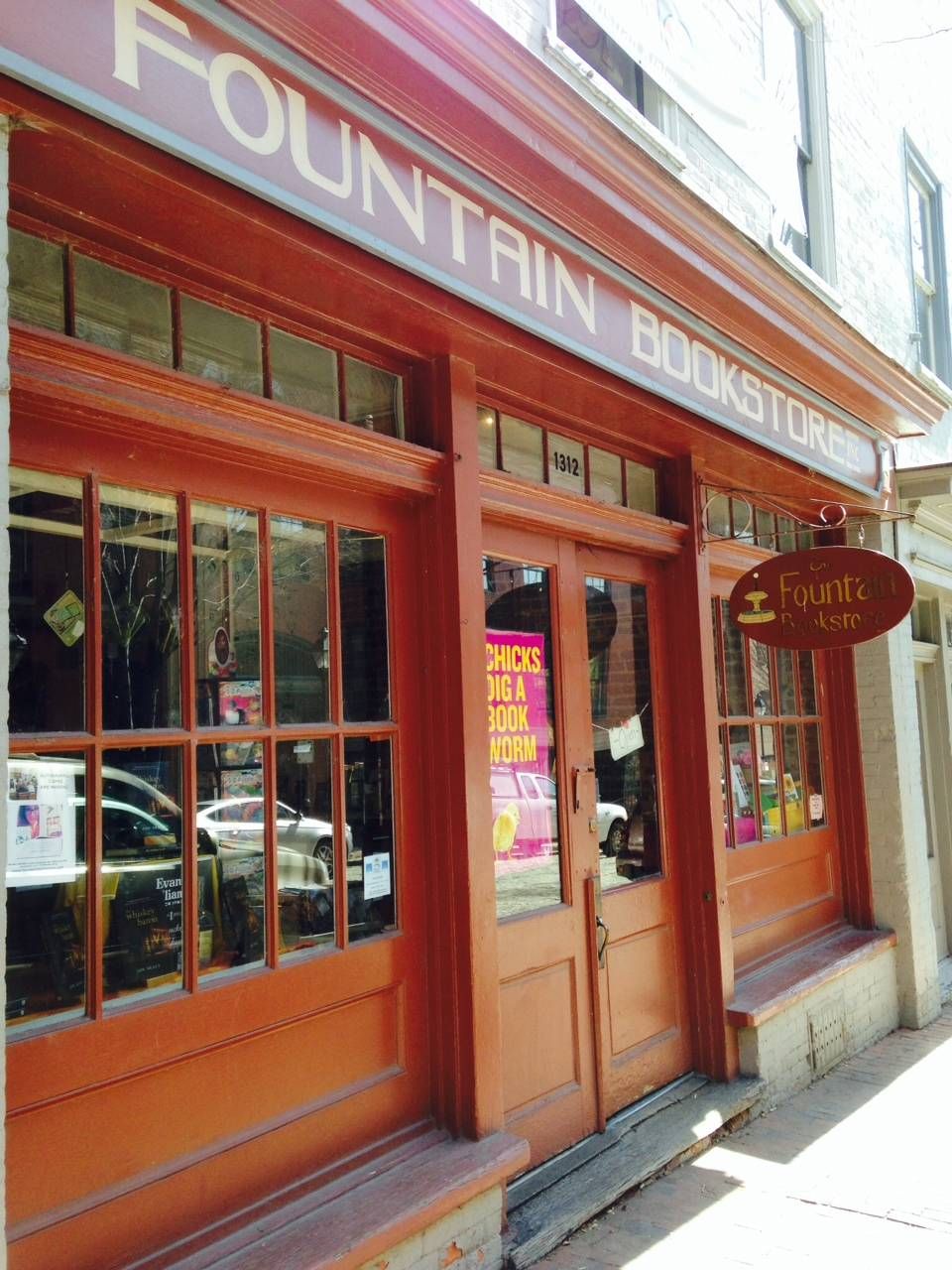 Fountain Bookstore. The bookstore where I spent my one and only year as a bookseller, Fountain has a big place in my heart. It's just a hop, skip, and jump up the road from the Poe Museum, and is so little and cute that you'll probably say something about how it looks like the store from You've Got Mail. Which it does. See:
(The store's collection of steampunk erotica will quickly put a stop to those comparisons.) This is a very carefully and lovingly curated store of new books and fascinating backlist and it has a KICK ASS Virginia and Richmond special-interest section, a quirky and exciting children's section, and a healthy schedule of author events, so if you're in town be sure to check their calendar. The staff has a bottomless knowledge of books of both the wacky/weird and the best-seller variety. And when you're done here, head across the street to Urban Farmhouse for some of the best coffee you'll ever have.
Libbie Books. I MEAN JUST LOOK AT IT. Libbie is a used and rare books shop that is basically the Platonic ideal of an excellent used book store. It is clean, curated, and very well-organized, yet still manages to have that oh-so-essential jumbled and serendipitous feeling that a used store should have. And bonus: the fancy-pants editions are separated from the paperbacks, so if you're hunting for a Very Nice Copy of something, you know just where to look. This is where you go for your rom-com meet cute AND for a really attractive copy of Moby-Dick.
Black Swan Books. A rare, used, and out-of-print bookshop that makes you go OH MY LORD I WANTZ THAT MY PRECIOUS with every tome you see. They have a huge selection of rare books about the Civil War, and an impressive general fiction section (from whence cometh my fancy copies of Virginia Woolf's Between The Acts and Hugo's Notre-Dame de Paris, both of which were gifts because hellllooo dollar signs). And really, this is the perfect place to buy a gift edition for a super-fan of a specific author of the classics, especially if that super-fan is you. Of course, they aren't lacking in Poe books, either.
Chop Suey Books. Looking for an excellent Bookstore Cat Experience? Chop Suey Books will scratch that itch with their very dignified resident kitteh, Wonton. Chop Suey is a hipper, more casual, full-of-college-students answer to Libbie Books' Upper Middle Class Fanciness- different flavor, both excellent used book experiences. Unlike Libbie, Chop Suey does have a small new book section, along with a gallery space upstairs for displaying the work of local artists. They also have regular author events, so check the calendar when you're in town.
Annual Events
–Ravencon, Richmond's annual sci-fi/fantasy convention, is April 25-27 this year! The author Guest Of Honor this year is two-time Hugo award winner Elizabeth Bear.
–Annual Antiquarian Book Fair (May 30 and 31 this year). Over 40 dealers of rare books come together and nerd out, what more do you want, I mean really.
–James River Writers Conference. James River Writers is a community-building non-profit for writers/literary types in Central Virginia, and they host an annual conference here in RVA every year that brings together agents, notable authors (not just Virginians), editors, bloggers, etc. to talk about All Things Books. JRW also hosts the monthly Writing Show, a panel that takes up various topics in writing/publishing.
–Virginia Literary Awards. An annual award ceremony hosted by the Library of Virginia, with past winners such as Tom Robbins, John Grisham, Adriana Trigiani, and Tom Wolfe. The finalists are announced in August and the winners are announced during the Virginia Literary Festival in the fall (the festival is a week-long book celebration, you should come, see you there, etc.).
Oh, and Tom Wolfe is from here.
Alright, Richmonders, drop your favorite bookish sites to see in the comments! I'm sure I missed a metric ton.
Save