Featured
Literary Tourism: Raleigh – Chapel Hill – Durham
This is a guest post from Jaime Herndon, who is currently working on her thesis at Columbia University, where she will earn her MFA in creative nonfiction. She also works as a freelance writer and editor. In a former life, she did psychosocial oncology research. She misses it only a little bit.
_________________________
North Carolina Senator Jesse Helms once famously said, "Why do we need a zoo when we could just put up a fence around Chapel Hill?" While that may be (partly) true during the school year – hey, I was a graduate student there, I know how crazy it can get – the town is also part of the infamous Research Triangle, consisting of Raleigh, Chapel Hill, and Durham – which boasts the most PhDs per capita in the United States. So there's a lot of reading going on in the Southern part of Heaven, as North Carolinians call home. With Duke University and the University of North Carolina at Chapel Hill separated by Tobacco Road, and North Carolina State University a short drive away, there are plenty of bookish and literary attractions in Chapel Hill and its surroundings.
Not to mention its inhabitants. Daniel Wallace, author of Big Fish, is on the English faculty at UNC, as are Randall Kenan, Minrose Gwin, and Bland Simpson. North Carolina State boasts Dorianne Laux, Wilton Barnhardt, and Jill McCorkle on their faculty. Haven Kimmel, Wells Tower, Lee Smith, YA author Sarah Dessen, Frances Mayes (Under the Tuscan Sun), and Kaye Gibbons have all lived or live here presently. I could go on and on about North Carolina authors, but these are just the local ones. UNC Press is located here, as is Algonquin Press, Eno Publishers is in nearby Hillsborough, and The Sun literary magazine has its office in Chapel Hill.
In April – April 3-6, 2014, to be exact, is the North Carolina Literary Festival in Raleigh, a 40 minute drive from Chapel Hill. Authors include Jami Attenberg, Megan Mayhew Bergman, Wiley Cash, Allan Gurganus, Richard Ford, and so many more. Where else can you create your own graphic novel, play with Legos, and enjoy the Carolina springtime? And if the state fair food is any indication, I'm willing to bet there'll be fried Twinkies and fried Oreos, along with frosty cold bottles of Sun Drop and Cheerwine (both soda, non alcoholic).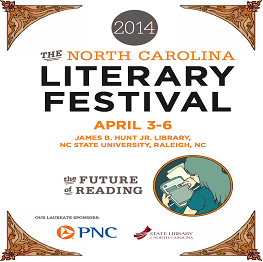 In Chapel Hill proper, there is a crafty independent store owned by Jamie Fiocco called Flyleaf Books. Located next to a neighborhood favorite coffee shop, Foster's Market, patrons often bring in coffee while browsing the large array of new and used books available. There are children's books, adult books, graphic novels, and a huge supply of used books, where you can trade in your old books for store credit – which is great for us bibliophiles. Poetry open mics, frequent author readings, children's storytimes, and informative, snappy shelftalkers on many books make it easy to find a good book here. They also have homemade cards, accessories, and a nice YA section. Staff is always willing to help, are well-read, and knows their inventory.
Approximately ten miles outside Chapel Hill, there is a town called Pittsboro. Driving around, you may see bumper stickers with "oreo cows" on them, with the words "fearrington.com" underneath. Fearrington Village is in Pittsboro, and it is a beautiful village unto itself that is a neighborhood, Relais & Chateau inn, spa, restaurant, beer garden, and shops, including a bookstore. And of course, the infamous oreo cows, better known as Belties. McIntyre's Books, owned by Keebe Fitch, has been open since 1989, and has hosted authors such as Jeffrey Deaver, Paula Deen, Trisha Yearwood, Richard Russo, Clyde Edgerton, and Jimmy Carter. There is a huge mystery section, author events every weekend, book clubs, shelf talkers, and an inviting living room with couches and a fireplace to curl up with a book. Not to mention a whimsical children's and YA room filled to the brim with crafts and books and fun literary ideas for younger readers. They also sell a plethora of cookbooks, literary and popular fiction, journals, tote bags, pens, and delicious offbeat chocolates – try their salted caramel bites. (Full disclosure: I used to work here).
Letters Bookshop, a recent opening in Durham from veteran bookseller Land Arnold, specializes in used books, carefully selected new paperbacks, and a children's section with mostly new books. It's a small but homey store and chock-full of heart and they can order almost any book you're looking for.
And, of course, there's the old standbys like the Internationalist Bookshop for your government-overthrowing materials, Chapel Hill Comics for graphic novels and figurines, and the Regulator, in Durham, full of used and new books, and always a wide array of literary journals from which to choose. So while people may disparage anything below the Mason-Dixon line as less than literary, you can tell them they're missing out on a whole bunch of wonderful authors and events, bless their little hearts.
Save