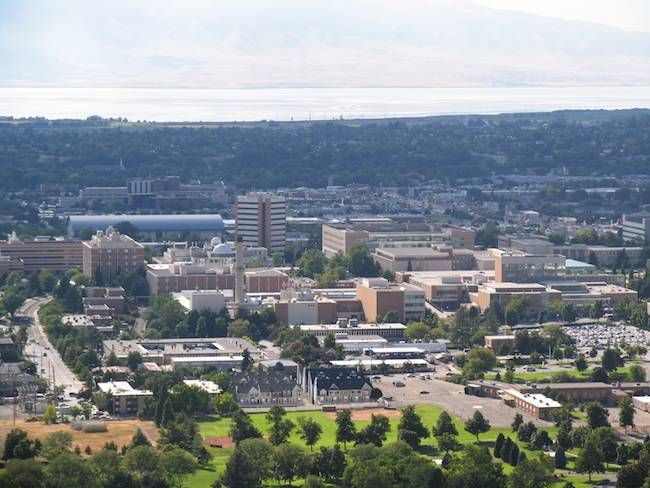 Provo, Utah, is gorgeous. The city has draws beyond the purely aesthetic—Brigham Young University, which consistently ranks among the best schools of the nation, and which turned out literary minds like Brandon Sanderson, Orson Scott Card, and Stephenie Meyer, is its most prominent feature—but, for me, as a tourist tagging along on someone else's journey, the first thing I was struck by was its beauty. To my delight, I found that it also has depth.
Consider the city library on Academy Square, a grand building that boasts over a quarter of a million books. You can just look at its façade for a bit; as libraries go, it's enviably pretty. Inside, you're going to encounter features like the Virginia Sorenson Writer's Alcove, local artwork in the attic and around the building, a lovely reading circle for children, and a great genealogy section. Visit on the right night, and you may stumble onto a book signing or reading; they're among the libraries regular programs.
Of course, if genealogical research is an interest of yours, Utah is the mecca. Latter Day Saints keep amazing records, y'all. The Brigham Young campus has its own labs and libraries that are open to the public, boast skilled research librarians, and keep crazy generous hours—until midnight most nights, with access even on some Sundays. It's a great opportunity for nerdom.
For visitors less interested in straight research, there are also local stops like the Crandall Historical Printing Museum, which calls itself a "living documentary of the role the written and printed word has had on history" and features working printing presses and historical documents. The curator is a kind and knowledgeable gentleman who responds to late night "I was just calling to get your hours from the machine!" calls with grace.
A visit timed in early March may position you to witness the Utah finals in the annual Poetry Out Loud contest, in which teens recite poems they've memorized in hopes of advancing to the national stage. The competitors are pretty impressive at elocution; check out their recitations online. I don't quote Shakespeare this eloquently even in my head.
I'm a sucker for taking something home from the places I visit, though, so for me the highlight of Provo is Pioneer Book. I had to pull a quick in-and-out during my first visit, which was hard. This is the Neverending Story bookstore with a religious twist: antique volumes abound, and you just know you'll find books you cannot put down. A counter made of stacked books welcomes you–just the right-wrong impression to make on a reader with book hoarding tendencies.
I can personally vouch for Pioneer's religion sections, which are ample, diverse, and sometimes fantastically esoteric. Anything you want to know about Mormonism, you'll find here, and you'll probably be able to walk away with a reasonably priced and rare copy of your desired title. I limited myself to Judaica, and a beautiful little volume about Israel from before the state was reestablished—with a fold-out map!—still sits on my bedside table, my Provo prize.
You'll need someplace restful to read after Pioneer Books, I'm presuming. If you're looking for a cafe setting: coffee and gelato or cake (or both—no judgment) at Gloria's Little Italy, on the main drag, would be an ideal next destination. But you can also go to Utah Lake, I guess, or find a spot in one of Provo's parks, if you're still feeling all of that outdoorsy, natural perfection stuff. You're going to get your breath taken away somewhere.
No postcards, please. I'm already a little jealous of the folks who're going to get to stroll these streets—and plunder those bookstore shelves—before I'm able to return.
Save