This content contains affiliate links. When you buy through these links, we may earn an affiliate commission.
In 1620, before landing at what would become Plymouth, Massachusetts, the Mayflower colonizers stopped in Provincetown Harbor, located on the very tip of Cape Cod. There, they signed the Mayflower Compact, laying the "ground rules" for their colony. Two years later, some of the colonists would write Mourt's Relation, an account of their journey from England to Provincetown to Plymouth. This was the first, but definitely not the last, time Provincetown would make a big impact on literary history.
The next major development came in 1898 after Provincetown had been decimated by a violent storm. Desperate for income, many residents were glad when painter Charles Webster Hawthorne decided to place his Cape Cod School of Art there, bringing in his artist friends and lots of business. Since then, Provincetown has been a haven for artists, writers, and activists of all kinds, from Norman Mailer and Eugene O'Neill (whose first play was produced here) to Susan Glaspell and Mary Heaton Vorse.
I would be remiss if I did not also highlight Ptown's relationship with the LGBT+ community. One of America's most gay-friendly cities, Provincetown has been a haven for queer tourists and creatives alike for decades.
For today's edition of Literary Tourism, I'm going to take you through many of the bookish places to see in Provincetown's historic district. If you're a queer book lover, you could hardly find a better place to travel!
Bookish Sites
Writers have certainly left their mark in this historic town, as evidenced by the sites below.
Authors' Homes
As I said, Provincetown has a long history of welcoming writers and other creative types, including Eugene O'Neill and John Dos Passos. You'd think that there would be at least one house preserved as it was when these writers were living there, but that does not seem to be the case. There are only a couple of plaques commemorating their former homes, as well as the theater where O'Neill's first play, "Bound East for Cardiff," was performed.
I never made it far enough down Commercial Street to see the plaques myself, but you can read about them and see pictures here. Also, the Provincetown Museum has several displays dedicated to the place's literary history.
Fine Arts Work Center
Whether you're a photographer, painter, poet, sculptor, writer, or any other kind of artist, you can probably find a summer workshop that fits your needs at the Fine Arts Work Center (FAWC). Once you attend a workshop, you will be eligible to sign up for residencies in the spring and fall, if you need a little quiet time to practice your craft.
According to their website, FAWC was founded in 1968 and is dedicated to "provid[ing] time and space to emerging artists and writers at crucial, early phases of their careers." In accordance with their mission of art, FAWC has several bookish amenities onsite, including a library, a bookstore, and a table of free books in the computer lab.
Provincetown Library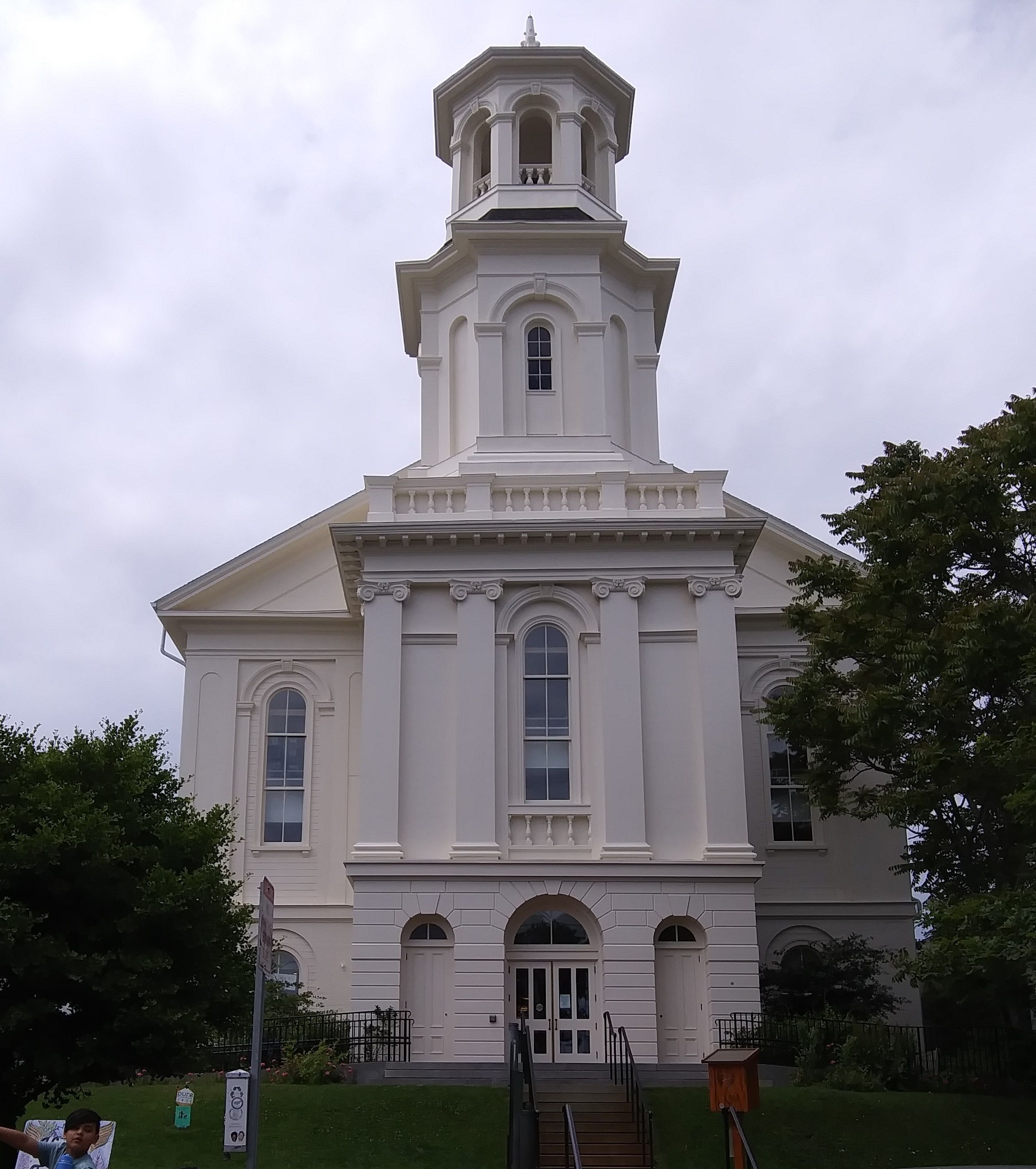 Formerly a church, the Provincetown Library is home to both books and a half-size model of a schooner. If you are lucky, you will be told some of this history by a drag queen standing in front of the library in a pink princess dress and matching umbrella.
One of Ptown's Little Free Libraries lives here as well (check the bottom of the picture above, to the right of the stairs).
Bookstores
Want to pick up a book while in Ptown? Definitely not a problem!
East End Books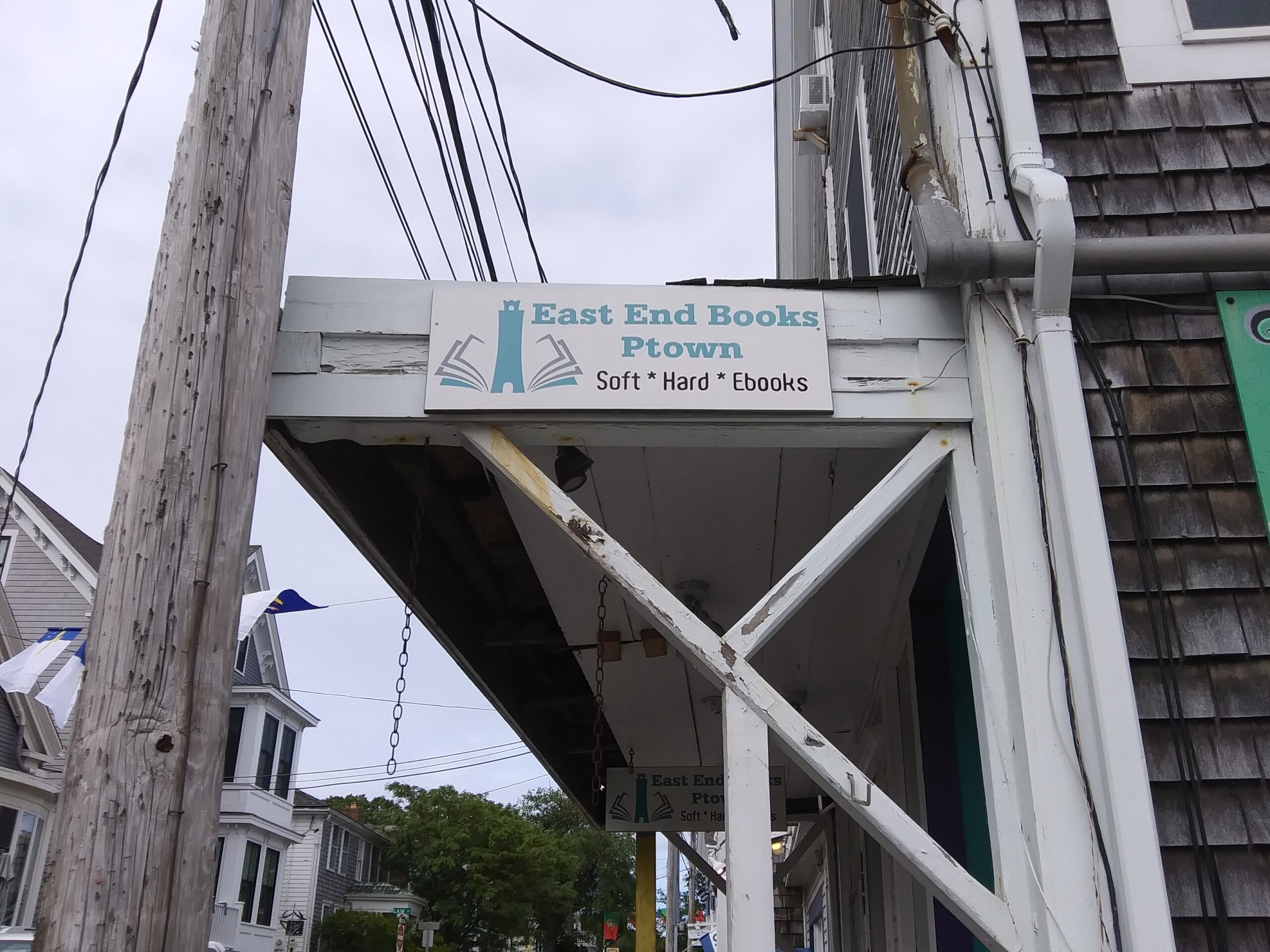 This cute shop also supplies the books for FAWC's on-site bookstore. It has an entire shelf dedicated to books about the Cape.
Provincetown Bookshop
The oldest bookstore in town (founded in 1932), Provincetown Bookshop also has a shelf of books about and/or set in the area. There are a lot, as you may imagine! I also dig the little owl on the shop sign.
Tim's Used Books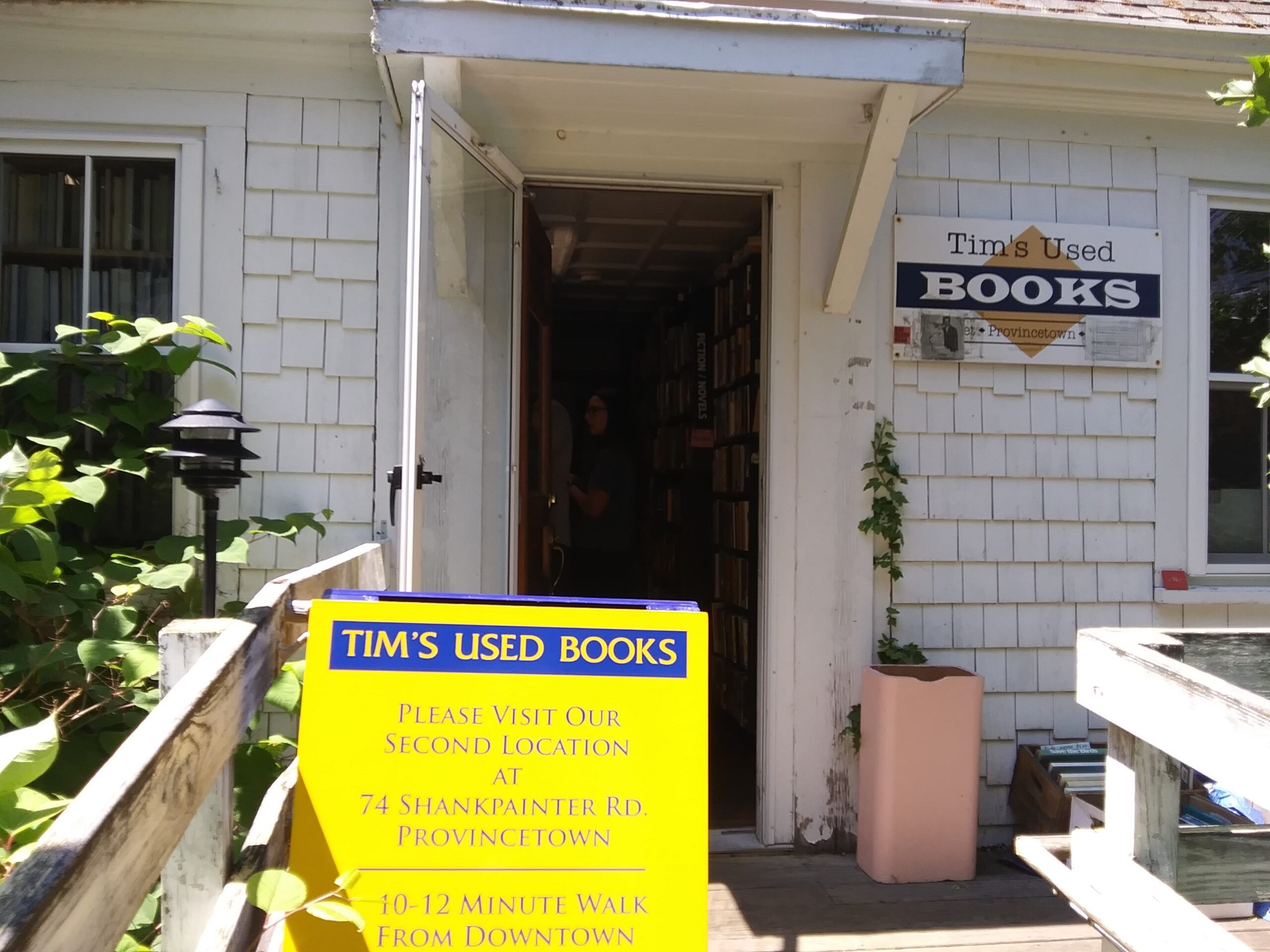 Set far back from Commercial Street; you access Tim's by walking along a shady path that includes a greenery-covered arbor. Inside you'll find a whole houseful of rooms lined with bookshelves (sometimes even the shelves are lined with shelves). Every time you think you've seen it all, you find another book-filled room tucked away with even more hidden treasures for you to discover.
Womencrafts
Described by my guide map as "one of the few feminist bookshops in the country," Womencrafts specializes in books by and about women of all kinds, including queer and disabled women. I especially liked the Post-Its they placed on certain new releases, informing shoppers that, say, this book has a lesbian character, or that one was written by a trans woman.
Books About Provincetown
From nonfiction like Susan Baker's The History of Provincetown to fiction like John Preston's Franny, the Queen of Provincetown, there is certainly no shortage of books out there about this beautiful, active, fun town. Maybe they're not as much fun as roaming Ptown yourself, but they're the next best thing!
---
Check out our Literary Tourism tag for more awesome bookish vacation spots!