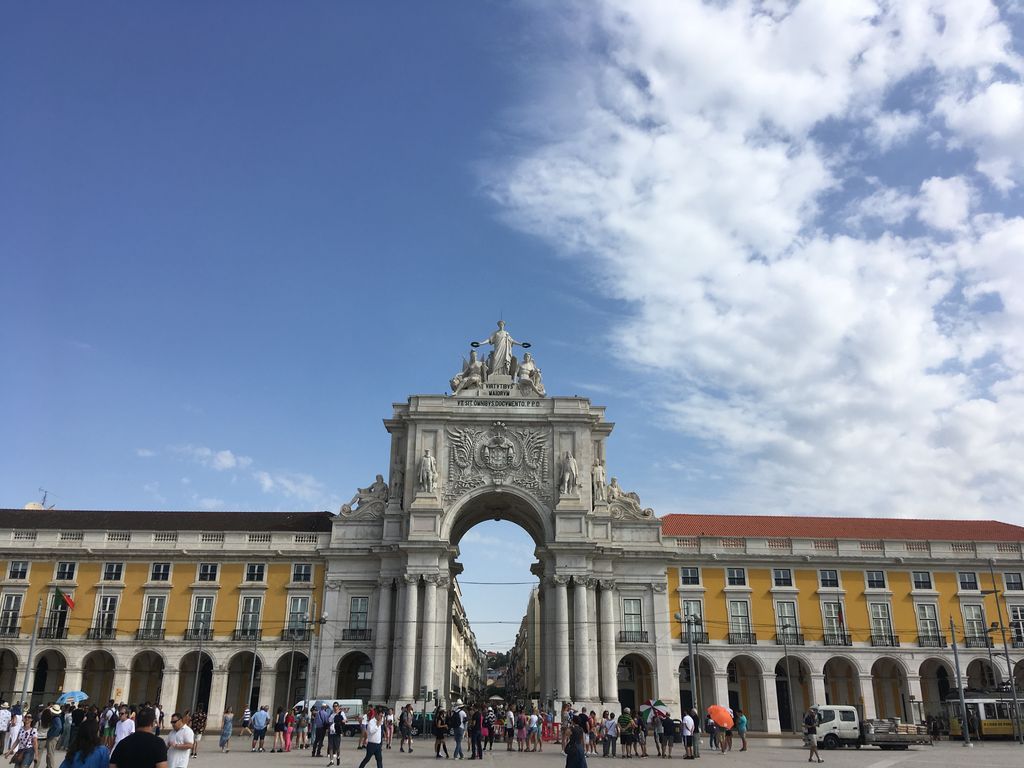 I think it's only fair to start off by saying that Lisbon has completely and totally captured my heart. What follows is the loving epistle of a totally biased woman who is determined to get you to love the city as much as I do. Furthermore, Porto is the enchantingly sweet cherry on top of the sundae of goodness that is Portugal. You'll go to both cities for some combination of food, surfing, medieval castles, hilly but charming streets, etc., and you'll leave wondering why you didn't stay longer, linger a little bit more in that quirky bookshop on that one hill, have your own writing inspiration moment in Livraria Lello, or gobble up a book in that stunning park. Check out the list below and leave Lisbon and Porto with no literary regrets:
Lisbon
I stumbled into this adorable bookstore and gallery one day on the way home to my apartment in the Santos neighborhood and it is my favorite. Tinto celebrates all things literary and visual: the beautifully appointed store is full of art and architecture books, children's picture books, and graphic novels; the shelves are overflowing with design and attended by a friendly staff. Tinto also offers drawing workshops for children and adults and a patio all the way in the back with mint green tables on which they serve your favorites and mine: cake and coffee. It's a perfect place to spend an afternoon writing or reading. Do yourself a favor and pay Tinto a visit when you're in Lisbon.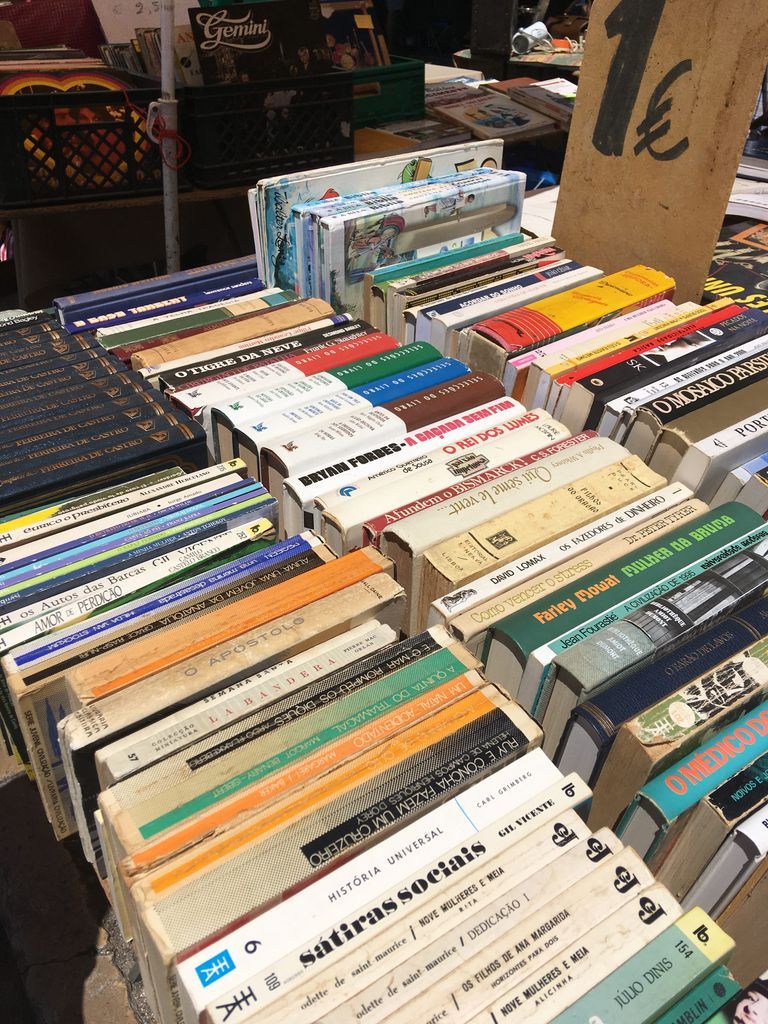 Feira da Ladra
How does one describe the Feira da Ladra flea market? Let's start with the massive hill you have to climb to get to it. When you finally arrive, more than a little out of breath, you will find yourself in the midst of a rambling assortment of stalls, blankets, and actual stores. It's a bazaar that is both incredibly fun and super strange. Book bargains and bargain bins abound. You will find countless 1€ and 2€ deals on rare and antique books. For the bargain hunters among us, it's the perfect Saturday morning adventure.
Advertising an array of music, books, and stationary, Distopia delivers all that and more in the form of a fantastic independent Portuguese bookstore. There you'll find a carefully curated collection of current and vintage vinyl records, CDs (buy one for nostalgia's sake), artwork by local artists, as well as new and gently used books. Stop by and riffle through their daily box of bargain books (also known as my favorite thing).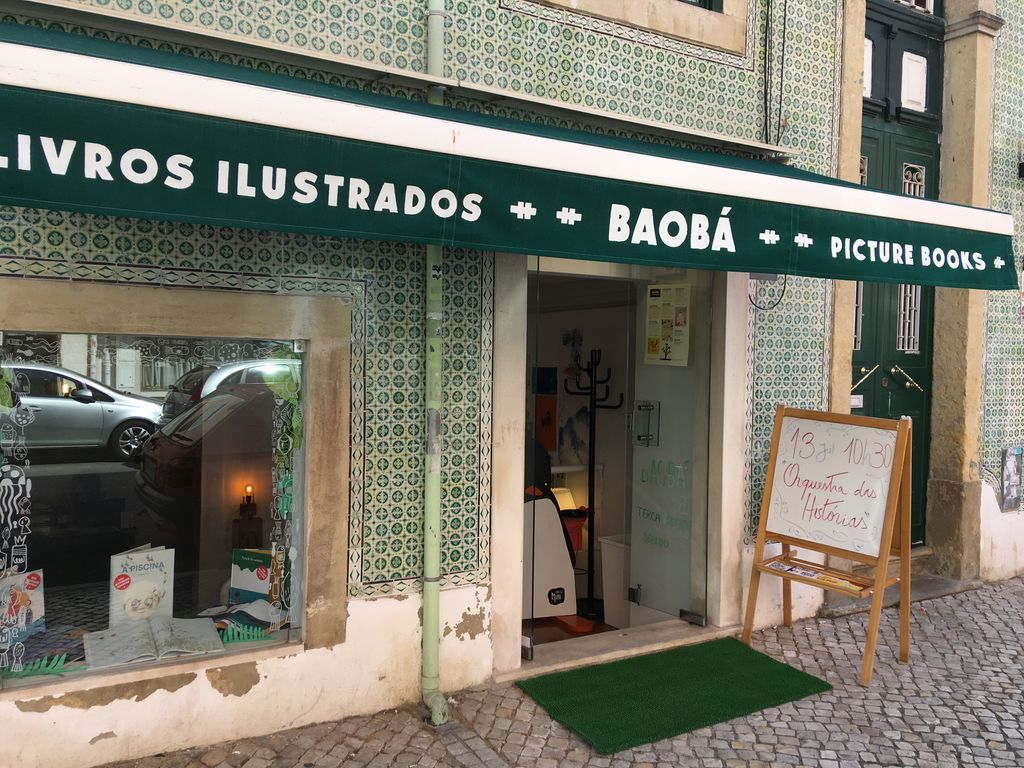 If I had to sum up Baobá livraria in one word it would have to be cute. Located in the heart of one of Lisbon's most adorable neighborhoods, Campo de Ourique, Baobá is the perfect children's bookstore. Its walls are adorned with bright colors and murals and there are several pint-sized reading nooks for tiny people to curl up with their favorite books. Baobá carries books in Portuguese and English and has a constant schedule of story time and fun events for the little ones.
Tired of sending boring postcards home, purchased from touristy shops in your favorite cities? Consider making your own beautiful postcards, cards, totes, and other handmade gifts inspired by the gorgeous tiles and artwork surrounding you in Lisbon. Tom and Jilly have created a truly magical space in the heart of the city's old town where you can learn a little bit about the history of the city's tiles and interpret that design aesthetic in your own style through the art of lino printing. Shoot them an email or follow them on social media for updates on their weekly "Drink and Paint" nights and other classes.
Livraria Almedina
Not only is Almedina a publishing house focused singularly on printing great Portuguese books, it also happens to have a ton of lovely bookstores (or livrarias) all around Lisbon, my favorite of which is right next to a yummy sushi joint. They don't carry much in English, but they do have some fun shops and author talks (often translated) throughout the year. If you get a second, peruse the shelves at the Rato location and afterwards go grab yourself some of the best sushi in the city at Yakuza First Floor.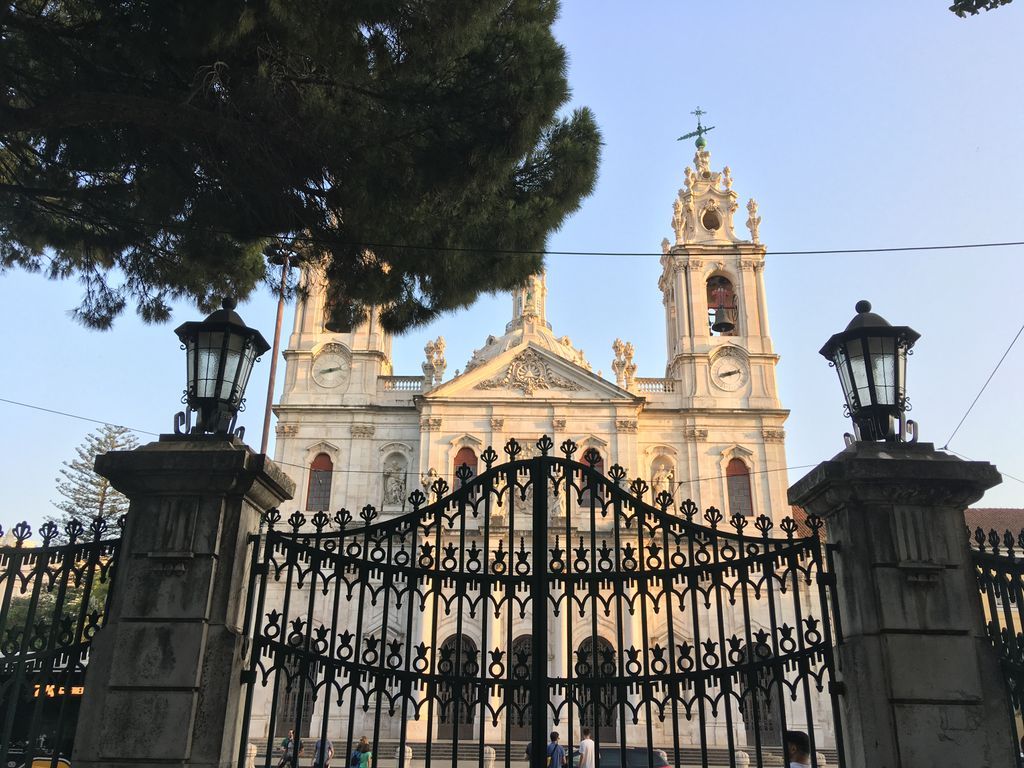 Jardim da Estrela
Now that you've bought all of those gorgeous books, you will need somewhere beautiful to read them. Grab a blanket and head over to Jardim da Estrela; a quick ride on the 28 trolley will take you directly there. Jardim da Estrela boasts a cute gelato truck in front and live music on Sunday nights in the summer. It's got just the right assortment of hipster locals, families, pets, and tourists. Stretch out under the trees and enjoy a lazy Lisbon afternoon reading a good book.
Porto
Are you a Harry Potter fan? I repeat, are you a Harry Potter fan?! Well then, a stop at Livraria Lello in Porto is necessary, nay essential for your ongoing Pottefication (Potter+edification). Established by two brothers in 1881 in its first location, this stunning early 20th century bookstore gained outsized international fame after a certain writer (currently richer than the Queen) shared that it served as her inspiration for many a magical storyline. The stained glass, the winding wooden staircases, the breathtaking detail on endless bookshelves, and the signed first editions of your favorite HP books make the lines and the crowds well worth it. Grab your tickets online before you go (they are also redeemable toward the price of a book) and prepare to push your way through a heap of people.
Monastery of São Bento da Vitoria
Built in the 16th century and declared a landmark in 1977, Monastery of São Bento da Vitoria is the home of the Porto District Archive. The archivists are as prickly as you would expect any librarian worth their salt to be, but if you're willing to check your luggage, big bags, and food at the door, they will let you check out this impressive archive dating back to the 17th century. Ever wanted to know if your family was related to Portuguese royalty or if you come from a long line of sea merchants from Lisbon? The ancestral records at the Porto District Archive are your golden ticket to unlocking your own ancestry story. When you're done, take a tour of the entire converted monastery, which is stunning and also houses the Teatro Nacional São João.
---
Porto, Lisbon, Cascais, Evora…literary finds are easy to come by in Portugal. Peek into the windows of that alluring little shop on the way back to your hotel, stop in to strike up a nerdy conversation with the shop owners about favorite books, and continue the bookish adventure. I promise you'll be happy you did.