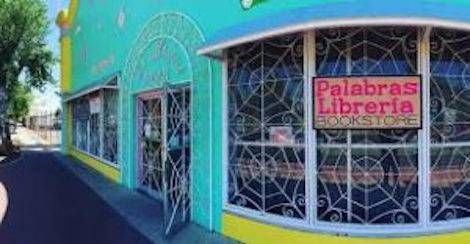 This content contains affiliate links. When you buy through these links, we may earn an affiliate commission.
So, I'm a 4th generation Arizona native. I'm not sure if that is a good thing or not (I'm leaning towards not). I'm also not sure what most people think of when they think of Arizona, other than the Grand Canyon. I'm guessing it probably is something like a John Wayne movie and not indie bookstores or any other kind of literary scene. That's ok. It's a deep red state, so it's an understandable misconception.
However, there are a ton of literary places, and authors, from Arizona. We are (or were) the home of Zane Grey, Leslie Marmon Silko, Diana Gabaldon, Alan Dean Foster (there's my requisite Star Trek reference, y'all), Stephenie Meyer (even though I disagree that vampires sparkle. Sorry.), and Barbara Kingsolver. I think all of Tony Hillerman's novels are set here, as are many of Kingsolver's, Terri Windling's, and Charles de Lint's. The Water Knife, Brighty of the Grand Canyon (I love Brighty!), and Veil of Roses are all set in, or at least partly in, Arizona. Plus, we have the OK Corral, which I think was good for a book or two all on its own.
This earlier post actually covers a ton of the places I would still recommend, including Changing Hands, The Poisoned Pen, and Dog Eared Pages. Changing Hands and The Pen both also host TONS of literary events throughout the year. If you are in the Phoenix metro area, you should definitely check out the locations listed in this post as well. But there are a ton of places to add to it! Arizonans can read, I promise!
Bookman's – Mesa. I don't think this counts as an indie bookstore since there are at least three locations I know of, and I had wanted to stick to indies for this post. But Bookman's is too big and too cool not to include here. It's a giant used bookstore, as big as many B&Ns I've ever gone to and hella lot cheaper. It is not uncommon to find first edition hardbacks for a song, if that's your thing, and they have a great selection of sci-fi and fantasy, which is my bag. There's also a huge section for children's books and games as well, and tons of odds and ends and collectibles. It's easy to lose hours there.
Zia Records Exchange – various locations. At first impression, it sounds like a music store, and it is. But it is also a bookstore and comics store. They have several locations around the valley, but the largest is in Scottsdale. They have a weirdly huge selection of sci-fi novels, and a really good selection of graphic novels. The inventory is a mix of new and used and the staff at each location I've been to is quirky and fun and super helpful.
First Draft Book Bar – Central Phoenix. This is the bar version of Changing Hands. They decided, thankfully, that reading and alcohol are a GOOD combination, and opened this venue in Central Phoenix. It is exactly what it sounds like – a mix of indie bookstore, bar, and coffee shop. It's possibly the best thing ever.
Palabras Librerias – Phoenix. This is the only Spanish-language bookstore in Phoenix. It carries English language texts as well, but it focuses on service to the Spanish-speaking community. Their goal is to create diversity and intercultural awareness through literature and art. The store hosts workshops and events as well. The building itself is also kind of pretty, like a cake decoration.
Book Gallery – Mesa. Holy crap, this is SUCH a cool store. It specializes in rare books and they have enough here that I'm afraid to touch things. It's built inside an old fashioned movie theater. This is a fun place to wander around on hot summer days.
Tempe Public Library – Tempe. The Phoenix Public Library might be bigger (and has some of Shakespeare's folios, and a page from a Gutenberg bible, and an illuminated manuscript), but I'm actually a Tempe native, and this is really my home library. The Tempe PL has a ton of great community events, hosts the Sisters in Crime monthly meetings, and has a ton of really fun activities for children throughout the year. AND AND ALSO PLUS, they now have a writer in residence, Melissa Marr. Hell yes! The campus itself is nice, with big shady trees and grassy areas where you can sit with your snack and drink you can buy from the cafe and read your books. They also have a terrific library bookstore where you can buy a shitload of books for practically nothing.
Books and More – Phoenix. Located at the Heard Museum, this small bookstore features books focusing on Native American art and culture, especially American Indian communities of the Southwest. They have a lot of kids' books and cookbooks, actually, which is where I got one of my favorite cookbooks. I love the Three Sisters (beans, corn, and squash, if you didn't know). I'm just saying. There's so much you can do with those ingredients. Also, this little bookstore is tucked away inside one of the coolest museums in the area. The Heard Museum calendar of events is usually jam packed with things to do, from hands-on activities for the family to various artists' exhibits to truly amazing performances by Native American dancers. I loved watching the hoop dancers a few years ago.
Rula Bula – Tempe. Okay, so this isn't a bookstore. Or library. Or museum. But it's my favorite pub. It's Irish. I think there's a picture of James Joyce somewhere. And I did recently learn that AZ native and author Kevin Hearne often writes at the bar there, and puts it in his stories, and that several of the books on the shelf above the bar are his. So that's close enough to put in this post, right? Also, it's built in old town Tempe, next to the old mill, in what used to be a bank, I believe. One of the historic buildings, at least. It's an old, pretty brick building on the tree-lined section of Mill Ave, and there's a lot of fun stuff to do in the area other than belly up to the bar and drink with a book. Which is also a perfectly respectable choice as well.
So do you think maybe Phoenix might be worth a visit? Come in the fall. It's the best time of year here – it's so pretty and usually we have wildflowers blooming then and it shouldn't be hot like the surface of the sun by then.