Skyline Photo via Visit Philly
Ah, Philadelphia.
Perhaps I'm a bit biased about the city I call home, but I think it's just the best city in the world. The history, the people, the food, and oh… the literary scene.
See, Philadelphia is home to a number of awesome indie bookshops, an incredible library system, a handful of book publishers, some great authors, an awesome community of literary journals, and plenty of historic locations worth visiting.
Let's talk about them, shall we?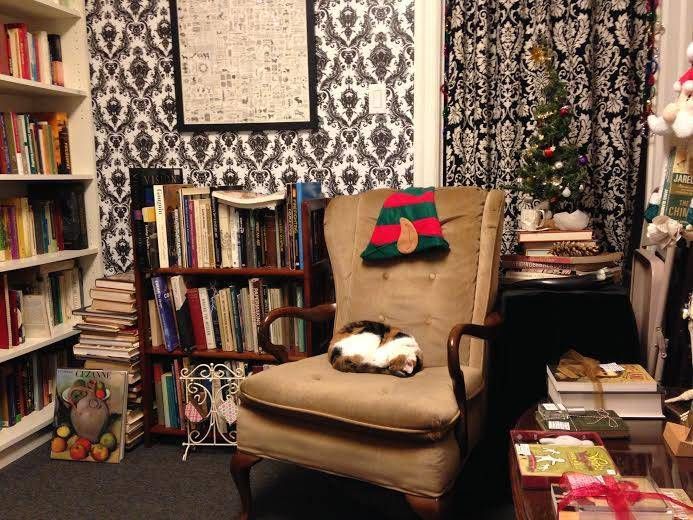 Inside The Spiral Bookcase
THE BOOKSTORES
When it comes to indie bookstores, we are flush. Whether you're looking for an indie bookshop, a used bookstore, or a place that collects rare manuscripts, you can find them all within the City of Bookishly Love. It isn't called that, but sometimes I feel like it should be.
Want to find an Indie Bookstore? Throw a rock in any direction, and you might just hit one. But please don't actually do that. In the city you've got Joseph Fox Books, Bindlestiff Books, and just a quick SEPTA (our train system) stop away are Big Blue Marble (Mt. Airy), Main Point Books (Bryn Mawr), and one of my absolute favorites, The Spiral Bookcase (Manayunk).
They have a gorgeous reading room (pictured above) and the most precious bookstore cat ever.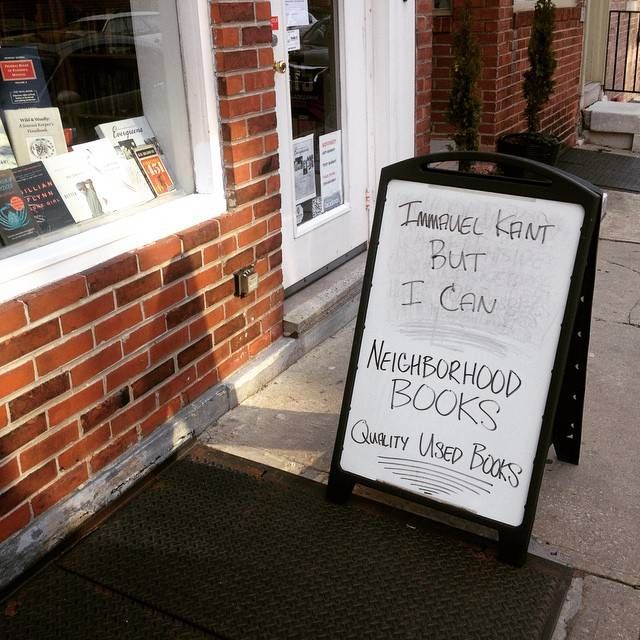 Seriously, Neighborhood Books' puns are on point
Looking for Used Bookstores? Neighborhood Books is a fairly new one and a current favorite, run by an owner who absolutely loves terrible literary puns (see photo above), and has two floors packed with books.
There's also The Book Trader (three stories of books!), The Book Corner, Brickbat Books, Headhouse Books, Wooden Shoe Books, The Last Word Bookshop, Mostly Books, Port Richmond Books, House of Our Own, Bookhaven, the Philly AIDS Thrift at Giovanni's Room, Whodunit.
If you're up for a trip a little out of the city, you'll want to check out the Book Barn in West Chester, PA. It is a barn. Full of books. Here's what it looks like in the snow.
The Book Barn, gorgeous
Let's be real. I'm missing a few. If you've got a favorite bookstore in Philadelphia or the Philadelphia-region, please sound off in the comments!
Photo via Visit Philly, Free Library is upper right w/ colorful banners
THE LIBRARIES
Let's talk about the Free Library of Philadelphia for a moment. While it might not be as large a library system as say, New York City, we're still pretty enormous, with over FIFTY BRANCHES. FIFTY, you guys. Some trees don't even have that many branches. Here's a list of all of them.
And while every library is beautiful in its own special way, particularly in that filled-with-books-kind-of-way, the stunning Central Library located in the heart of the city, near the Philadelphia Museum of Art and the Academy of Natural Sciences, is a sight to behold. A towering piece of gorgeous architecture.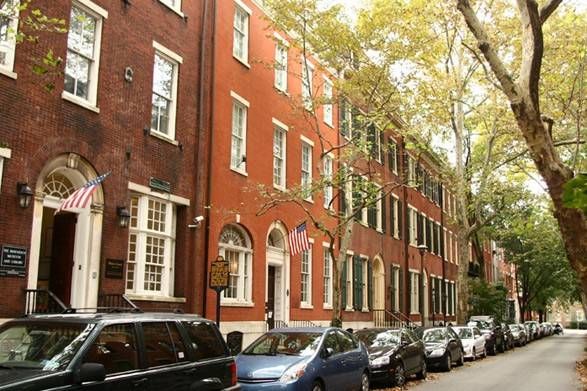 The Rosenbach Museum & Library, Photo via Visit Philly
There's also the Rosenbach Museum & Library, an awesome museum tucked away in Rittenhouse Square, the holds an incredible amount of treasures. The only known surviving first edition of Ben Franklin's almanac, pieces of the Canterbury Tales manuscript, Thomas Gray's letters, and the handwritten manuscript of Joyce's Ulysses.
That's right. The manuscript. Let me tell you, the Bloomsday celebration here in Philadelphia is taken VERY SERIOUSLY.
However, despite the rare materials stashed away within, this isn't some stuffy place that's dusty and unwelcoming. They throw incredible events and host plenty of special exhibitions. It's a must visit.
And while the Chemical Heritage Foundation & Library isn't really a literary destination, for those of you who are into something called science…well, you might want to check out their stunning archives. The same goes for The Academy of Natural Sciences, where they have a super rare first edition of Birds of America by James Audubon (of The Audubon Society fame) on display.
The Publishers
So you love writing and books, and have decided to make that a part of your life? Awesome. Come to Philadelphia and work in publishing.
We've got Running Press, Quirk Books (full disclosure, I work there, and I like it a lot), Penn Press, Temple University Press, and Head & the Hand Press. It's an exciting city to be in when it comes to book publishing. It's small, and we're always trying to new things.
The History
So there are a lot of great places to visit in Philadelphia when it comes to history. Like, maybe too many. America was born in Philadelphia, so obviously we're going to have monuments and historic buildings just about everywhere. And there are plenty of literary historic locations in the mix.
The Poe House, Photo via Visit Philly
The Edgar Allen Poe House is located in Philadelphia. While he was in Philly, he wrote The Fall of the House of Usher, The Tell-Tale Heart, and rumor has it, a long lost poem about cheesesteaks. And you can visit the location of Ben Franklin's home and once-printing press. While he died in Baltimore, he lived here for quite a bit.
Fun Fact: Baltimore and Philadelphia like to argue over who has the rights to the poet.
When it comes to the graves of authors, you can visit Ben Franklin's grave, and if you hop the ferry across to Camden, you can say hi to Walt Whitman.
James Michener grew up here in Philly, and you can visit the James A. Michener Museum just outside of the city in Doylestown. A quick SEPTA ride away.
If you stroll through Washington Square (one of my favorite city parks), there's a really large office building with a stone face. Upon closer examination, you'll spot The Curtis Publishing Company engraved there, the place where publications like The Saturday Evening Post were born.
The Community
And for your final stop on this literary tour of Philadelphia, I'd like to talk about the literary community here. Because let me tell you, it is a tight-knit one.
Small presses and zines thrive in Philadelphia, particularly The Apiary, who host amazing get-togethers and publish a journal twice a year. You've also got lit journals and publications like Philadelphia Stories and The Painted Bride Quarterly, who work tirelessly to bring people together.
And there you have it, a quick tour of Philadelphia literary side. Come visit, we'll get cheesesteaks and talk about books.
____________________
We run a pretty sweet little bookish Instagram account, if we do say so ourselves (and we do). Come check it out.