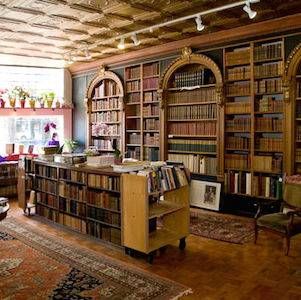 Okay, I can feel your skepticism from here, internet. "Ohio? Why would anybody ever voluntarily go to Ohio? HA, I'm going to click this link and it's going to be a prank article with nothing in it, isn't it?"
Turns out, Ohio is the raddest place. We just don't tell very many people because we're trying to keep it on the down low.
Libraries
Check out that beautiful fountain. You've probably seen it pop up on Facebook if you follow any bookish feeds; you might not have noticed that it's located in the Ohio city of Cincinnati. The main Cincinnati library branch where this statue resides has not one but two buildings full of reading goodness.
The Columbus Metropolitan Library, not to be outdone, has a recently-renovated downtown location that's gorgeous inside and out. Library Journal ranked the Columbus library system #1 in America in 2010, and it has been a five-star library for six years running; the library also frequently hits the top ten in Hennen's American Public Library Ratings. If you're a library nerd (in other words, if you are like everyone else here), don't miss the libraries in Columbus.
Bookstores
I love a bookstore that has history, old-book smell, and a legit need for a rolling book ladder, and Loganberry Books in Cleveland has my back. This bookstore carries new, used, and rare books, and you can get your fiction or your non-fiction book game on.
If you need even more rooms of books–maybe like 32 rooms' worth of books–The Book Loft in Columbus's German Village is the place to be. Housed in pre-Civil-War buildings, the historic bookstore has a map(!) to help you navigate its selection of reading material. The gardens outside make a lovely setting to read your newly-purchased books; or, you can stroll down the street for coffee or a freshly-baked croissant.
For the more modernly-hip, Shake It Records in Cincinnati doubles as a kick-ass bookstore that also carries Out of Print tees. Their book selection focuses on "weird pop culture, music, hip lit, bizarre bios, some art books". I personally could have moved right in and stayed there forever.
Points of Interest
Ravenwood Castle in New Plymouth offers rooms with themes like the Cinderella Coach House (shown in photo), the Shakespeare Suite, Rapunzel's Tower, and the King Arthur Suite. If you want to get some role-playing or board games in, Ravenwood hosts lots of gaming events; or, you can curl up in the tea room with your favorite tome of fairy tales.
Thurber House in Columbus was the historic home of author and humorist James Thurber. Thurber House not only hosts writers-in-residence (probably not part of the tour), but also summer picnic events with authors and an Evening With Authors series with authors like Isabel Allende, Karen Russell, Christopher Moore, and Lisa See.
If you're traveling through Cleveland during the summer, you can catch a bit of theater from The Cleveland Shakespeare Festival. In 2014, the company performed A Midsummer Night's Dream and Romeo and Juliet; they haven't announced the schedule for 2015, but can you really go wrong with The Bard?
After your Shakespearean romp, you may want to check out The Spotted Owl, a Cleveland pub where the first rule is that "women initiate conversation" and you can get a maple-cinnamon-infused beverage called "Rich Mahogany and Leatherbound Books". On their website, they posted "Fern Hill" by Dylan Thomas–they get it.
So don't be shy, America. Get your bookish touring on in Ohio; you won't be sorry.
Save