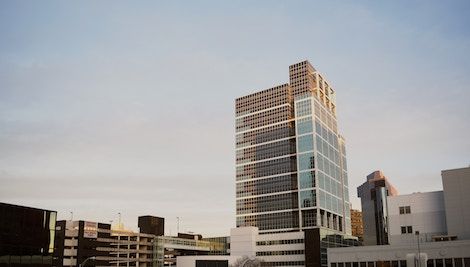 Here are three things more people should tell you when you move to a new city, fresh out of college, to begin your literary career:
If a co-worker at your first job repeatedly asks to borrow your car just because you have a car and he doesn't, you don't have to say yes.
If you see an enticing bookcase on the curb on garbage day, you should locate its previous owners and ask why they're throwing away their furniture, just in case the answer is, "We have bedbugs," before hauling said bookcase into your own home.
If the city you've moved to is Newark, New Jersey, you'll have a heck of a time getting even close family members to wrap their heads around the fact that you're a writer living in Newark, not New York. Even once you clarify the issue, folks will assume that financial limitations alone keep you bound to the Brick City, and that what you long for more than anything—more than life, more than jewels—is to move across the Hudson River to Manhattan or Brooklyn.
Make no mistake: easy access to the literary communities of New York City is one advantage of spending time in Newark! But in the seven years I've lived, worked, and attended school in this city, Newark herself has become my literary home as well as my geographical home. We've got our own vibrant community of readers, writers, and bookish landmarks in Newark—one that makes a visit well worth the Path train ride from Manhattan for any bibliophile.
Allow me to lead you on a quick tour of literary Newark. Read on, and come see us sometime!
Literary Havens
The Newark Public Library boasts nine locations across the city, but the center of the action is the main branch in downtown Newark. The building itself is stunning—don't forget to sneak a peek at the ceilings when you visit!—and the riches it houses, even better. Besides a prodigious collection of reading and listening material, the library hosts truly excellent events for readers of all ages, from Drag Queen Story Hour to the Phillip Roth Lecture series. Roth himself co-founded the series, which will bring Salman Rushdie to Newark this fall!
No literary scene would be complete without a quality comic book shop, and the Fortress of Solitude is ours. It's a few short blocks from the main branch of the Newark Public Library and overflows with both new and vintage issues and trades, as well as a small army of Funko pops. Say hi to the owner of eighteen years, Jose Robles, when you stop by—he's warm, knowledgeable, and can find anything you're looking for!
Literary Legacies
If Newark had a poet laureate, it would be Amiri Baraka. The poet and playwright was born and lived for many decades in Newark, and his son, Ras Baraka, is Newark's mayor today. Baraka's writing career spanned from the 1950's to the early 21st century, exploring a vast array of poetic styles and political ideologies. Moreover, his work as a black poet paved the way for other writers of color to enter the prestigious literary circles in which he moved.
Allen Ginsberg
The famous Beat poet Allen Ginsberg was born and buried in Newark—in fact, you can visit Ginsberg's grave in the B'Nai Israel Cemetery. (I found the linked directions a little challenging to follow, since "the back" of the cemetery is, you know, big, so here's how I found our friend Allen: Head north on Mt. Olivet Avenue off McClellan Street, and enter the third cemetery gate on your left. Walk straight down the pathway that follows from the gate until it winds around in a circle. The Ginsbergs are buried off to the right of that circle at about two o'clock.)
Philip Roth
The late Pulitzer Prize-winning author Philip Roth was born in Newark, and set several of his novels there. Looking to pay your respects to Roth in the city where he came of age? This New York Times piece suggests a few spots to visit, such as the street where Roth grew up and the high school he attended.
Literary Events
Geraldine R. Dodge Poetry Festival
The Dodge Poetry Festival, regarded as North America's largest poetry event, takes place every other year in downtown Newark. Readings occur not only at large venues such as the New Jersey Performing Arts Center, but also in public school classrooms: the festival organizers are dedicated to bringing poetry to students' fingertips.
Writers at Newark Reading Series
The Rutgers University of Newark's Creative Writing MFA program hosts a series of readings by prominent poets and prose authors every year. The readings are free and open to the public, and writers such as Chimamanda Ngozi Adichie and Saeed Jones have read in the past.
Have you, too, reveled in the bookish delights Newark has to offer? Comment with your own favorite literary sites!