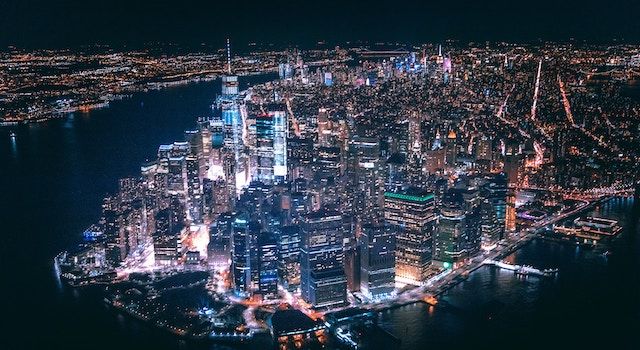 When it comes to bookish destinations, New York City has got you covered. From world-famous bookstores to gorgeous libraries to the homes of countless beloved writers—not to mention the bulk of the U.S. publishing industry—NYC has so many literary sights to see that it can be hard to narrow it down.
But since it's October, I thought I'd highlight some of the spookier bookish spots in the Big Apple. I hope you don't have a problem with ghost writers! (Please clap.)
NYC grew from its southernmost tip northward, so let's start at the bottom and work our way up. We're starting at Trinity Church, in the Financial District. Now, there's plenty of Hamilton-related sights in New York (including some spooky ones later on this list!), but this is the most important, as the man himself is actually buried in the churchyard, along with Eliza, Angelica, Philip, and Hercules Mulligan.
There are a number of less hip-hop musical-related luminaries there as well, but most importantly for bookish purposes: William Bradford, an important 17th-–18th century printer; George Templeton Strong, the famous 19th century diarist; and John Peter Zenger, the newspaper publisher whose libel trial crucially established that it's not libel if it's true.
Trinity Church is not often said to be haunted, but I mean, come on. It's a graveyard. It's definitely haunted (by teenage Hamilton fans if nothing else).
(Side note: I am already messing up my south-to-north strategy to tell you this, but if you scoot on up to 155th and Riverside, you'll find another Trinity churchyard: the Trinity Church Cemetery and Mausoleum, on the former estate of John James Audubon, namesake of the Audubon Society and author in his own right. He's buried here, along with Ralph Ellison, one of Charles Dickens's kids, and Clement Clarke Moore, author of "A Visit from St. Nicholas," better known as "'Twas the Night Before Christmas." Also, it's a mausoleum. Shivers!)
I promised you haunted Hamilton sights, so let's jump up to SoHo—specifically, to the COS store at 129 Spring Street. Ignore the clothes and head to the basement, where you will find an old-fashioned well sticking out of the wall. This was where the body of a young woman named Elma Sands was found in 1800, back when this part of the city was a pastoral field. Her boyfriend Levi Weeks was accused of her murder, leading to the first murder trial in the newly formed United States. His attorneys? Alexander Hamilton and Aaron Burr. (They won. Elma's aunt cursed them to suffer for it. I'm pretty sure it worked.) Store employees say Elma's ghost still haunts the store. The trial itself is heavily featured in Gore Vidal's Burr.
The various Villages (East, Greenwich, and West) have always been super trendy, so it makes sense that NYC ghosts tend to be concentrated around here. First check out the Merchant's House Museum, the townhouse of the wealthy Tredwell family, whose last surviving member, Gertrude, kept it in perfect mid–19th century style until her death in 1909. According to the museum, she's still there. More importantly for our purposes, she was supposedly the inspiration for Henry James's Washington Square (and the opening sequence of the most recent Ghostbusters movie).
Pop over to St. Mark's Church-in-the-Bowery to say hi to NYC's other major diarist, Philip Hone. But look out for the ghost of Peter Stuyvesant, Director-General of the Dutch colony that predated New York, who stomps about on his wooden leg and rings the church bells at night.
Head west to Washington Square Park, the heart of New York's bohemian scene for nearly 200 years now, and which, like most parks in the city, used to be a potter's field. (So: haunted.) South of the park you'll find NYU's Furman Hall, which has a weird old-fashioned facade stuck to the wall like a growth. This is an awkward attempt to preserve the previous building, where Edgar Allan Poe lived while he wrote "The Cask of Amontillado." I hear they have a great cask of wine in the cellar, if you want to go check it out…
The facade and the bannister inside are the only parts of the original building remaining, but they're still enough to make students report seeing Poe's ghost wandering around. For more Poe sights, you can visit Il Buco at 47 Bond Street, former site of a bar he frequented; Poe Cottage in the Bronx; and the two plaques laying claim to being the former site of Brennan Farmhouse, where he wrote "The Raven," on 84th Street. They're pretty much all haunted.
If you're feeling thirsty, you can have a drink at Chumley's, where literary luminaries including Willa Cather, E.E. Cummings, Edna St. Vincent Millay, Theodore Dreiser, and William Faulkner have bent an elbow (though in the original bar, not the glitzy new one). Wave to the ghost of the original owner's wife! A block away, Aaron Burr (him again!) haunts the restaurant One If By Land, Two If By Sea, along with at least 19 other spooks.
We'll have to skip the Gay Street Phantom because he's not literary, but that's okay because we're on our way to the House of Death (!!!) at 14 West 10th Street. This was only briefly the home of Mark Twain, but that doesn't stop him from being frequently spotted in his trademark white suit, as well as 21 other ghosts (take that, One If By Land!). Then bid the Villages farewell with one last drink at the White Horse Tavern, the second oldest tavern in the city and a favorite watering hole of Jane Jacobs, Hunter S. Thompson, Jack Kerouac—and most famously, Dylan Thomas, who loved it so much you can still see him drinking there if you've had a few yourself.
Thomas lived at the Hotel Chelsea, as did Thomas Wolfe, Mark Twain, Tennessee Williams, and many other creative types and celebrities. Also like a bonkers amount of ghosts, including a Titanic survivor. It is most infamous for being the place where Nancy Spungen of "Sid and Nancy" fame was killed, possibly by her boyfriend Sid Vicious. If that's too dark for you, head uptown to a different hotel: the Algonquin, best known for its "Round Table" of artists, wits, and sophisticates. Dorothy Parker and other members of her illustrious set have been spotted there long after their deaths.
As long as we're in the Theater District, why not take in a literary show? Like The Girl from the North Country (based on Pulitzer Prize winner (snort) Bob Dylan's work) at the Belasco Theatre (haunted) or Aladdin at the New Amsterdam Theatre (haunted). The Richard Rodgers Theatre, home to Hamilton, may also be haunted, although for once not by Aaron Burr. Actually, a lot of our theaters are haunted.
Make your way to the Upper West Side to one of the most famously creepy sights in the city: the Dakota, the luxurious apartment building where Rosemary's Baby was filmed and John Lennon was shot. Lennon is just one of the ghosts walking its vaunted halls; the many phantoms go by names such as "the Mad Slasher," "the Young Girl," and "the Crying Lady," the last of whom Lennon claimed to have seen before his own death.
One last Hamilton tie before we leave Manhattan: take in the Morris-Jumel Mansion, the oldest house in New York and former home to Eliza Bowen Jumel, who may have killed her first husband before marrying—you guessed it—Aaron Burr. It's so haunted—mainly by Eliza, but also Husband #1, Burr, Washington, and a random Hessian solder—that they hold bi-monthly paranormal investigations there. Lin-Manuel Miranda wrote chunks of Hamilton in the house, because he's extremely brave.
Finally, head to the other boroughs for our big cemeteries. Woodlawn Cemetery in the Bronx is the final resting place of many luminaries from all walks of life, including E.L. Doctorow, Herman Melville, Joseph Pulitzer, Damon Runyon, and my personal hero, Nellie Bly. Green-Wood Cemetery in Brooklyn holds the remains of its share of notables, including three major newspaper founders: James Gordon Bennett, Jr. (The New York Herald), Horace Greeley (The Tribune), and Henry Jarvis Raymond (The Times).
And that's our haunted tour of New York City! I hope you found your spirits raised and any specter of boredom exorcised. But if you're hungry for more hauntings, Sleepy Hollow is just a train ride away!