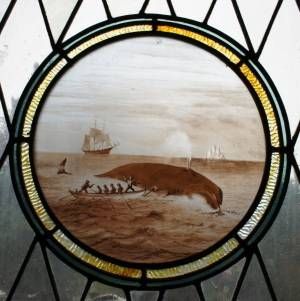 New Bedford, MA, you say? Where's that? Well if you've read half as much about the New England whaling industry as I have, you'd know. While Ishmael may leave Manhattan Island in "Loomings," Moby-Dick's narrator is heading for Massachusetts—and while he hopes to go to Nantucket, he ends up stuck in New Bedford for a weekend, and ultimately ends up sailing from there. But there's no reason to be as depressed as Ishmael is to have missed the packet to Nantucket, because New Bedford is an awesome literary place in its own right.
The New Bedford Whaling Museum
Not only does the New Bedford Whaling Museum feature enough art and artifacts to teach the uninitiated what a try-works is or how whaling changed both before and after Melville's time, but it also has some especially interesting tidbits of New England history you might not be familiar with. If you're wondering why the New Bedford area has so many Portuguese-style food options, you may find your answer in an exhibit on how the Azorean, Cape Verdean, and Brazilian communities developed very early in this location due to whaling.
You can also visit the last remaining wooden whaling ship, the Charles W. Morgan.
The Seamen's Bethel
As you make your way around the historic downtown area of New Bedford, don't miss the Seamen's Bethel, also site of a key scene from Moby-Dick. In that novel, it's called the Seamen's Chapel, and it's where Father Mapple preached to Ishmael before he embarked on the Pequod. The chapel is complete with pulpit in the shape of a ship's prow, though that little detail is not historically authentic. It's there for you, the literary tourist!
The walls here are covered in plaques—very, very, all too real ones—detailing the deaths of whalers and fishermen in the area for hundreds of years. Take a seat on a pew and a time-out for some peace and reflection before you move on for more.
Fairhaven
Take a ride across the Acushnet River from New Bedford and into the town of Fairhaven, MA. If you know where to look, you can find a key scene from Joshua Slocum's amazing and funny travelogue, Sailing Alone Around the World. That's exactly what Slocum did, but before he could he had to rebuild his little sloop, the Spray, and he did it on what is now a small patch of green near Fairhaven Harbor. A plaque marks the spot.
A ride a bit further down the street will take you to Fairhaven's town hall, which features a model of the Spray as well a some gorgeous stained glass insets with a decidedly local theme.
Give me the books!
You got it. Take a peek in the whaling museum gift shop, where copies of the classics are readily available. Subtext Book Shop features used books of all sorts, with a particular focus on local history, and Upstair Used Books, with its quirky offerings and curator who, according to one Yelper, "truly lives up to the literary mystique of New Bedford." And if your tastes run more in the comics line, New England Comics is just a short ride up Acushnet Avenue.
Save