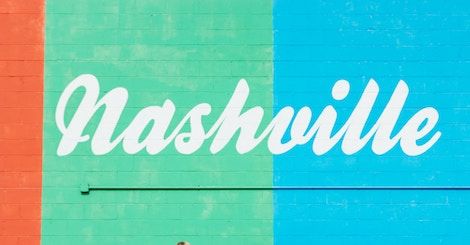 Nashville is a bustling, colorful city full of music, food, culture, and a wealth of literary destinations. I was a Nashvillian for twenty-two years, and I still miss the vibrant writing and bookish communities that I found there.
Bookstores and Libraries
For a book-lover visiting Nashville, Parnassus Books should be the first stop. Parnassus, owned by renowned author Ann Patchett, is Nashville's most popular independent bookstore. The store itself is small but inviting, with a couple of shop dogs to welcome you. Don't let its size fool you: Parnassus offers many programs for the community, including children's storytime, book clubs, and author events. To learn more, check out Musing, Ann Patchett's blog about reading, writing, and Parnassus Books.
Another Nashville literary gem is Third Man Records/Third Man Books. Third Man Records is a record label, music venue, and record store founded by musician Jack White of The White Stripes in 2001. A few years back, Third Man Records expanded into publishing with Third Man Books. The company publishes edgy poetry, novels, and even children's books. You can tour Third Man Records or attend one of the readings Third Man Books hosts throughout the year.
McKay's Books is a gigantic used bookstore in Nashville that you can get lost in. Their motto is "previously owned, seriously loved." McKay's has two floors of books of all genres, records, CDs, video games, and DVDs. The aisles of books feel like they go on forever. It's a book lover's paradise: hundreds of books at low prices. Make sure to give yourself plenty of time if you visit! You can also book a tour or attend an author Meet & Greet.
Got books? pic.twitter.com/5iBrHwYX72

— Mckay's Nashville (@MckayNashville) June 4, 2018

No literary visit to Nashville is complete without a trip to my favorite place in the city: the Downtown Public Library. This gorgeous building boasts three floors, a grand marble staircase, an enormous reading room, and an outdoor courtyard. Maps of Nashville over the years line the stairwell, and a small art gallery overlooks the balcony on the second floor. The children's section is colorful and whimsical, complete with a playplace in the shape of the Nashville skyline and a large theater. The teen area includes a maker space and a music production studio. And of course, there are hundreds of books waiting to be read and a variety of community literary events to attend.
Literary Events
Every October, dozens of authors and readers flock to Nashville for the Southern Festival of Books, a three-day event located in War Memorial Plaza and the Downtown Nashville Library. The festival includes author panels, author signings, a huge book tent, a music stage, and a children's area. In between listening to authors speak, you can browse bookish tent shops or grab a bite to eat from the food trucks lining the area.
Salon@615 is a series of author events designed for larger crowds. The series has brought several big-name authors to Nashville, such as Veronica Roth, John and Hank Green, Louise Erdrich, Jacqueline Woodson, and Stephen King. My son still talks about the time we went to see Rick Riordan, his favorite author, at Salon@615.
The Porch Writers' Collective is an independent center for writing that offers workshops and writing classes to the community. I once took a Novel Writing Workshop there that was hugely helpful in revising my novel, plus I got to meet other local writers. In addition to classes, The Porch has a Lit Mag League, a Poetry on Demand event, a reading series, and writers retreats.