This content contains affiliate links. When you buy through these links, we may earn an affiliate commission.
Nantucket is Martha's Vineyard's smaller, somewhat more remote neighbor. It offers characteristic New England charm, fresh sea air, and a picture-perfect ocean views. If you want to experience the best of literary Nantucket, here's a guide that will help you plan your visit.
Literary Hot Spots
The Nantucket Atheneum has a long history of being a favored meeting place of local abolitionists. It was the site of three anti-slavery conventions and Frederick Douglas' first full address.
The Nantucket Historical Association Research Library is home to over 5,000 volumes of Nantucket history, 50,000 photographs, and a number of ships logs and other papers of interest to the layman historian.
Mitchell's Book Corner, the first of Nantucket's two indie bookstores, was founded in 1967. It offers an impressive selection of Island literature and hosts frequent author signing events during tourist season.
Nantucket Bookworks was founded in 1972 and is located right near the Whaling Museum on Broad Street. It's a great place to go if you have kids. There's a children's room and snack shop, and they have a story time on Saturdays.
Bookish Events
The Nantucket Book Festival is held on the island every summer and features a number of well-known local and national authors. This year's festival takes place June 17-19.
This July, Nantucket Book Partners will be hosting a Where's Waldo Local Scavenger Hunt and to celebrate the release of the new Harry Potter book, Harry Potter Week will be held July 31st to August 6th.
Where to Stay
There are a number of lovely hotels and B&Bs on the island, but if you have money to burn and want a truly literary experience, stay at The Second Story Loft, a stunning three bedroom 1,200 foot furnished apartment with–get this–A FULLY STOCKED LIBRARY. And it's located right above Nantucket Bookworks. It's pretty much the greatest thing ever, but save your pennies. It goes for an average $842 a night. Maybe go in on it with a few friends?
Places to Eat
Queequeg's, named after Melville's character from Moby Dick, offers fine dining in an atmosphere reminiscent of an old whaler's tavern.
Other Attractions
Formerly a candle factory, The Whaling Museum is now home to a number of artifacts from Nantucket's long whaling history. Among the attractions is the 46-foot skeleton of a sperm whale, the 1849 Fresnel lens that was used in Sankaty Head Light, and scrimshaw–lots and lots of scrimshaw.
Sailing and boating enthusiasts will enjoy the Nantucket Shipwreck & Lifesaving Museum, which houses a collection of over 5,000 artifacts from Nantucket's seafaring history, including boats, beach carts, photos, and more Fresnel lenses from local lighthouses.
Nantucket has long been known for its unique style of basket making. The Lightship Basket Museum celebrates this history and showcases baskets from the pre-lightship era to the present day.
The Maria Mitchell Association operates some great educational attractions for kids and families including the following:
Nantucket is home to three lighthouses: Great Point Light, Sankaty Head Light, and Brant Point Light.
The Nantucket Historical Association also oversees five historical properties that might be of interest to visitors. They are:
Books to Read While You're There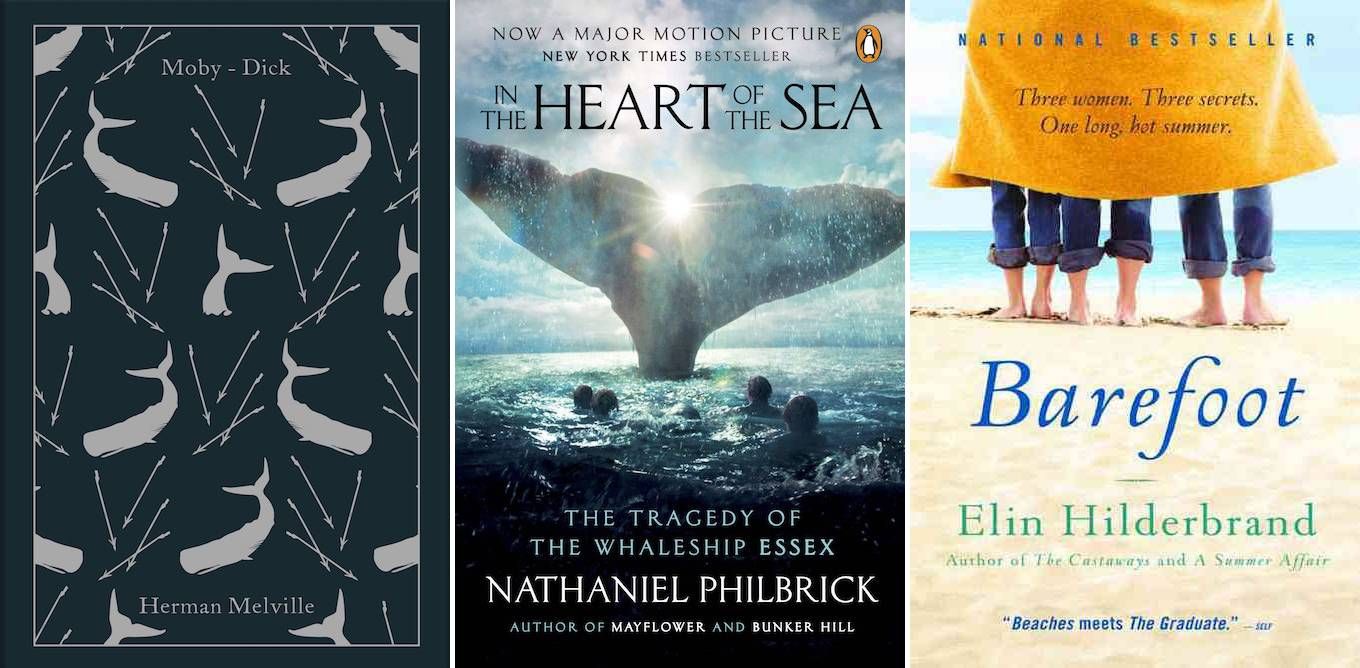 Moby Dick is, of course, the first book associated with Nantucket, and it's a great classic to read while you're in the area.
Written by native New Englander Nathaniel Philbrick, In the Heart of the Sea is the true story that inpired the tale of Moby Dick.
If you want something a bit lighter to read while you're on vacation, try one of Elin Hilderbrand's novels like Barefoot or The Island.
Best Time to Visit
Summer is the best time to Visit Nantucket. The weather is warm, the literary festival is in June, author signings are at their peak, and all of the Maria Mitchell Association attractions are open.