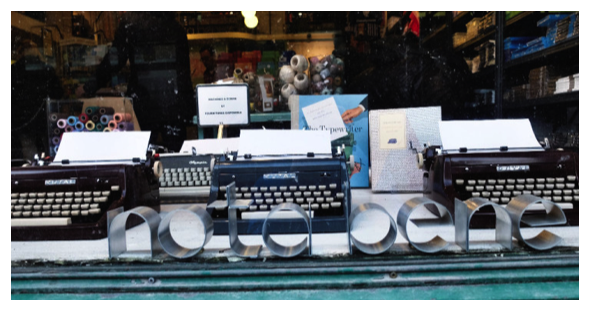 This content contains affiliate links. When you buy through these links, we may earn an affiliate commission.
So cool, so quirky, so utterly literary is the city of Montreal, that in the very midst of jotting down notes for this post at a bus stop, I met a kid who writes, performs, publishes, and sells his own poetry 'zines.
What does he write about? "Situations. You know. Like how women's deodorant is more expensive than men's." I didn't even realize this qualified as a situation but I'm glad someone is taking care of the poetic portrayal.
I smiled and shook my head. So Montreal…
Long before I knew this city would be my home, I was a devoted reader of short story luminary Mavis Gallant. Born and raised in the anglophone suburbs during the early twentieth century (see Varieties of Exile), she eventually settled in Paris and became one of the most frequent contributors of fiction to The New Yorker. Later, I would read the dreamy, steamy novels of Haitian-Québécois writer Dany Laferrière in graduate school, and would regularly tune in to Jonathan Goldstein's tremendously clever (and, sadly, recently retired) storytelling-driven program Wiretap. I lived here in literature before I ever lived here in reality. But after three years, I continue to discover new bookish attractions.
So for you, today, I present my walking (bus-ing, metro-ing, taxi-ing) tour of Montreal's literary sites.
We begin at the Bibliotheque et Archives Nationale du Québec (BANQ). Not only is it a light, airy building in which you may enjoy the sight of more books than you can fathom (mostly in French and English), but there are also usually a few exhibitions on. From now until August you will find "The Library at Night," a virtual reality spin through some of the world's great libraries.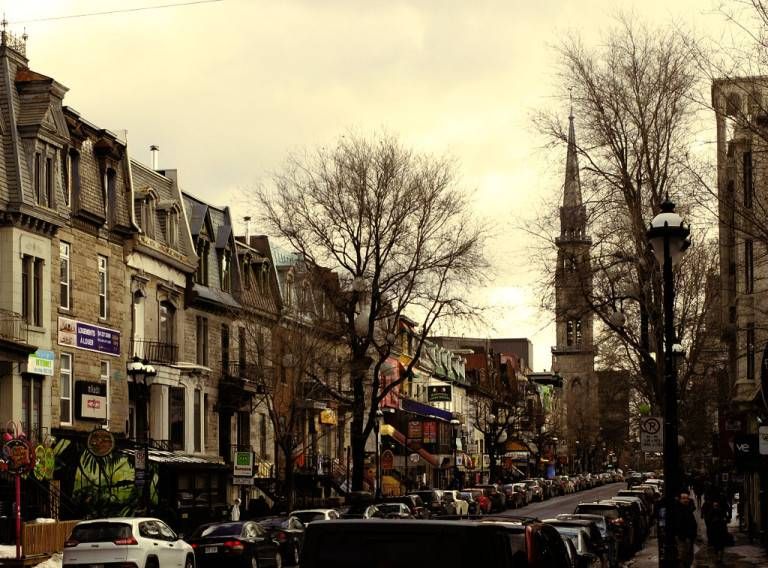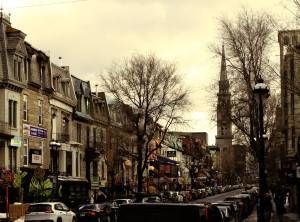 If you stroll North on the rue Saint-Denis, you're in the heart of the student neighborhood, the Quartier Latin, and if you pause before turning left on rue Ontario (heading toward the Boulevard Saint-Laurent) you're in the setting of Dany Laferrière's breakthrough novel How to Make Love to a Negro Without Getting Tired. Imagine you hear the typing of his narrator's "old Remington" emanating from the windows of a walk-up.
Turn right on Saint-Laurent and enjoy the graffiti. It's probably the same paint that's been up since 1995, the setting of Zoe Whittall's Bottle Rocket Hearts, in which nineteen-year-old Eve searches for love and sexual identity in her relationship with Della.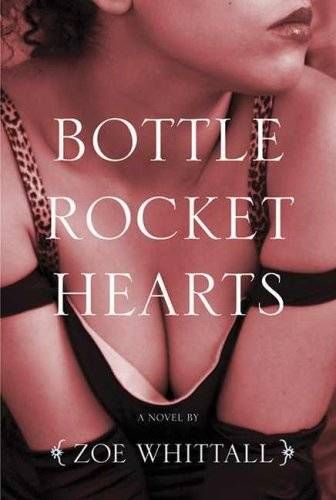 The book details the months leading up to Quebec's second referendum on separation, and the tensions between anglophones and francophones ran high, nowhere more so than along the dividing line of this main thoroughfare.
Take the bus North on Saint-Laurent and exit at the Librairie Gallimard, the French publisher's brick-and-mortar operation. Even if you don't read French, you may ogle the beautiful simplicity that is the hallmark of French publishing. Also, they have a great kids section if that's your linguistic level of français. Stroll up to T. Westcott. With hundreds of out-of-print titles, you can find what you're looking for, but you'll probably find a whole lot that you weren't.
Hop back on the bus and continue up to Saint-Viateur, turn left to head North and you will be right in the heart of Sigal Samuel's wonderful recent novel The Mystics of Mile End,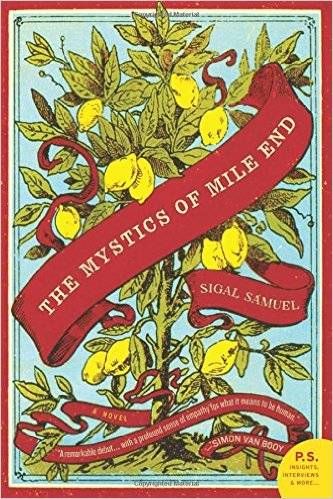 in which the neighborhood itself becomes a character, playing a part in the intertwining destinies of several Mile End families. As she so lovingly depicts, it is the place of "hasids and hipsters," but it's also home to Italian coffee, vintage clothes, and – you guessed it – more bookstores! On Saint-Viateur you'll find the small but respectable S.W. Welch, and if you prefer punk rock to classical while browsing used books, this is your place.
Conveniently, you're right by the famous Saint-Viateur Bagel Shop. Anytime a character in fictional Montreal catches a whiff of bagel, this is what they're smelling. The shop was was featured in Mordecai Richler's The Apprenticeship of Duddy Kravitz, a tale of the poor and predominately Jewish area of the city during the mid-twentieth century. (If you make a brief detour you can also stop by Wilensky's for a sandwich.)
Walk North up Jeanne-Mance, and when you hit Bernard you will see – drumrollllll – Drawn & Quarterly!!! No introduction needed. Home to all that is good and wonderful in the graphic world, you will also find recent fiction and a carefully cultivated selection of critical theory.
Walk West toward Parc, grab the bus heading South, and make sure to look to your right, taking in the majestic Mont Royal, which is featured in pretty much every book set in Montreal and is usually saddled with some very important symbolic weight. Stop on Milton and walk toward the mountain. You may enjoy a glimpse of the gigantic crucifix that looks down from on high. There will be just enough time to reflect on Quebec's extremely complex relationship to the Catholic Church before you hit The Word bookstore. Be on the lookout, they do not have a sign. This is the heart and home of Montreal's poets (of which there are many) and the owner can give you a fascinating history of poetry in this city. (Speaking of poetry, make sure to check the schedule of readings as part of the Atwater Poetry Project.)
And if all these books have given you an urge to write, I would recommend a trip to Nota Bene, a short walk South on Parc. All the fancy paper and pens live here.
That's it for the main tour, but if you're up for a bonus round, you should certainly head to Parc LaFontaine, which you will recognize from Michel Tremblay's novels, such as The Fat Woman Next Door Is Pregnant. If you want to get the feel for francophone Québécois literature, you can do no better than to check out Tremblay's work set on in the Plateau neighborhood. And for something quite a far way off the beaten path, you might travel down to Saint-Henri in the Southwest part of the city. This was the setting for Gabrielle Roy's novel The Tin Flute, which explores the working class life of Montrealers during the Second World War. While still rough around the edges, Saint-Henri is becoming fairly trendy and is a great place to go exploring beyond the usual tourist haunts.
On one final note, if you're wondering about the best time to take a trip to Montreal, may I strongly suggest mid-April, when you can attend the Blue Metropolis literary festival, a multilingual celebration of both Canadian and international literatures. It tends to be jam-packed with events bringing in the big names, but the festival also maintains a relaxed environment in which to talk books with your fellow lovers of literature.