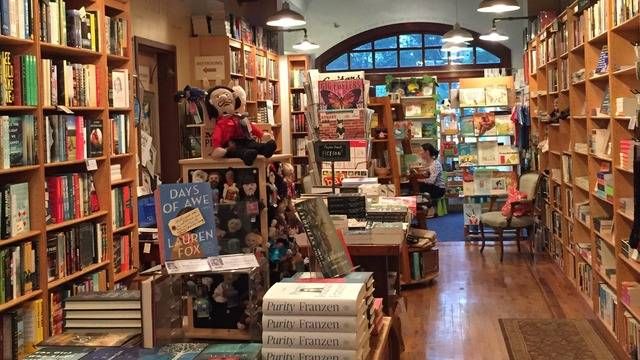 This content contains affiliate links. When you buy through these links, we may earn an affiliate commission.
Montclair, New Jersey: The home of my favorite doughnut (maple bacon). The township people drive to when they want something other than linguine. The place where publishing professionals settle down because it's so close to New York City, yet also moderately cheaper.
It's a town for those who love NYC, but who still have the suburbs in their blood. It's the town next to the town where I grew up.
And as a lifelong word nerd, it has also been a lifeline.
Some of my happiest high school memories are of attending beat poetry events at the (now defunct) Cafe Eclectic, and of watching small jazz performances at the Page One Cafe, a combination coffeehouse / used bookstore (and the embodiment of my bookish dreams).
As the years have passed, Page One has put the kibosh on the cafe and have changed their name to the Montclair Book Center, but it—and Montclair in general—are still where I turn when I need to talk to someone other than my cats about literature.
I'll spare you a litany of all the resources that exist for writers in Montclair (and there are many). But if you're a book nerd (and if you're hanging out on Book Riot, I assume you are), here's where else you can go if you'd like to lose yourself in wall-to-wall books.
Watchung Booksellers
Montclair is special in that it has more than one independent bookstore. If you prefer that your books be in pristine condition, head on over to Watchung Booksellers, which is blessedly off the overcrowded path of Bloomfield Avenue. They carry the most buzzworthy books, the works of local authors, and a selection of products from one of our favorite sites, Out of Print. They also have a children's room in the back where they host readings, book club gatherings, and mommy and me story time. The store itself is located on the periphery of a small square that is often host to kid-friendly activities such as Easter egg hunts, Halloween parades, and even an annual Where's Waldo? scavenger hunt.
Tiny Elephant
A fairly new addition to the Montclair ecosystem, Tiny Elephant is a tiny cafe connected to Watchung Booksellers. When Tiny Elephant moved in, they knocked down the wall between the two shops and joined forces on events such as the summer-long Friday Night Music Evenings. The cafe sets up a few tables on the sidewalk and serves dinner while a local musician plays live. So now I can stuff my face, feel culturally enriched, get fresh air, and spend my entire paycheck on books.
Montclair Public Library
I've been spending more time in this library since joining a local writer's group, but they have a lot to offers readers as well (duh). Aside from the extensive book collection and the regular author events offered at their two branches, they also offer book delivery for the homebound, and have a book bike that brings materials to community events, parks, and other locations around town. Bonus: a satellite location of my favorite doughnut shop opened up in the cafe space at the main branch. (Priorities. Also, they know my order on sight.)
Halfway There Reading Series
A new series that I'm super psyched about, Halfway There takes place quarterly at the Red Eye Cafe, and works in conjunction with Watchung Booksellers to sell the latest books from whomever is reading. The series brings together both established and emerging voices, as well as local and visiting writers of fiction, nonfiction, and poetry.
Notable Writers
Montclair is also a wonderful destination if you're into stalking your favorite writers. Oh. Excuse me. I mean "accidentally" bumping into them whilst strolling about town. Notable authors and journalists (though some in this list are no longer with us) include David Carr, Ian Frazier, and Anne McCaffrey.
And fun fact, the family from the "autobiographical novel" Cheaper by the Dozen is also from Montclair and, in fact, the book is set here. This is a thing I did not realize back when I first inhaled this book and, later on, its sequel, Belles on Their Toes.
Oh those kooky New Jerseyans.