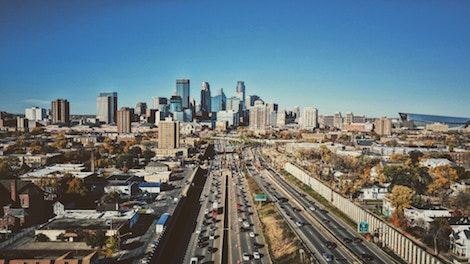 This content contains affiliate links. When you buy through these links, we may earn an affiliate commission.
Other than a brief interlude in Ohio for college, I have lived in Minneapolis or Minneapolis-adjacent my entire life. People from Minneapolis tend to be really into being from Minneapolis, if you know what I'm saying. It's not hard to see why. Minneapolis has a thriving literary scene. It includes robust writing communities, unique libraries, and a strong presence of independent booksellers.
Book Riot has already reported on the literary world of the Twin Cities, which you can read here. However, I want to focus on Minneapolis specifically. It is an underrated city in a lot of respects, and we tend to prefer it that way. So let's keep this a secret between us, okay? Don't go blabbing.
(You can blab if you want.)
Bookstores
our Hobbit Hole is OPEN again!!! We hope to see little peoples here soon to enjoy the space. pic.twitter.com/F503L5gHcE

— Birchbark Books (@birchbarkbooks) August 6, 2018
Birchbark Books specializes in literature and art by Native American creators. It is independently owned and operated by local author, Louise Erdrich, and the book selection is extensive and deep. Birchbark has a kids' play area, comfy places to sit, gorgeous art, and thoughtful book displays. Minneapolis and St. Paul are home to a large population of Native peoples, and this store has a vitality that is very much worth supporting with your patronage.
Magers and Quinn is an independent new and used bookstore. It is a fixture in Uptown Minneapolis that I hope will thrive forever. With such a great library system in Minneapolis, I don't tend to buy very many books myself. Books are expensive! However, I've found that Magers and Quinn prices their items reasonably. I've spent hours here wandering through the cozy maze of tightly packed bookshelves. When it comes to general selection, they are second to none.
Similar to Magers and Quinn, Moon Palace is an independent bookstore selling both secondhand and new books. They differ, however, in that Moon Palace's selection is a bit more eclectic. The space is decidedly neighborhood oriented, hosting storytimes, local bands, and book clubs. It is also home to Geek Love cafe, where you can grab breakfast or a slice of pizza before perusing the store. Moon Palace is one of the most delightful places in the city. I always leave feeling inspired.
Indie bookstores abolished Borders once, we'll do it again. pic.twitter.com/1ywIp5xAW1

— Boneshaker Books (@boneshakerbooks) July 6, 2018
Boneshaker is a volunteer-run radical bookstore with a mission to support and advocate for social justice movements. They have a selection of progressive literature and function as a community space for meetings and events. Additionally, they host the Women's Prison Book Project, which donates books to incarcerated women. Boneshaker is an incredible asset to the Minneapolis community.
Libraries
Central is our huge downtown library and I love it to pieces. It has the largest number of items in the county library system. Besides its extensive collection of books (several floors' worth), it has many other notable resources. My favorites include the piano room, which you can rent an hour at a time, the art gallery on the second floor, and their impressive Special Collections section. The Special Collections includes contemporary abolitionist documents, World War II materials, and a comprehensive collection of local Minneapolis history materials.
The Linden Hills library was built in 1931 and is a designated historic site. Neighborhood life has revolved around this particular library for decades. It is very beautiful, and most importantly, it has a rich history as a social resource and community space. It's worth a visit if you are interested in local history.
Writing Communities
The Loft is one of the largest and most vibrant literary communities in the nation. They provide writing classes for adults and children at every level and interest. Furthermore, they offer residencies, conferences, grants, and writing competitions. I have taken several classes at the Loft, which has helped me improve as a writer. Writing is a solitary activity that can get lonely. Thus, I am grateful to have this community with other dedicated writers.
The MCBA's enthusiasm for book art, including binding, papermaking, and letterpress printing, is contagious. They understand the book as a living art form that continues to evolve. The MCBA hosts exhibitions, classes, artist residencies and mentorships, and studio space for artists. In short, this is a special place with a sense of artistic and cultural urgency.
Fiction in Minneapolis
A younger Bao Phi fishes with his father at a small pond in Minneapolis. Bao reflects that they fish so that they can eat dinner that night. Other people, however, fish for recreation. Bao wonders why his family has to work so hard while others do not. In response, his father tells him a story about fishing on a different pond in his home country of Vietnam, before fleeing from the war to Minnesota. This is a beautiful story about a working class Vietnamese-American refugee family and the histories they carry.
In a futuristic, dystopian Minneapolis, evolution is running backwards for reasons scientists struggle to understand. Biology has stopped obeying the rules and society begins to crumble. In response, the police plan to arrest each pregnant woman in order to study the fetuses. Cedar Hawk Songmaker is pregnant, though with what, she can't be entirely sure. Relying on her own resourcefulness, as well as her adoptive white parents and her Ojibwe family of origin, Cedar needs to evade capture until her due date.
What are your favorite literary destinations in Minneapolis? Share in the comments.