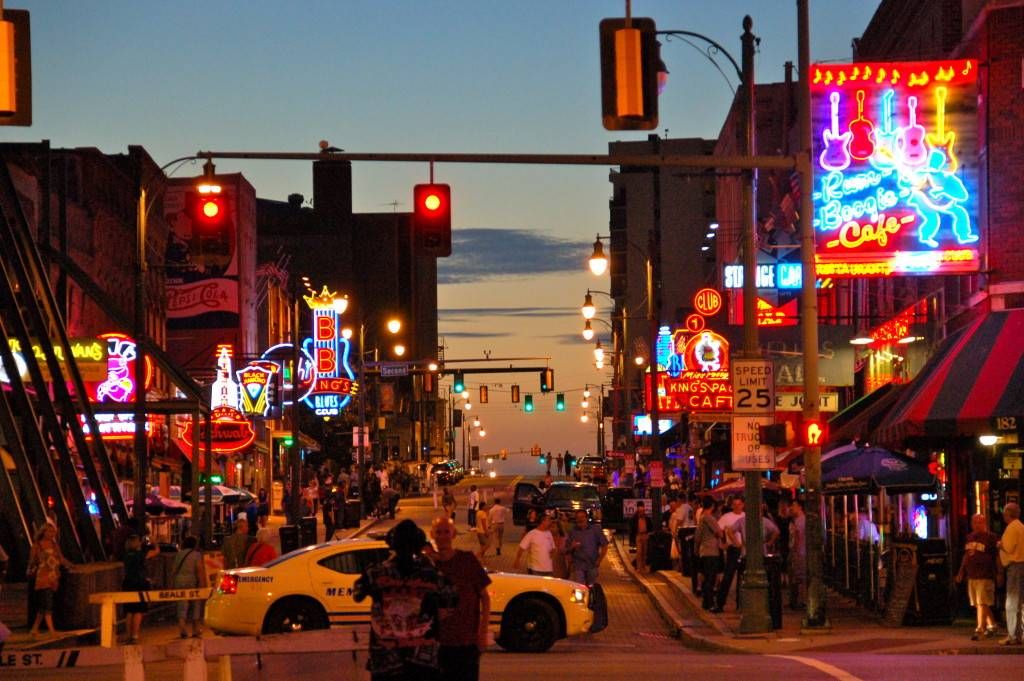 This content contains affiliate links. When you buy through these links, we may earn an affiliate commission.
Barbecue. Blues. Elvis. Sun Studio. Stax Records. These are things that spring to mind when one thinks of Memphis, Tennessee, the former commerce and cotton hub on the banks of the Mighty Mississippi river. Memphis is at once the bustling, forward-looking city depicted at the beginning of Hampton Sides' Hellhound on His Trail and the bluesy, down home slow stroll that Faulkner gives us in his early 20th century romp, The Reivers. A strong current of dedication to social change thrums through the city, back-lighting the thousands of individual dramas that play out on its stage daily–not unlike the Civil Rights Movement era Memphis that Rosalind McMillan shows readers in This Side of Eternity. Despite not having a reputation as a hub of bookish places and literary happenings, beneath all the history, all the soul stirring music and saucy twang, Memphis is a groovin' place for book lovers and bookish people alike.
Memphis is awash in history, and it shows in our literary tradition. Thomas Rainier Williams, better known to some of you as Tennessee Williams, composed his "sailor play" Cairo! Shanghai! Bombay! in the library of one of the most well regarded universities in the United States: Rhodes College. The Historic Elmwood Cemetery, which holds the title of one of the oldest active cemeteries in Memphis, is a literary staple as well. Historian and novelist Shelby Foote, whose The Civil War: A Narrative is a defining text on The Civil War, is buried there. The cemetery also appears in Molly Caldwell Crosby's The American Plague, where it is hauntingly–and lovingly–treated. Memphis' Orange Mound community is the first community in Memphis to be built by African-Americans. Jay Fingers' drama Orange Mound is set in and named after that community.
If you're looking for books, stop into Burke's Book Store, which is the oldest independent bookstore in the city. It's been open and running since 1875. Stepping inside of Burke's feels like stepping back in time, and it boasts a healthy amount of literature that celebrates the virtues of the South. Its stacks, the rocking chairs, and the antique typewriters lining the aisles invite you to sit for a spell. Not to be outdone, The Booksellers at Laurelwood is a modern book space that not only carries the latest best sellers, but heavily promotes local authors. Older bookstores like BookStar (a movie theater turned bookstore), AfroBooks, and Deliberate Literate are gone. New bookish spaces like story booth at Crosstown Arts–a meeting space for readers and writers of all ages–are rising to take their place. The University of Memphis' Creative Writing graduate program hosts student reading events and brings authors to Memphis through the River City Writers Series, where they end up among bookish fans and students at Burke's or The Booksellers. The same program also publishes The Pinch, one of the most respected–and progressive–literary magazines in the city.
Memphis' musical tradition, and its historical contribution to the musical genres of blues, soul, and rock and roll can't be denied. Because our history is rhythmic, our literary events tend to be as well. Lyric poetry sessions like THE WORD and Impossible Language celebrate both the written and spoken word. Beale Street and Graceland's primary contributions to the city are musical, giving us pioneering musicians like B.B. King and Elvis Presley, but they've also served as backdrops for several novels. The Reivers and Walter Mosley's The Gift of Fire prominently feature Beale Street and its deeply musical soul. Novels like Richard Alley's Five Night Stand and many of the stories in the forthcoming Memphis Noir anthology (Full disclosure #1: a piece of my short fiction appears in this anthology.) also serve to underscore Memphis' unique historical intersection of literature and music.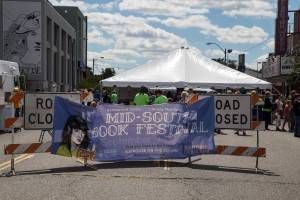 One of the largest (and newest) literary events in Memphis is the annual Mid-South Book Festival (Full disclosure note #2: I am employed by the organization that hosts this festival.). Despite being still in its infancy, The Mid-South Book Festival boasts healthy attendance and a spectacular collection of local and national authors, poets, artists, and musicians. The festival, which recently wrapped up its second year, doesn't just feature authors who live in Memphis or books set in Memphis. It also features and celebrates books and authors who represent the spirit of Memphis: people and books who possess a combination of progressive energy, a dedication to the hardscrabble Grit N' Grind, and a healthy respect of the melange of historic influence that truly contributes to our greatness. I encourage everyone to watch out; in the coming years, I wouldn't be surprised if Memphis becomes one of the great literary and bookish powerhouses of the South. And that's as real as a good plate of ribs.
Save