Literary Tourism
Literary Tourism: A Magical Harry Potter Guidebook to Scotland and England
This content contains affiliate links. When you buy through these links, we may earn an affiliate commission.
Imagine it.
You're reading the third Harry Potter book in the midst of mountains and heather, convinced that Hogwarts might be just around the corner. A few days later, you're reading the fifth as you soar on a ferry towards a misted aisle. A week after that, you're reading the sixth Harry Potter book at a pub in Oxford, just a short walk away from where dozens of Hogwarts scenes were filmed.
When I went to the UK this past August, it inevitably became a trip centered on my love for Harry Potter. The point of doing this trip, this year, was to be at Kings Cross for the moment of the epilogue in Harry Potter and the Deathly Hallows, and I was carrying my full set of paperbacks in my hiking backpack. So as much as I also wanted to see the Scottish highlands, this was essentially a Harry Potter trip.
I won't pretend that this is anywhere near a comprehensive list of Harry Potter places to go in Scotland and England. These are just the places I can speak to. And I'd also say that for anyone who doesn't live in Scotland, just traveling by train through the lowlands and highlands will make you feel the magic, whether the location is involved in Harry Potter or not.
Glencoe, Scotland
I stayed at the Clachaig Inn, a black-and-white building surrounded by waterfall scenes and heather. Only a short walk away, and a steep but quick walk up a mountainside, is the location of Hagrid's Hut from the third movie (if you stay in town, it's about an hour's walk down a woody path). The Hut is no longer there—people told me it was, and I spent a good couple minutes turning in confused circles—but there's no mistaking the wide hillside with its tall line of trees. It will remind you of Buckbeak and of Draco Malfoy getting punched in the face. Is there anything better? There were many other scenes filmed in the area, as well—Glencoe's gorgeous scenery made the perfect backdrop for Hogwarts, so explore and dream of hippogriffs.
Jacobite Steam Train
A short drive or bus ride from Glencoe, you can board the Hogwarts Express. Take a train ride from Fort William to Mallaig in a steam train that runs the famous train route of the first few Harry Potter movies. Most famously, the train passes over the Glenfinnan Viaduct, which features in the first film, but much of the route will look familiar as locations that rush by the windows of the Express. You'll also briefly pass Loch Eilt, which was used for exterior Hogwarts shots and as the location of Dumbledore's grave.
This is not a tourist trap. Definitely book far in advance, but don't hesitate to bring non-Harry-Potter-fans along. Whether or not you recognize the sweeping landscapes that spin by your window, the entire train trip is breathtaking scenery. It's two hours each way. You can take it round trip or one way to Mallaig, where either way you'll have a chance to explore. Mallaig is a town of harbor seals, ocean views of the isles, and excellent seafood.
Edinburgh
There are plenty of Harry Potter must-sees in Edinburgh. Start off with the Elephant House café, where J.K. Rowling wrote much of the first two books. It's packed, and there's often a line for a table, but it's worth it for Harry Potter fans who want to see where their series began. More vitally, the bathroom is covered in Harry Potter love graffiti, and if you're anything like me, you'll cry at the notes left there thanking Rowling and to the Harry Potter world. You'll also laugh—scrawled across the mirror when I was there was "DRACO MALFOY IS A ****ING WEREWOLF." Make sure to bring a Sharpie to add your love to the mix.
Then take a walk down Victoria Street, the inspiration for Diagon Alley, and the location of a Harry-Potter-inspired shop and more than one lovely old bookstore. Grassmarket isn't far away either, and also clearly inspired J.K. Rowling's visions. Then walk through Greyfriars' Kirkyard, where Rowling once sauntered looking for inspiration for names, and have fun locating the gravestones of Thomas Riddell and Thomas Riddell Jr., as well as William McGonagall.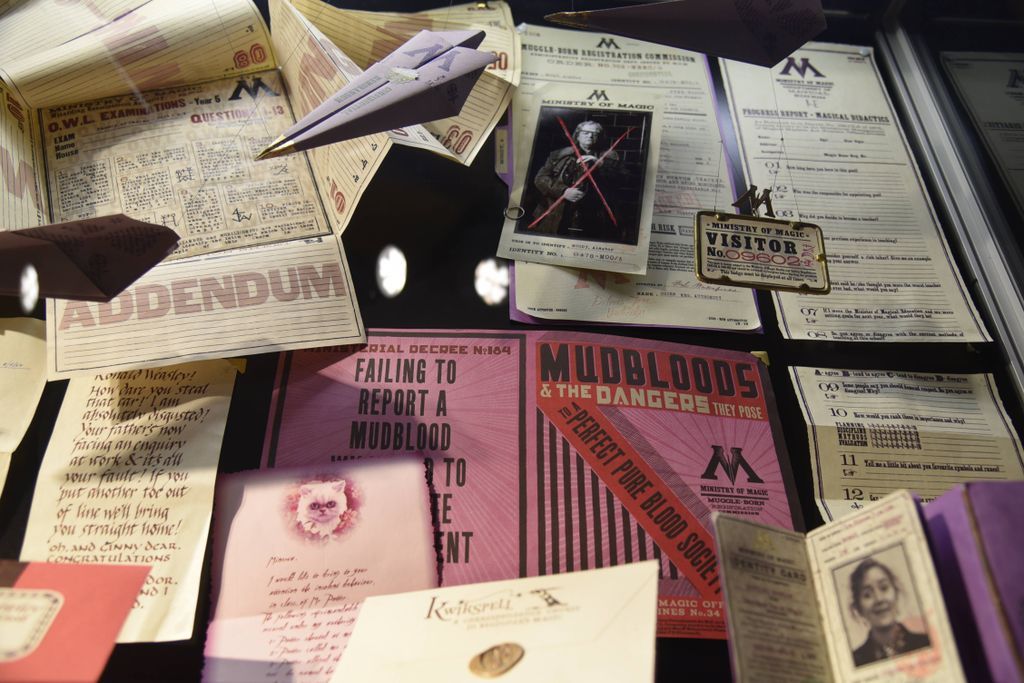 Harry Potter Studio Tour
This is an obvious add, but it really is a must-see—totally worth it. I highly recommend going on a tour out of London that will bring you both to the Harry Potter Studio Tour and Oxford in one day. It's a really great time-asaver, and helps ease transportation struggles!
There is a ton to see at the studio tour—plan at least 2.5 hours if you're a big fan. My favorite part was a large glass case full of graphic design and prop examples from the films, including the first page Lily Potter's letter to Sirius, a copy of Triwizard Tragedies that Hermione was probably reading early in the fourth film, Harry's Charms OWL, and more. Also save your money up for that shop, which has everything from the classic wands and robes to more nitty-gritty finds, like a Holyhead Harpies pin (I'm a huge Ginny Weasley fan).
Oxford
The other great thing about combining studio tour and Oxford is that your tour guide in Oxford will get super-Harry-Potter-specific. She had been an Oxford tour guide for years, and told us stories about one of the Hedwigs arriving in its own limousine and the cold Golden Trio having hot chocolate in the courtyard.
She pointed out a far-off turret where Draco Malfoy was turned into a ferret (New College Cloisters), and let us peek into the tall-windowed room of the Bodleian Library Divinity Hall (best recognized as the infirmary, as well as for several side scenes—such as McGonagall teaching the Gryffindors to dance). Also check out the Duke Humphries Library, where Harry goes to the Restricted Section. You'll most want to see Christ Church, the center of many scenes. Its great hall was the inspiration for the Great Hall in Hogwarts, and you'll recognize the stairway from numerous scenes the first two films, including Harry's very first entrance into Hogwarts.
Tip: Don't go on a Sunday! There were tons of weddings when we visited, and as a result, many of the buildings were closed.
London
If you're lucky, your arrival in London will just happen to drop you off in the tall-ceilinged hall where Harry Potter shot its Kings Cross scenes. If not, there's still the small Platform 9 ¾ shop to visit, and your photo to be taken, rushing into the wall, scarf flying behind do. It's worth doing, but I recommend either coming early, when the line will be short; coming with a group of friends after hours; or buying a VIP pass that will jump you to the start of the line (worth it). I went for September 1, 2017 (the date of the epilogue), so it was particularly busy.
If you have the time and the desires, you can spend tons of time in London finding the shooting locations of Grimmauld Place and even (out of town) Privet Drive (I met a couple who lives on that street while hiking up Arthur's Seat in Edinburgh), as well as dozens of other sites—visit the Reptile House at the London Zoo to see where Harry set a snake on Dudley.
But the biggest attraction this year for Harry Potter fans in London is at The British Library—their stunning exhibition Harry Potter: A History of Magic runs until the end of February.
Suggestions for what should have been on my list? Let me know in the comments!