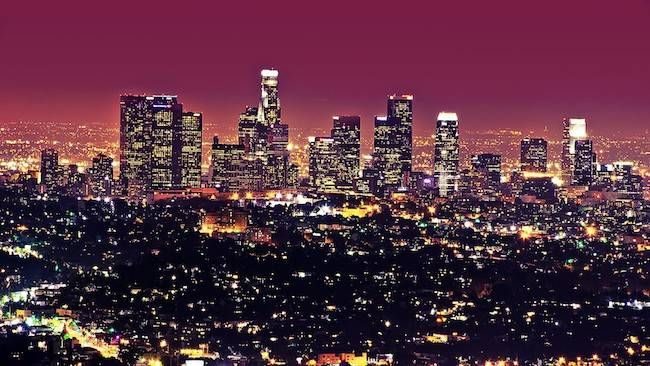 Paris may claim to be the city of lights, but Los Angeles might as well be the city of lights under the covers. The amount of writers who make this West Coast mecca their home, the characters that have come to live in our minds, and the number of incredible stories that have come out of LA puts this city near the top of any list of literary hubs.
It's especially magnetic for lovers of great crime fiction. "It seemed like a nice neighborhood to have bad habits in," said Raymond Chandler in The Big Sleep. That novel, and many of his others, are set in the city; it's his vision of criminals on hot desert nights that has formed the American idea of the gangster. Like many other LA writers, Chandler also wrote screenplays, transferring his own unique voice between mediums and getting into our ears and our heads.
Much of that criminal voice comes from true events: for the greatest LA horror experience, look no further than Vincent Bugliosi's Helter Skelter. This true account of Charles Manson and his murders is not only riveting, but maps the crimes all over the city: ranches and movie sets, winding roads and terrifying mansions in the dark of night.
The city's best writers also cover the glittering wealth (Bret Easton Ellis' Less than Zero), the loneliness of mental breakdowns of unfulfilled actresses (Joan Didion's brilliant and currently under-appreciated Play It As it Lays), freewheeling pulp fiction (everything by Charles Bukowski), delightfully weird teenage experiences (Francesca Lea Block's Weetzie Bat), experiences of poverty and gentrification (The White Boy Shuffle by Paul Beatty), humanist poetry (everything by Wanda Coleman). The city's writers are as diverse and sprawling as the city itself. What they share is a boldness to go after big voices and big dreams– clearly, these are the people of LA.
With all of these entry points into the words of LA, it's no surprise that the amount of events is off the charts. A great place to start is the Last Bookstore, a beautiful old bank that's been converted into the kind of store you'd want to browse for hours. (Expert tip: amazing graphic novel section.) They also do events, as does the Barnes & Noble in the Grove, who gets a relentlessly cool lineup of writers. Small World Books, Book Soup— there are so many more that we can't list them all here. Want to attend a literary event? Don't miss this detailed calendar by — there's something nearly every day.
But if you want the big kahuna of literary events, or you want to save your plane ticket for something spectacular, then the LA Times Festival of Books is what you're looking for. No matter what kind of books you love, you're going to have a great time here. It's also a great place to meet writers you admire.
That should get you started. When you're ready to go deep, all the way down the internet rabbit hole, check out these extras:
LA is also a great place to learn to write, not just from the atmosphere but from the incredible teachers that populate the city. There's a great detailed list of writing programs over at Ploughshares.
Lit Crawl looks great.
You could spend a lifetime exploring Los Angeles' literary culture and history. Get started with these incredible resources:
This LA Times Literary Guide to Los Angeles. Addictive. Very very addictive.
For a more contemporary list of current LA authors giving some off-the-beaten-path recommendations, check out this great list from LA Weekly.
We know we're missing about 1 million more incredible literary LA experiences. What are they? Let us know!