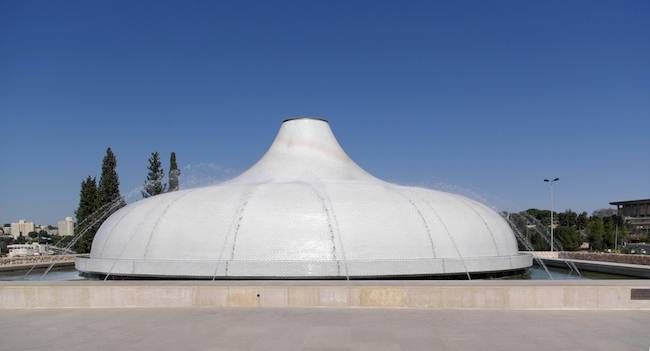 This content contains affiliate links. When you buy through these links, we may earn an affiliate commission.
Israel: it's a pretty tiny country (smaller than New Jersey), but its inhabitants have managed to pack a whole lot into it, including lots and lots of books. Most of these books are written in Modern Hebrew, but many Israelis can also write in English. According to Israeli law, two copies of anything published within the country must be given to the National Library of Israel and the Hebrew University of Jerusalem. Israel has also churned out some pretty famous writers, including Amoz Oz, Nobel Prize winner Shmuel Yosef Agnon, and the poet Yehuda Amichai.
Now, I haven't been to Israel yet, but I plan to go someday. And you'd better believe I'll be checking out its literary culture and festivals. So in preparation for this trip, I've put together a post about the best bookish places in Israel. Let me know what I've left out!
Famous Writers
The fact that Israel was only recently established (1948) and has been the site of many conflicts has influenced how and what Israeli writers focus on. Questions of identity, language, history, and memory preoccupy many of them, whether they are Jewish, Muslim, or Christian.
One of Israel's most famous writers was Shmuel Yosef Agnon (1888-1970), born in Galicia, whose body of work reflects the tumultuous establishment of Israel and the decades immediately following. Agnon's work focuses on the clash between modern life and traditional Jewish practices, as well as the vanished world of the eastern European shtetl. He shared the Nobel Prize in Literature in 1966 with the poet Nelly Sachs. According to the Nobel Prize site, Agnon won "for his profoundly characteristic narrative art with motifs from the life of the Jewish people." Some of his works have been translated into English, including Only Yesterday (1945), which takes place during the Second Aliyah (mass migration of Jews to Israel, 1904-1914) and tells the story of an immigrant's journey from Galicia to Jerusalem.
Another famous Israeli writer, whose name is also familiar to many English readers, is Amos Oz (b. 1939). He is also professor of literature at Ben-Gurion University. Translated into 42 languages, Oz's work focuses on the conflict between Zionist idealism and Israeli reality. Many also know him because of his outspoken advocacy of a two-state solution to the present conflict between Israelis and Palestinians. Oz has received innumerable literary awards, including the Franz Kafka Prize, the Goethe Prize, and the Jewish National Book Award (from the U.S.). His novels include A Tale of Love and Darkness (2003) and Between Friends (2012).
Other notable Israeli writers include Ronit Matalon (b. 1959), whose novel The Sound of Our Steps (2008) will be published in English by Metropolitan Books in August (can't wait to read my copy!); Rivka Keren (b.1946), known for Outrage (2010) and The Taste of Honey (1990); the experimental poet David Avidan (1934-1995); and the Arab-Israeli writer and satirist Sayed Kashua (b.1975), known for his column in Haaretz, a popular comedy on Israeli tv, and three novels, including Dancing Arabs (2002) and Let it be Morning (2006).
Literary Landmarks
Beit Agnon (Agnon House) is where Shmuel Agnon lived and wrote for 40 years. After his death, the house was opened to the public and hosts literary and cultural events. The library includes thousands of books, including prayer books, liturgical poetry, ethics, Kabbalah, midrash and agadah, Jewish history, and contemporary works. You can even find rare books from the 16th and 17th centuries here (!!!).
And then there's the Shrine of the Book, which is just a magnificent name. Located on the Israel Museum's campus, it houses such major archaeological discoveries as the Dead Sea Scrolls and other rare ancient manuscripts. Check out their website to see the Digital Dead Sea Scrolls and other mouth-wateringly ancient texts.
Don't forget to check out Beit Hannah, which was founded in memory of the Hungarian poet and paratrooper Hannah Senesh (Szenes) (1921-1944). During WWII, she participated in rescue missions in Nazi-occupied Europe
Libraries
The National Library of Israel was established in 1960 on the campus of Hebrew University and exists as "the national library of the State of Israel, the national library of the Jewish people, and the central research library of the Hebrew University of Jerusalem in the subjects of Jewish Studies, Islamic and Middle-Eastern Studies, and in the General Humanities" (source). Students and researchers come from around the world to use its resources, which include many books written in Yiddish, Ladino, and Jewish Arabic. With many reading rooms, collections, and archives (including that of Isaac Newton), the National Library is a must for anyone interested in learning more about Israeli literary culture.
The Tel-Aviv University Libraries include several faculty and departmental libraries, as well as special collections in the Kantor Center for the Study of Contemporary European Jewry and The Cymbalista Jewish Heritage Center.
Bookstores
In the famous American Colony Hotel in Jerusalem (visited by Philip Roth, Bob Dylan, and John le Carre), you'll find Munther's Bookshop, which specializes in regional titles and often hosts authors. Munther's also offers a good selection of English titles.
In Tel-Aviv, you'll find M. Pollak Books, which specializes in rare and antique books and maps; Books at Basel, which carries Hebrew and English books, international magazines, and newspapers; the second-hand "book heaven" Halper's Bookshop; and Brothers Green, which holds a large collection of Jewish and socialist literature, sci-fi, and fantasy.
Fairs and Festivals
Hebrew Book Week (Jerusalem) takes place each June and includes outdoor book fairs, special book sales at stores around Israel, music, children's events, workshops, and more.