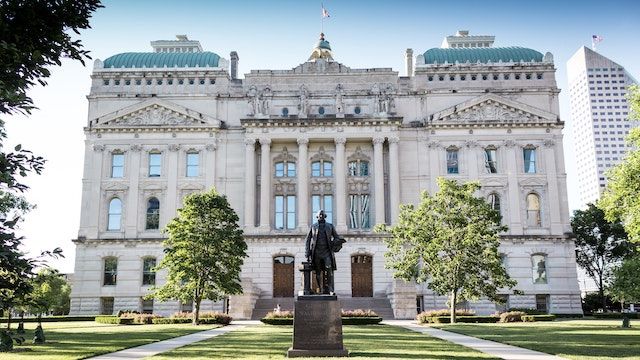 Literary Tourism
Literary Tourism: Indianapolis (and Surrounding Suburbs), Indiana
This content contains affiliate links. When you buy through these links, we may earn an affiliate commission.
I recently moved to an Indianapolis suburb and am still learning all the ins and outs of my new home. Moving from Chicago, with its abundance of bookstores and literary locations, motivated me to find new places of bookish delights in and around the Indianapolis area. This led to some very pleasant surprises and discoveries.
Here are some booktastic locations to check if you find yourself in the Crossroads of America:
Academia
The Kurt Vonnegut Museum and Library
Born in Indianapolis, Kurt Vonnegut is famous for many novels, such as Slaughterhouse Five and Cat's Cradle. You can visit the Kurt Vonnegut Museum and Library to see his typewriter, first editions of his works, and rejection letters he received. Just this month, the museum was able to exceed its donation goal to purchase 543 Indiana Avenue as its "Forever Home." You can still donate on their website!
The Center for Ray Bradbury Studies
I am SO EXCITED this is in Indianapolis. The Center was founded in 2007 at the Indiana University School of Liberal Arts at IUPUI. It was the nation's first center for the study of the renown science fiction and fantasy author Ray Bradbury. After Bradbury's death in 2012, the Bradbury family sent more than 18,000 pounds (that's right, I said POUNDS, y'all) of Bradbury's writings and awards to The Center, and are currently counting down to Ray Bradbury's Centennial in 2020. So if you're a Bradbury fan looking for a place to visit come the centennial celebration, check on The Center's website and social media pages for updates!
Books Galore
Books & Brews
If you like craft beer or books, or preferably both, then this Indiana chain is the place for you! Books & Brews sells gently-used books, and 10% of the proceeds goes to Indy Reads. And they offer craft beer with literary names. Seriously, they have an Indiana pale ale called THE THREE HOPSKETEERS! In addition to its Indianapolis location, there are a handful of other locations in around Indiana as well. So if you're in Indiana, there's really no excuse not to check this place out. All for one and one for all! Go forth, my friends, order a beer, and read.
The Indianapolis Public Library – Central Library
Big city libraries are usually a sight to behold and the Indianapolis Public Library is no exception. Built in 1917, the central library branch has an interactive children's area and a beautifully-built glass atrium (hey hey for those looking for a bookish wedding venue in Indianapolis). The library hosts some great resources, such as The Center for Black Literary & Culture and the Indianapolis Special Collections Room.
Wild Geese Bookshop
Wild Geese Bookshop is located in Franklin, Indiana, about 30 minutes south of Indianapolis. While I adore Indy Reads, it can sometimes be a trek to drive to since I live a southern suburb of Indianapolis. Wild Geese Bookshop is a beautiful drive through the country and perfect for those who want get their independent bookstore fix while taking a break from the bustling city. It's a warm and comforting little bookshop that I would recommend to anyone visiting the Indianapolis area.
Presses & Literary Magazines
These aren't physical locations to visit, per se, but they are no less important to discovering and exploring the the literary personality of a city and state. Check out these Indiana gems.
Engine Books
Small presses for the win! Engine Books is run by Victoria Barrett out of Indianapolis and has published some excellent titles, both novels and short story collections, such as Echolocation by Myfanwy Collins and The Fourth Corner of the World by Scott Nadelson. This small press also has a YA imprint called Lacewing. Submissions are currently open, so if you have a polished book-length manuscript that might be a good fit, check out the press's guidelines!
Sycamore Review
Sycamore Review is Purdue University's literary journal. First published in 1989, the journal just sent out its 30th Anniversary issue to subscribers! Sycamore Review features stunning works of fiction, poetry, and nonfiction, in addition to interviews and book reviews. The journal's most recent issue includes an interview with Carmen Maria Machado and all issues feature stunning cover art. For you writers out there, the review's general reading period open to submissions on September 1st. So review those submissions guidelines and start polishing your drafts!
Indiana Review
Speaking of another literary journal staple, Indiana Review has been going strong since 1976! The nonprofit literary magazine is based out of Indiana University and features talented fiction, poetry, nonfiction, and art. The magazine also includes a sneak-peek option for those who want to preview an upcoming issue or sample an issue without purchasing a copy. Submissions are currently closed but they will be announcing their fiction and poetry prize winners soon!