This content contains affiliate links. When you buy through these links, we may earn an affiliate commission.
Welcome, hello. Yes, it is warm out, isn't it? And Los Angeles summer is just beginning—it will be hot like this through October, easily. But you aren't here to talk about the weather. It's been three years since our last literary tour of Los Angeles, so strap in. I hope you remembered sunscreen!
There are many ways to tour literary Los Angeles. You might wish to visit the locations of your favorite noir, or go to every bookstore within city limits (heck, make it L.A. County). I've selected a few locations, heavy on the bookstores, to give you a sense of L.A.'s bookish community.
We meet at The Last Bookstore downtown. This iconic bookstore, which we visited last time, too, occupies an old bank, putting the space to terrific use. The little shops in the upstairs area are only surpassed in delightfulness by the selection of books literally everywhere. But we'll only be here briefly—we have a busy itinerary.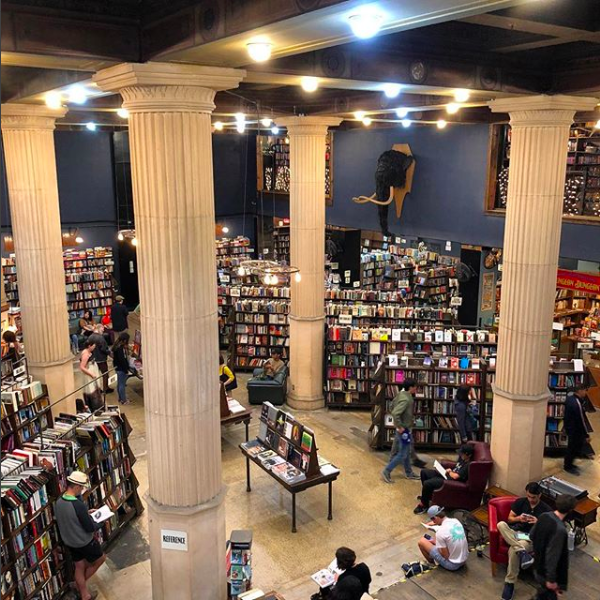 Note: It's tough to hold onto a brick and mortar storefront in L.A., with rent prices consistently rising regardless of income. Some of L.A.'s bookstores have adopted a pop-up model. If these are up during our tour, we'll be sure to stop!
Books and Cookies: formerly a storefront on the Santa Monica/Venice border, you can now find children's events all over town.
The Lev is a community bookshop focused on women and authors of color (especially women of color) that's held several successful pop-ups already. We wrote about The Lev's community fundraising here.
First stop is the Los Angeles Public Library, which is not just a fantastic lending library but also home to Tessa, the most amazing digital archive of Los Angeles that I know of. In the downtown branch, you can get lost in the stacks, check out the Getty Gallery, and of course visit the gift shop.
Another spot you should know about is the Libros Schmibros Lending Library in Boyle Heights, whose mission is to get low-cost or free books into the hands of readers in Los Angeles. They have public hours on weekends, and accept donations of both cash and books as well as bookish items like bookends. And they need volunteers!
Next up is a bus tour of Los Angeles history via Esotouric. Depending on the date, we can see the Los Angeles of Raymond Chandler, James M. Cain (coming up on September 8), or Charles Bukowski, or take a crime tour of the Black Dahlia or the Manson murders; prefer music? You can see Tom Waits's L.A. (Esotouric is headed up by Kim Cooper, author of The Kept Girl and editor of The Annotated Big Sleep; I hope they will add some tours focused on non-dudes—and non–dead girls—soon.)
From here we head north on the 110, out of L.A. proper to visit Book Show in Highland Park, a community bookstore inspired by the circus aesthetic and offering all sorts of events including stand-up comedy. Further north, we'll visit our friends at family bookstore Once Upon A Time in Montrose, then pop over to Pasadena for a nice long browse at Vroman's. (Be sure to visit the pen counter if you like to write by hand—they have the best selection of fountain pens I've seen locally, and friendly, knowledgable sales people.)
We'll drive back to L.A. proper through Burbank, stopping at House of Secrets for a comic fix, then drive through Griffith Park (the location of my favorite scene in Double Indemnity) and down through Los Feliz, stopping at Skylight Books. From there it's across Sunset into West Hollywood, where we'll visit Book Soup. Skylight and Book Soup are two of the longest-running independent bookstores in L.A., with wonderful book events and tons of signed stock from local authors.
We stop for a bite to eat at the Original Farmers Market at Third and Fairfax and pop into the Taschen Bookstore before attending a big name book event at Barnes and Noble at The Grove next door.
Everyone back on the bus now. We're heading west. Is everyone here? Have you all found your buddy? Okay, good.
I know you've been waiting, and it's finally time: we're visiting The Ripped Bodice next…just as soon as we make a quick stop at Children's Book World, a delightful westside shop.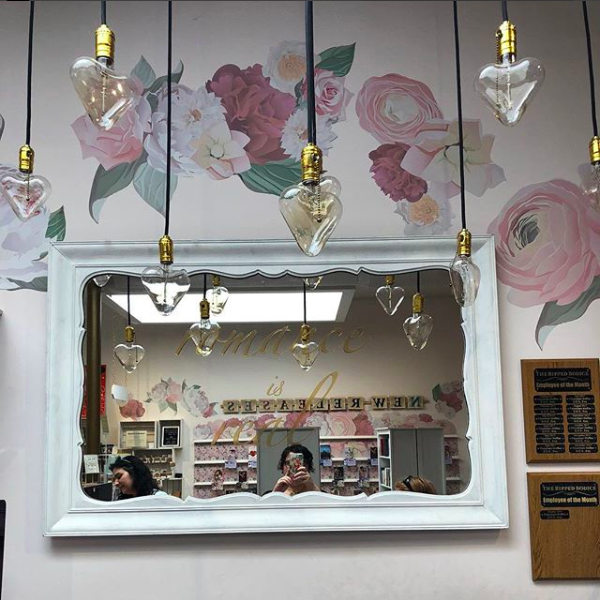 The Ripped Bodice is everything you hope it will be, and more. Owners Bea and Leah Koch are absolute delights. Fitzwilliam Waffles really is the best shop dog. The shop is bright and airy and beautifully decorated. There is a book (or, er, a hundred) for everyone. And unlike the paltry selection at some of the other shops we've visited, this store embraces romance and everything romance-adjacent.
We end out day at the beach. Our last official stop will be Small World Books in Venice; when we're done browsing there, perhaps you'd like to go sit on the boardwalk with your books and let the ocean breeze wash over you.