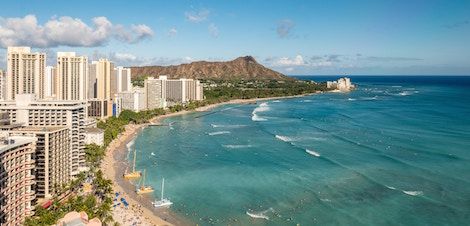 This content contains affiliate links. When you buy through these links, we may earn an affiliate commission.
In my first memory of O'ahu, I'm running in an open field. Makakilo, I think. I would travel to the island twice more (for state cheerleading championships and to visit my brother who landed a job in, as my dad called it, "the city") before moving there in 2014 for nearly three blissful years.
How do I begin to write about a place that I love so ferociously? And yet, the reality might be that I'm always writing about it somehow. Considering I could go on forever about Hawai'i, a thousandish words on Honolulu barely highlights several bright stars in a place teeming with beauty.
A must see, the knowledge obtained from walking through 'Iolani Palace's doors will make you a better person and, likely, break your heart if the organ's in good emotional working order. After the overthrow of the Hawaiian monarchy, Queen Lili'uokalani, who penned "Aloha ʻOe (Farewell to Thee)" and Hawaii's Story by Hawaii's Queen, was confined to house arrest in her royal residence following accusations of an insurrection. After regaining civil rights, she lived out her days there, advocating for Hawai'i's independence.
The Royal Hawaiian opened its doors on February 1, 1927. If only the wide halls, build for promenading, could share all they've seen. Every Tuesday and Thursday at 1 p.m., the "Pink Palace of the Pacific" hosts a free historical tour, where visitors can learn what songs the band played in the Persian Room while diners slurped soup. Sip a mai tai where Joan Didion reread everything penned by George Orwell, and stayed with her husband and daughter "in lieu of filing for a divorce." Imagine Duke Kahanamoku surfing out front.
Hawai'i has noodle game like it has sand, and on my itinerary and in my life, the food ranks high. Once, I bought a book, Mambo in Chinatown, just because it had my choice-carb in the first sentence: "My name is Charlie Wong and I'm the daughter of a dancer and a noodle-maker." While working at Schuler Books & Music, I took home (thanks to their hardcover library) The Ramen King and I and read it cover to cover.
In Kaimuki, Ed Kenney's food philosophy—and hand-cut noodles—make his eateries staples. Travel writer Paul Theroux dined with Anthony Bourdain at Kenney's first restaurant, Town, in Parts Unknown. There, the travelers talk about island politics. "Did anyone ever come to an island with a good intention?" Theroux poses. There, I ordered the pasta (surprise!) with pork, beef, pancetta, porcini ragù, and parmigiano. Also, on my noodle to-do list: The Pig & the Lady and Piggy Smalls.
I've noticed through the voyeuristic world of social media that writers, especially poets, prioritize flowers. From build-your-own bouquets to pretty pots for succulents, Paiko in Kaka'ako covers your needs. They also carry agriculture books, including 'OHI: How to Gather and Arrange Hawai'i's Flora by the store's founder along with photographer Mariko Reed.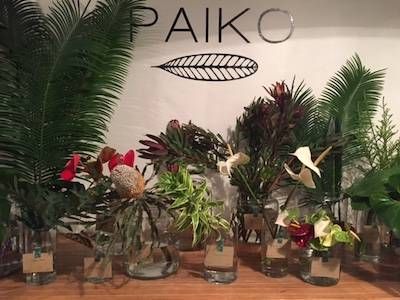 Since I learned that the Honolulu Museum of Art housed three of Georgia O'Keeffe's paintings from her time in Hawai'i for a Dole pineapple art commission, the place took up residence on my bucket list. In anticipation of visiting, I reread Joan Didion's O'Keeffe essay in The White Album to savor the artist's words: "I made you take time to look at what I saw and when you took time to really notice my flower you hung all of your associations with flowers on my flower and you write about my flower as if I think and see what you think and see—and I don't."
Touring the property, I gazed at every piece, relishing my time, not knowing when her work would appear. I marveled over Diego Rivera's The Flower Seller: the colors, the chip in its frame. Stuck on Frida Kahlo, I rounded the corner. Straight ahead, the three pieces hung parallel to the spot I had obsessed over the woman who wrote O'Keeffe in March of 1933. In the letter, Kahlo confessed, "I thought of you a lot and never forget your wonderful hands and the color of your eyes."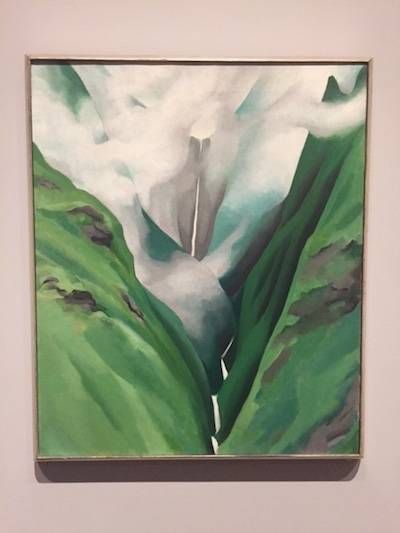 Being there felt like a daydream. Filled with gratitude, I visited the café to order rosé and toast my person, while waiting for chilled soba noodles with fresh island mahi to arrive.
One of my shopping havens, Nā Mea Hawai'i serves as a cultural hub and is resilient AF. After Ward Warehouse (the store's previous home) was allocated and, later, demolished to build condos, the store split into four locations until finding a new space at Ward Centre. Luckily, my visit coincided with their reopening. The store hosts talks, book signings, workshops, among other things. Research additional literary events (like the annual Hawai'i Book & Music Festival and Wine and Words fundraiser) and work them into your plans. Once upon I time, I attended both: the former as a presenter and the latter as a reader, and they are worth fighting traffic for.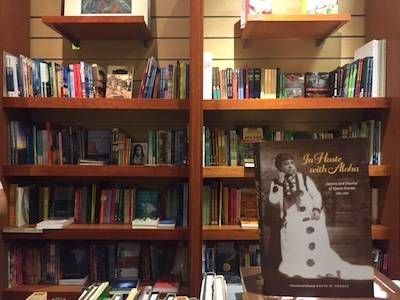 If you can't stay forever, please take pieces of Hawai'i home as keepsakes and share them with loved ones. Buy local books and literary journals from Bamboo Ridge, Bess Press, Hawai'i Review, Mānoa: A Pacific Journal of International Writing, TinFish, and University of Hawai'i Press. As a former editorial intern for Mānoa and a contributor at Hawai'i Review and Bamboo Ridge, I can vouch for the love that goes into these publications. Read local writers, listen to local music, and watch local documentaries. Don't forget to eat Spam musubi. Pay your respects at Pearl Harbor and Punchbowl, hike Diamond Head, paddleboard, fish. Learn Hawaiian words. Talk story with residents. Thank them for their time with a smile and Heineken. While listening to the waves, watch the sun set and rise, the sun set and rise.