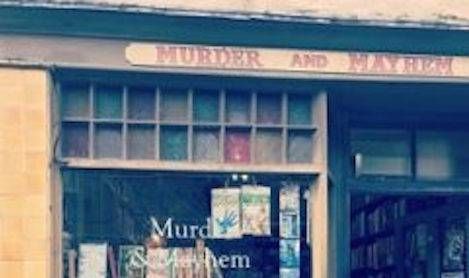 Hay-on-Wye, often shortened to "Hay," is a charming little market town on the Welsh side of the English/Welsh border. If driving there from England, you'll know you've arrived; all of the signs start to look like someone drew the letters out of a hat at random, and the letters in said hat are mostly consonants. For example: "Hay on Wye: Please drive carefully" reads as "Y Gelli: Gyrrwch yn ofalus." Thankfully, almost all of the signs are posted both in English and in Welsh.
What makes Hay-on-Wye a book lover's dream, you ask? It's a town of books.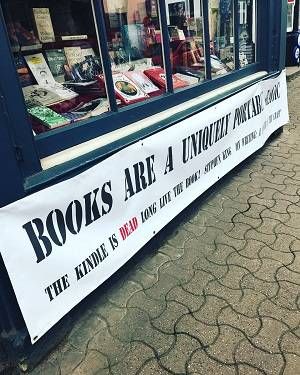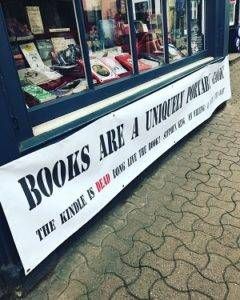 In addition to numerous adorable cafes and antique shops, over twenty bookshops line the streets of Hay. Most carry primarily second hand books and some are centered on a theme.
If you're there on a Thursday, pop by Hay Market. It's held from 8:00 AM until mid-afternoon and features over 40 stalls of foodstuffs and gifts. If you can, time your visit around the famous Hay Festival, a world-famous four day celebration of books and culture set in this picturesque village.
The Shops
To start your day, I recommend nabbing one of the leaflets found at any one of the shops. They contain a map with the locations of each of the shops on one side and a brief description of their offerings on the other. I grabbed one straightaway and then checked shops off the list one by one.
Addyman Books
Addyman Books is one of three affiliated shops located in Hay. This as a good starting point since the store is large and its stock pretty comprehensive. Bonus: for every £10 you spend at any of their three stores, you get either £1 off your purchase or a free tote bag. I took full advantage of this offer since I spent the requisite amount twice over in my visit to all three shops.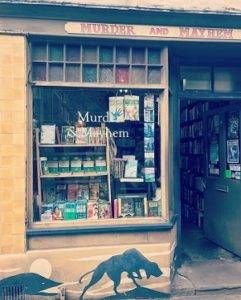 Speaking of those other shops: calling all mystery/thriller fans! I mentioned to the gal working at Addyman that I am a collector of vintage Agatha Christie books. She consequently pointed me in the direction of sister store Murder & Mayhem; that's where I just about lost my mind. As the name implies, this shop specializes in detective fiction, true crime and horror novels. There's a delightfully dark and creepy vibe to the store's aesthetic, including a chalk outline on the floor of one of its nooks. The upstairs section is an explosion of vintage books by a myriad of crime authors. I left with an entire stack of Agatha Christies, one that got me that free tote bag and a whole lot of bookish pleasure.
Addyman Annexe, the third and final Addyman shop in Hay, specializes in, as their website puts it, "the sexier material: sex, drugs, art… and the occasional occult work!" What's not to love?
Other Notable Shops
Hay-on-Wye Booksellers bears the name of the town and makes for a great photo op with its 15th century paneling. Rose's Books features rare and out-of-print children's books. Hay Cinema Bookshop is set inside of an old restored movie theater and is now home to over 200,000 volumes across numerous genres. Richard Booth Bookshop is one of the most beautiful shops in town; it has plush chairs for comfortable browsing and also features a small cinema. While you're there, grab a bite to eat at the bookshop's café; tasty bites include devilled Portobello mushrooms, treacle tart, and elderflower sorbet.
Hay Castle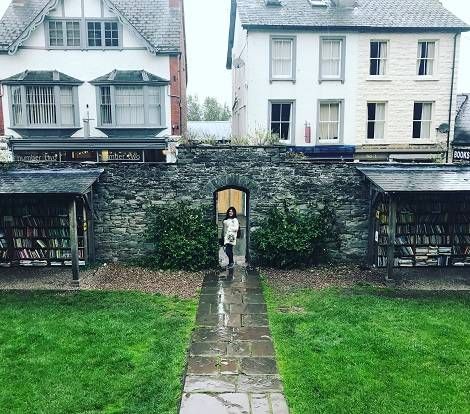 At the center of town, you'll find Hay Castle. The castle's main bookshops and tours of the interior are currently off limits due to an ongoing restoration project. It is still very much worth entering the courtyard to peruse the selection at the Honesty Bookshop. Therein you'll find two giant walls of books organized by color with zero regard to genre or any other useful sorting mechanism – the fun is in the search! All books are £1 or less and payment is rendered via an unmanned collection box on an honor system.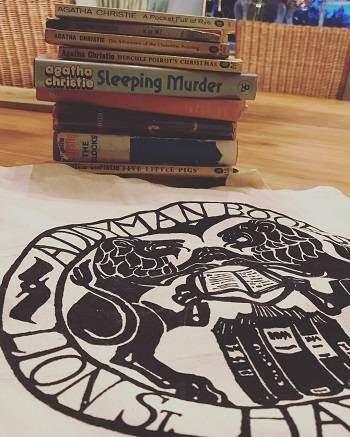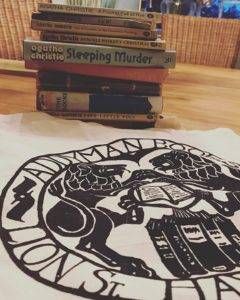 An entire day can be easily spent drifting from shop to shop, browsing the shelves and stumbling on rare finds and old favorites. Perhaps the best part about Hay-on-Wye though is its people: it is a community book lovers who are happy to chat with you about their appreciation of the written word. I will certainly always treasure the 23 books I bought. Most of all, I will reflect fondly upon the conversations I had while procuring them. I can't wait to return to this literary haven.
Want more? Check out our round-up of even more book towns around the world.