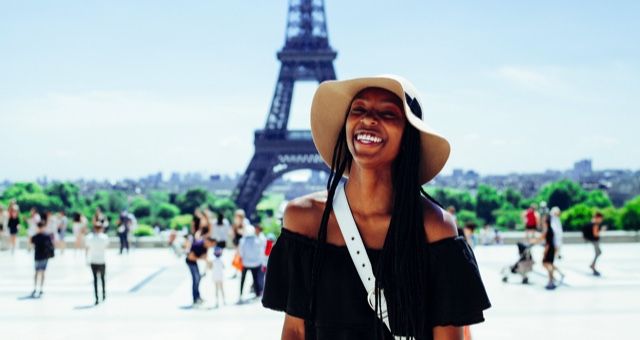 Lists
5 Wonderful Literary Tourism Guidebooks
This content contains affiliate links. When you buy through these links, we may earn an affiliate commission.
One of the things I love most in the world is literary tourism. I spent a long weekend in Winchester and found the memorial to Jane Austen and another for Charlotte M. Yonge; I drove down the wrong street in London and realised I was retracing the steps of Pauline, Petrova, and Posy from Ballet Shoes. Whether it's visiting Platform 9 3/4 or working out Bram Stoker's holiday home, literary tourism lets me fall from this world into the next and, just for a moment, experience something that I've only ever read about. Here are five of my favourite literary tourism guidebooks that have helped me on my journey. They cover everything from forests, national parks and urban jungles, all of which have a bookish connection.
It's important to note that this is not a diverse nor representative sector of publishing – and that needs to change. Please talk to us on social media if you have any favourite titles that you'd like to recommend! And if you work in publishing, please commission Lupita Nyong'o's guide to the best ski chalets to read in. Thank you.
I love Beatrix Potter and this book does her more than justice. Denyer introduces us to Hill Top and the Lake District (UK), talking about how the area influenced Potter's work. It's full of lovely, rich photographs and plenty of Potter's wonderfully detailed illustrations. This isn't just a literary tourism guidebook, it's a work of art.
Eclectic, richly produced, and including a broad range of authors from Chinuea Achebe to Liz Lochead, The Atlas of Literature offers a series of chapters to wallow in. These include sections on Paris in the '20s, Scenes from Provincial Life (Britain in the '40s and '5os), and Cervante's Spain. Though there are a fair few proofreading errors, it's still worth a read – and the images are gorgeous.
I read a lot of children's books, and this is a guide to those that have been set in and around the Lake District and Cumbria (UK). It includes authors such as the legendary Rosemary Sutcliff and the equally legendary to British readers of a certain generation 'Home Farm Twins' series. Again, as with all good literary tourism guidebooks, it's full of the sort of detail that will have you immediately planning a trip.
Accompanied (metaphorically) by Virginia Woolf in London and Sophie Calle in Paris, Lauren Elkin walks the streets of the city in the manner of the 19th century "flâneur". But this is a feminist text and she is no patriarchal flâneur but rather a flâneuse: a female wanderer of the urban landscape she finds herself in. This is a book which looks to reclaim a woman's place in a modern city, whether that's Tokyo or Venice, and to explore just what that place might be. It's occasionally brilliant, occasionally transcendent, and occasionally deeply frustrating. In short, it's life, lived.
I've saved one of my favourites until last. Joan Bodger took her family to Britain in the 1950s on the holiday of a lifetime. They wanted to discover the sources of some of their favourite childhood books – and what happened next is ridiculous. They end up meeting Arthur Ransome and get told off by Mrs Milne for having a Piglet that not's true to scale. Like I said, it's ridiculous. And yet, it's perfect.