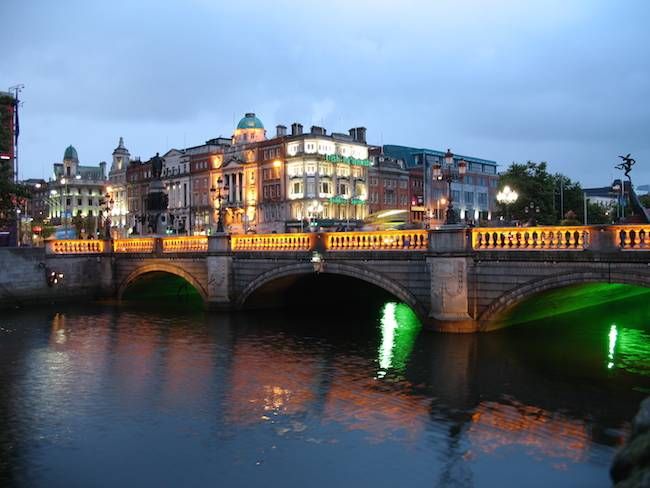 This content contains affiliate links. When you buy through these links, we may earn an affiliate commission.

If you're looking for a bookish destination, Dublin has you covered. With a literary tradition going back centuries, including being the home to many of the most recognizable writers of the English language and the setting for arguably the most famous novel of the last century–Ulysses–it comes as no surprise that Dublin has a ton of awesome libraries, bookstores, pubs, and a museum or two to keep bibliophiles busy. It's as close to a book lover's paradise as you can probably get.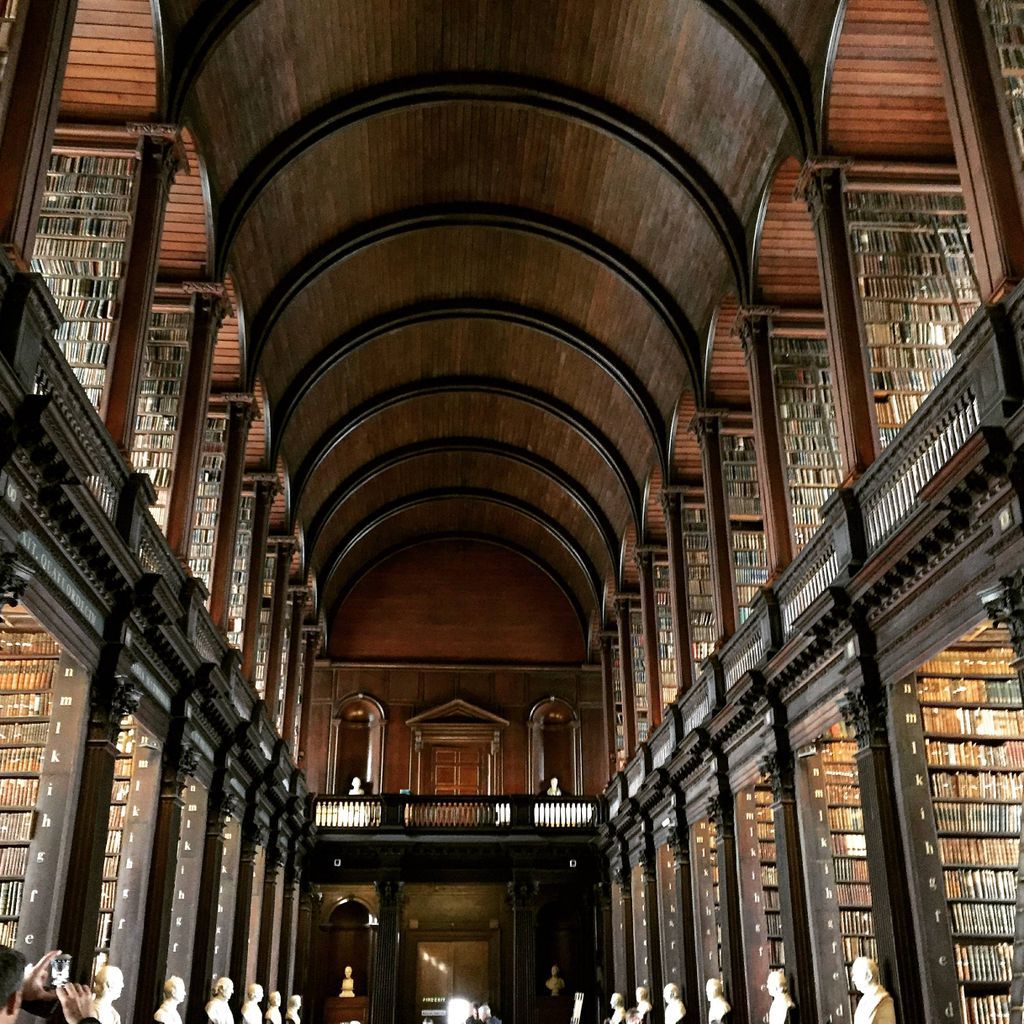 Trinity College Library
We've mentioned it before on Book Riot, but Trinity College's Old Library is like a Mecca for book nerds. You CANNOT skip a trip to Dublin without visiting it. Don't let the lines put you off–they actually move pretty quickly, and it's well worth the wait to get in. Famous for housing the Book of Kells (which is absolutely breathtaking, by the way–I can definitely see why it's considered Ireland's greatest national treasure), the old library also includes the Long Room, one of the most gorgeous and iconic libraries in the world. I never understood the adoration some people have of "old book smell" until I walked into this library: it doesn't just smell dusty or moldy, but deep and rich with leather bindings, ink, and vellum. Heaven.
I also enjoyed the book display cases in the Long Room, which mix ancient texts with contemporary novels.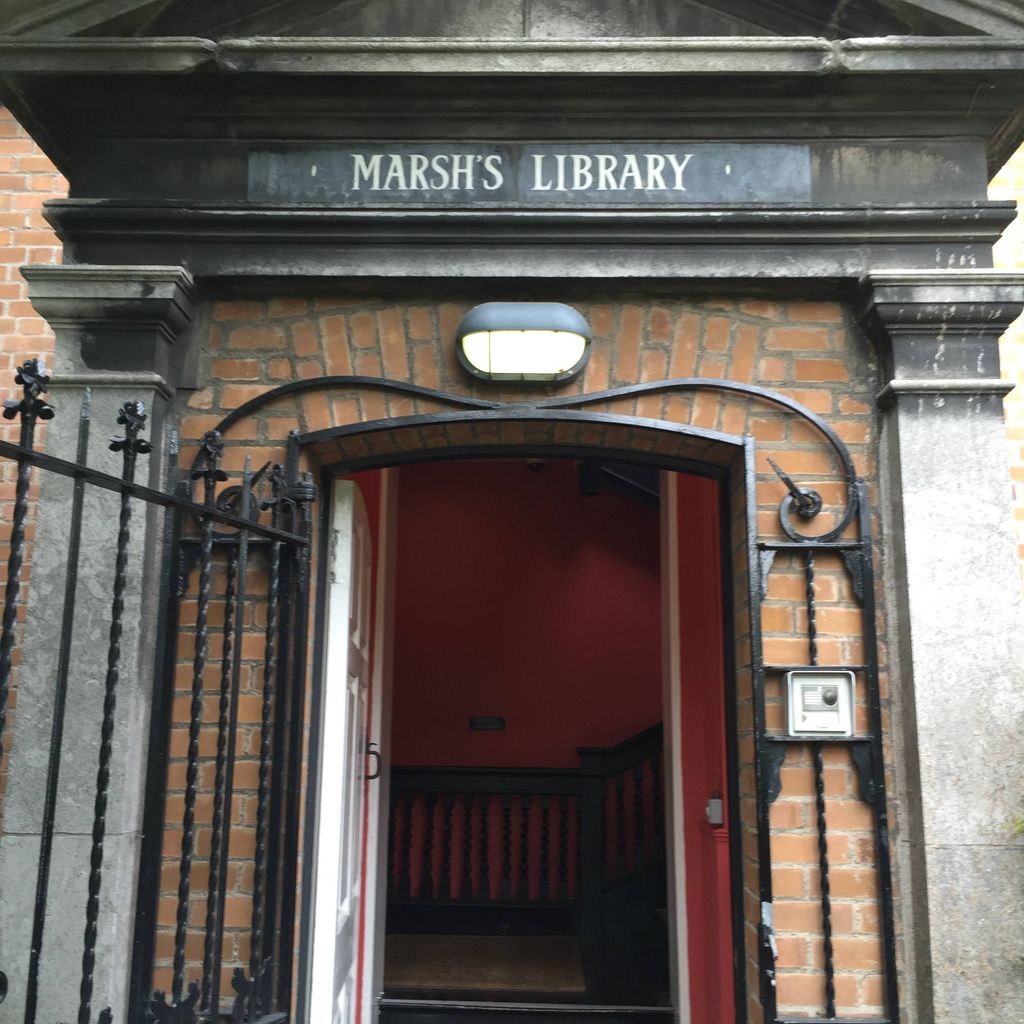 Marsh's Library
An undiscovered treasure way off the beaten path near St. Patrick's Cathedral, Marsh's Library is much smaller than Trinity College's, and about three times more awesome. I know, this sounds impossible, but it's true. Opened in 1707 as Dublin's first public library, past patrons included Bram Stoker and James Joyce, and you can see the table where they took notes, read, and scratched their names into the top. Marsh's also contains a ton of strange historical curiosities, like cages readers were locked into so they wouldn't steal books, and the skull of Stella, a woman Jonathan Swift was obsessed with and may have secretly married. There's a resident ghost–what would a kick-ass old library be without a ghost?–and a mummy named Maurice that was randomly discovered in one of the library cabinets. Seriously, this place is so cool! By far my favorite library in Dublin, and definitely worth the longish walk.
Chester Beatty Library
A modern library by Dublin standards–it was opened in the 1950s–the Chester Beatty is really more like a book museum than a library. It contains a ton of rare religious texts from faiths all over the world–everything from first century biblical papyrus to ancient illustrated copies of The Monkey King–all laid out in exhibition cases like historical artifacts (which, of course, they are). You won't be able to see bookshelves or a reading room or anything, so it doesn't have that library feel to it, which is a bit disappointing. A plus point: the walk to the Chester Beatty Library from Trinity College is scenic, running through twisty medieval streets and ending at the grounds of Dublin Castle.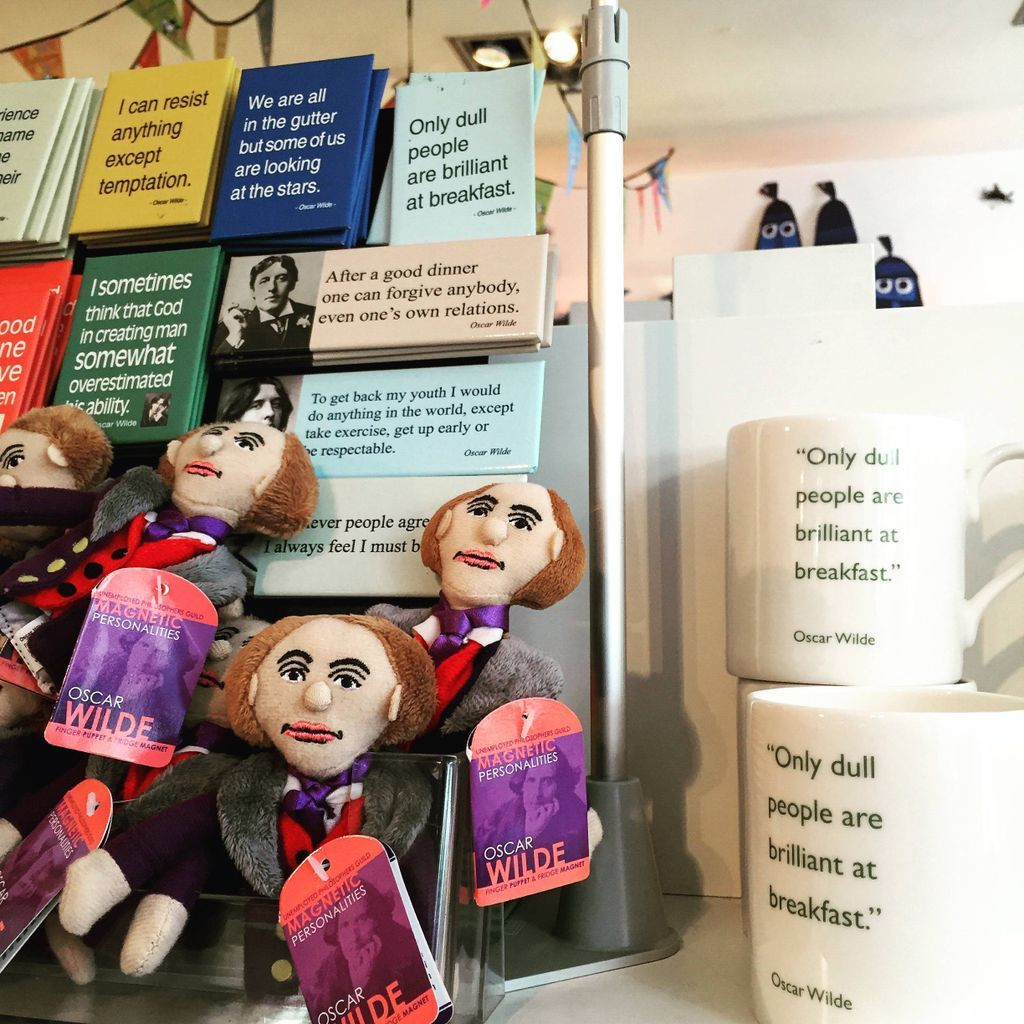 The Gutter Bookshop
The mascot of The Gutter Bookshop is Oscar Wilde, who famously said, "We're all in the gutter, but some of us are looking at the stars." The store's selection might at first glance seem small, but it's varied, and the children's section is absolutely charming. There are definitely hidden gems amongst its shelves. I was very tempted to buy alllll the Wilde quote magnets. (Pro-tip: Up Cow's Lane from The Gutter Bookshop is an amazing bakery and cafe called Queen of Tarts that you HAVE to visit.)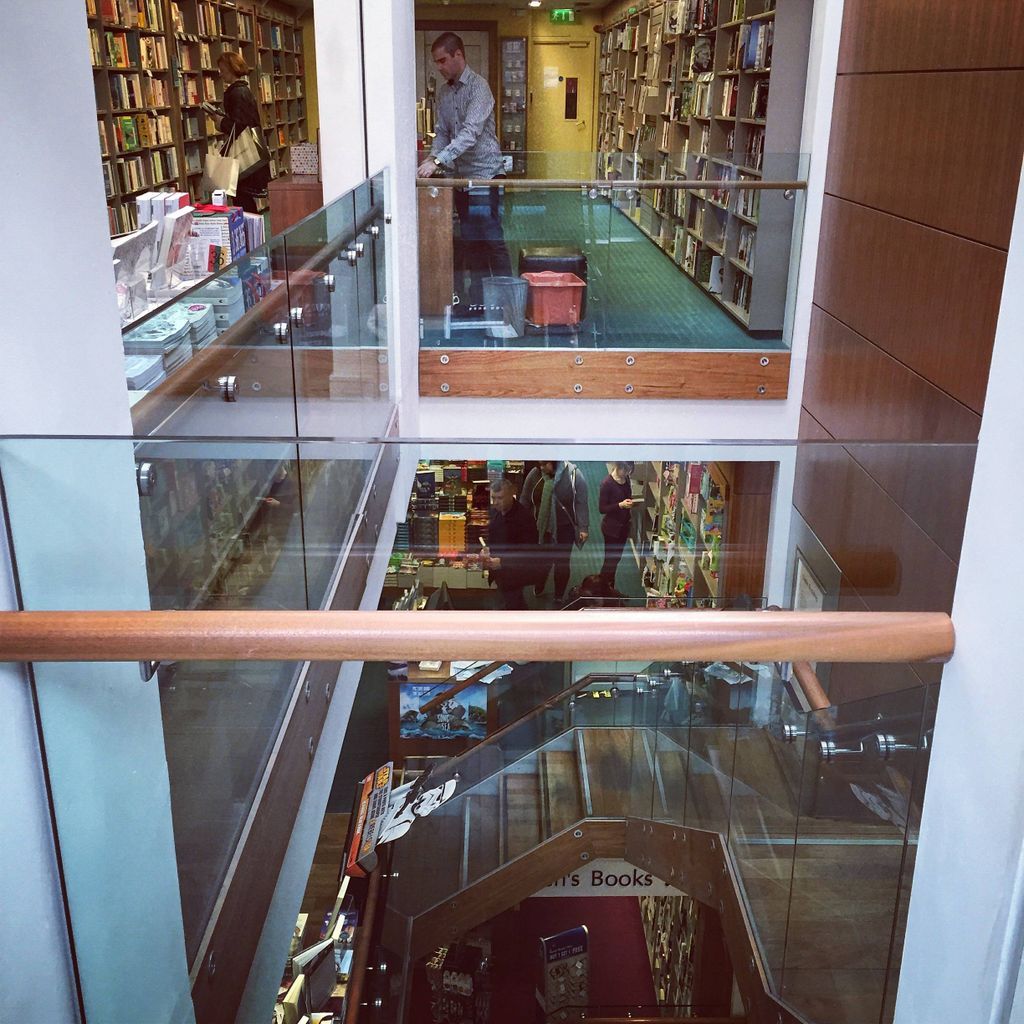 Dubray Books
At the opposite end of the bookstore spectrum is the Irish chain Dubray's, whose flagship location is smack dab in the middle of Grafton Street (where the elbows really do push you around). It's absolutely HUGE. Four floors of books on every subject you could possibly think of. That said, as with most chains the store itself doesn't have a lot of character. You'll find the same bestsellers here as you would in the States. But still worth a stop, especially if you're on Grafton Street.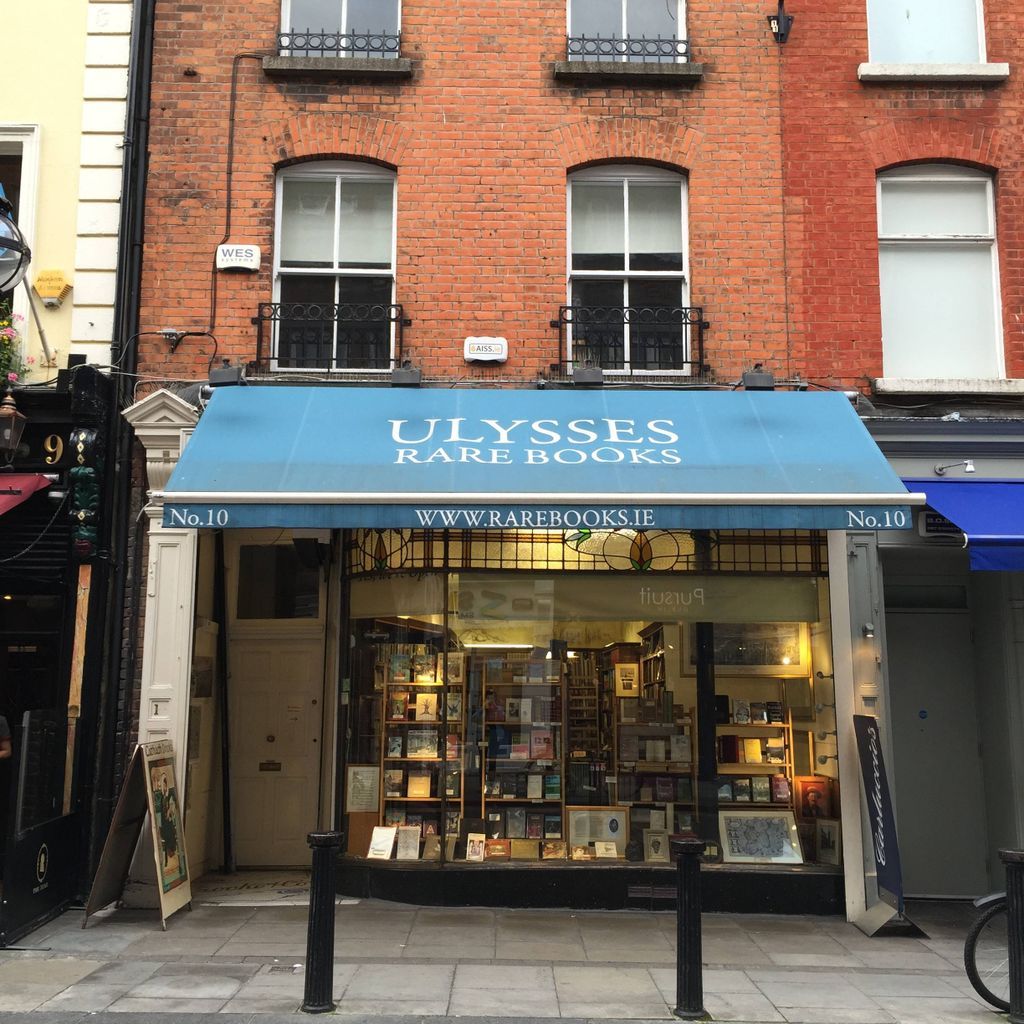 Ulysses Rare Books
Have you perhaps seen the Dublin episode of The Layover with Anthony Bourdain? If you have, you probably noticed he stopped in a rare bookstore and said something along the lines of, "This is THE bookstore for book nerds." (That's not the exact quote, but that was the gist of it.) Well, Ulysses is that bookstore! While it's smaller than I was expecting, the books it contains are truly rare treasures and not cheap–if you're a rare books collector, this will definitely be your happy place. And even if you can take a rare book or leave it, it's still worth a visit to peruse the inventory. You never know when you'll come across that one book you've been looking for all your life, now do you?
Hodges Figgis
As large as Dubray Books, but with a friendlier, cozier atmosphere, Hodges Figgis is hands down my favorite bookstore in Dublin. On Dawson Street (just around the corner from Ulysses Rare Books), it's been in operation since 1768 and was mentioned briefly in Ulysses. It's currently owned by Waterstones but maintains a unique, indie bookstore character, with a wide variety of books, including–very rare in Irish bookshops–a small romance section! The staff is also helpful and pleasant and chatty, despite the fact that they're inundated with customers.
Literary Pub Crawl
I think we can all agree that hitting the pubs is an absolute must when you're in Dublin. If you're a bibliophile, why not kill two birds with one pint and go to some of Dublin's best-loved literary pubs while you're at it? The Literary Pub Crawl starts at the Duke Pub and goes through a maze of pubs that have hosted the likes of James Joyce, Brendan Behan, Samuel Beckett, WB Yeats, James Larkin, and Flann O'Brien. A little touristy, sure, but 1. you *are* a tourist, after all; and 2. it's fun. (Pro-tip: book in advance online so you don't show up only to discover the pub crawl is sold out. I say this from personal experience.) (And incidentally, if you're looking to down a pint of Guinness, the Duke Pub pours a fine one.)
Writers Museum
Confession: I was so busy visiting libraries and bookstores and pubs that I totally spaced the Writers Museum until I was about halfway to the airport. Which says a lot about how many bookish things there are to do in Dublin. In any event, the guidebooks really praise this place, and hellooooo it's a museum about writers. What's not to like? You can also find the Michelin-starred restaurant, Chapter One, in the museum's basement. Books AND great food? I think I'm already due for a second visit to Dublin.