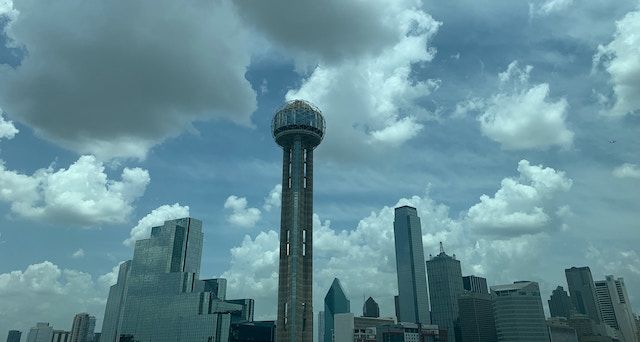 This content contains affiliate links. When you buy through these links, we may earn an affiliate commission.
The Dallas literary scene is buzzing. Indie bookshops. Author readings. Smart literary publications. Even high tea, surrounded by curated coffee table books. Of course, it's always been easy to find the latest books from around the world here. But one of the best things about this community is the collective effort between the stores, events, and publications to shine a light on the local writers and stories that are bringing the Dallas literary scene to life.
As someone who has called this city home for decades, I'm thrilled to share the diverse and passionate literary Dallas that's rapidly gaining visibility within the city's greater arts community. Check out these hopping spots, events, and publications for a dose of literary life, Dallas style.
Dallas Literary Scene: Downtown And Deep Ellum
J. Erik Jonsson Central Library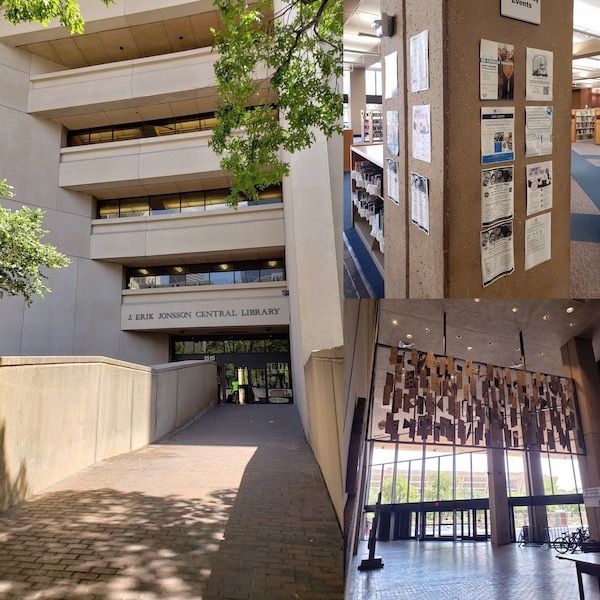 The basics:
Nestled in downtown, right across from Dallas City Hall, the main branch of the Dallas Library System sits eight stories high and houses not only books, but special collections, exhibits, author lectures, and more.
The local experience:
The 7th floor is dedicated to all things Texas. You won't immediately see shelves of books to browse, but you can request a title at the floor's circulation desk. And if you don't know what you're looking for, you can search the comprehensive database. I typed "DALLAS BOOKS" under the fiction category and got a list of new (to me) titles about JFK and an anthology of stories by Dallas authors to add to my TBR list.
The TASCHEN Library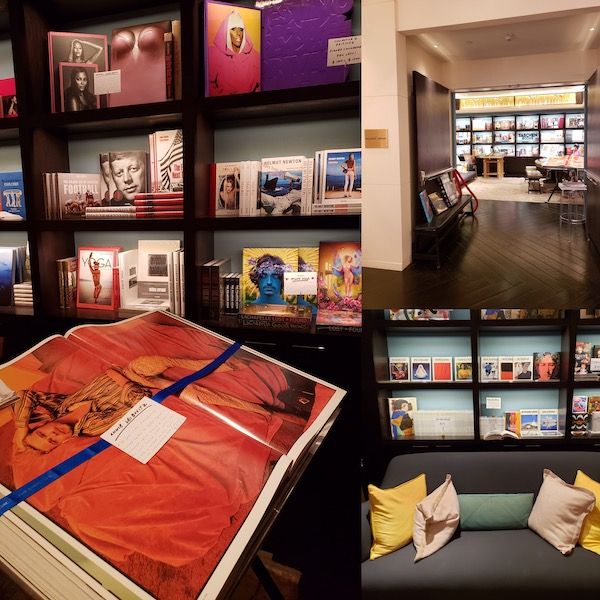 The basics:
From its books to its space to its shopping bags, everything about The Taschen Library feels glamorous. Offering an edited selection of works from the German art book publisher TASCHEN, this gem of a shop is housed inside The Joule, a boutique hotel near the downtown Arts District. Visitors are encouraged to not only shop, but to linger and peruse the works, including impressively sized SUMO tomes and even some out-of-print editions like this Issey Miyake book I picked up while I was there.
The local experience:
The Taschen Library takes its Dallas location seriously. Local staff curate the selections for the market—Norman Mailer. John F. Kennedy. Superman Comes to the Supermarket by J. Michael Lennon was featured prominently when I visited. And every Sunday afternoon, the shop brings the best of Dallas hospitality to life by hosting a champagne-and-tea service for locals and visitors to relax with a beverage and enjoy the books.
Deep Vellum Books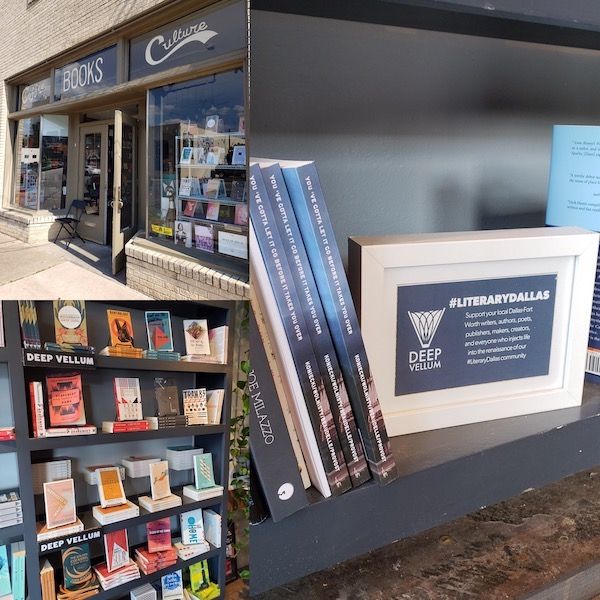 The basics:
Deep Ellum, one of the city's most distinct neighborhoods, is home to and the inspiration behind the name of Deep Vellum Books. In its small, bright space, you'll find a diverse selection, including books from indie presses, stories by authors of color and from the LGBTQIA community, and a solid selection of translated works from the affiliated Deep Vellum Publishing.
The local experience:
You'll find works by Dallas authors sprinkled all over the store, including a shelf dedicated to #literarydallas. A lot of local writers frequent the store—some of them even work there and are happy to give their own recommendations. Catch a variety of events at Deep Vellum, including discussions with authors, poetry open mics, writing workshops, and chapbook launches.
Dallas Literary Scene: Oak Cliff
The Wild Detectives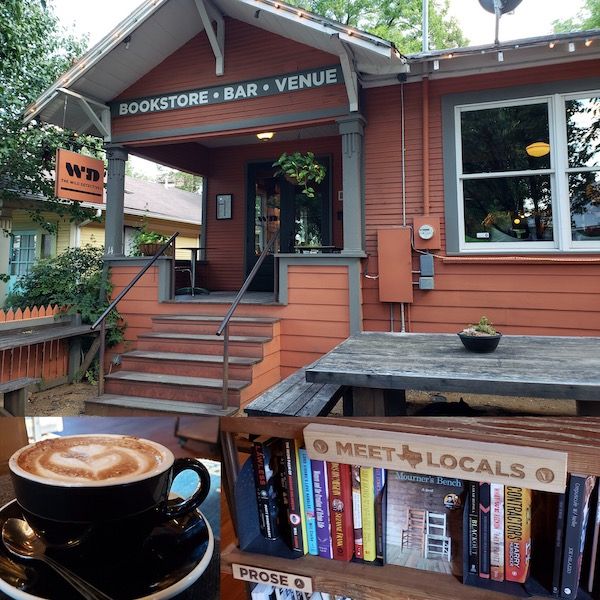 The basics:
A converted 1940s house, The Wild Detectives is a cozy indie bookshop in the heart of Bishop Arts, a beloved historic Dallas neighborhood. With indoor and outdoor seating, it's the perfect spot to shop, grab a snack, coffee, or adult beverage, and settle in to work, read, or catch up with friends.
The local experience:
Not only are there books for sale by local authors, but the coffee, tea, beer, and many of the snacks are provided by local businesses. My favorite hot beverage is the mocha, which features ingredients from Oak Cliff Coffee Roasters and Dude Sweet Chocolate—two Dallas favorites. The Wild Detectives also hosts events, including book club meetings, readings, and theatrical productions, such as Shakespeare in the Bar.
Pan African Connection
The basics:
Pan African Connection is a family-owned independent bookstore, art gallery, and community center all in one. At the front of this warm, welcoming shop, you'll find several rows of bookshelves, featuring a wide variety of genres and authors that are connected to the African and African American experience. Wander beyond the books to find art, clothing, wares, and more.
The local experience:
As soon as I walked in, I was pleased to spot Nappyisms: Affirmations for Nappy-Headed People and Wannabes! by Linda Jones, a local author I heard at a reading earlier this year. As I chatted with Adjwoa, whose parents founded the store, she told me that her family has always supported authors in the community. Not only do they sell their books, but they also provide a space for their first book signings. Plus, Pan African Connection hosts a book club among other community classes.
Lucky Dog Books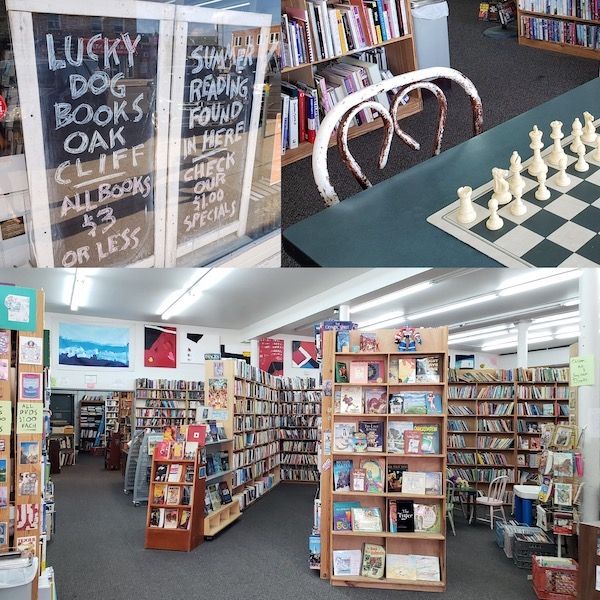 The basics:
On the windows at Lucky Dog Books, you'll see "All books $3.00 or less." And it's true—all the books at this independent seller have been donated for resale. One of three locations in the Dallas area, the Oak Cliff shop features multiple rooms of books, music and movies.
The local experience:
If you've ever wondered what the people in a community have bought and read through the years, hunt through the hundreds of donated books at a local bookshop. Which titles keep appearing? Which ones are worn, which ones barely used? A feast for the imagination. This location of Lucky Dog Books also features a section of Texana—a genre that encompasses Texas culture and history.
Dallas Literary Scene: North of Downtown
Interabang Books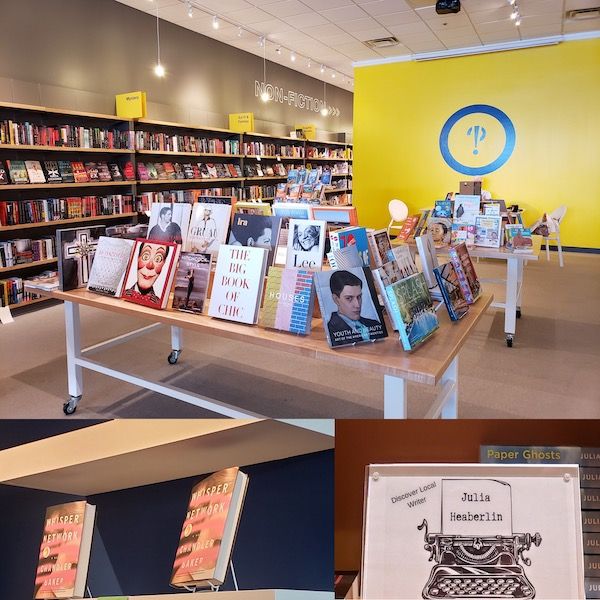 The basics:
The moment you step into Interabang Books, your heart skips a beat at the seemingly endless shelves of books that lead you into even more spaces in the back. From children's to YA to a wide variety of adult genres, all titles are thoughtfully hand-picked for this store that sits in the Preston Hollow neighborhood.
The local experience:
Co-owner Lori Feathers, who is often on the floor interacting with customers, is happy to show shoppers the sections of the store dedicated to local literature. When I visited recently, I spotted a special display behind the cash register for Whisper Network by Chandler Baker—a thriller set in Dallas. There's also an entire section of Texana books, plus a couple of shelves labeled "Discover Local Writer," which features multiple works by a Dallas author. Besides the books, Interabang also offers fresh brew from White Rock Coffee, a local business, and regularly hosts book club meetings, author appearances, and kids' events.
Rosedale Rare Books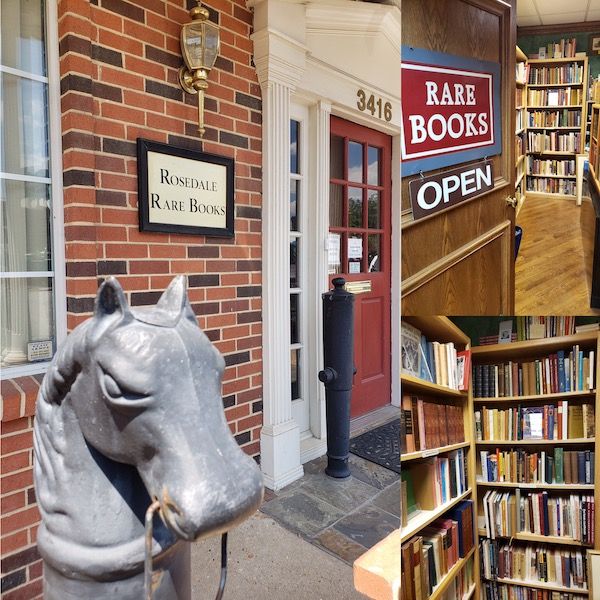 The basics:
Rosedale Rare Books, located in the University Park neighborhood right across from the Southern Methodist University campus, is a hidden treasure for fans of rare, antiquarian books. Tucked into Jackson Armory, an antique and modern firearm seller, the bookshop is small, but brimming with first, limited, and out-of-print editions.
The local experience:
Rare Texana books fill a wall of shelves in the corner of the shop. While I was flipping through the first of ten autographed copies of the out-of-print Women of Texas (Texian Press), owner Wrenda Coughran helpfully printed out a few of her catalogues to give me a more complete idea of the Texas books that she and her partner have collected over the years.
Half Price Books Flagship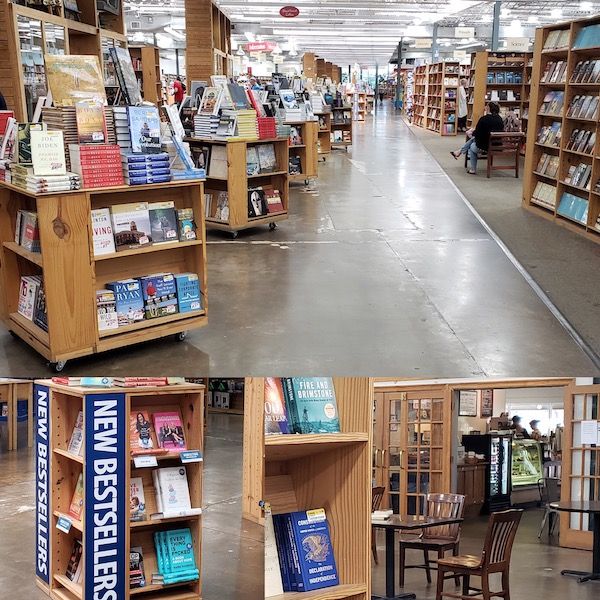 The basics:
Although Half Price Books now has locations all around the country, it's still a family-owned business with its roots in Dallas. The flagship and coffee shop is more than 50,000 square feet and sells used books, new books, pre-digital music recordings, bookish gifts, and more. Maybe best of all: you can bring your dogs into the store with you.
The local experience:
It's hard not to wander off and get lost among the thousands of books in this store, but if you want to discover something local, you'll find an entire section of books about Texas, plus a couple of shelves dedicated to autographed books—many of them written by local authors who have visited the store. On Sunday afternoons, the store features authors from the community who set up tables to sign books for shoppers. When you need a break, head to Black Forest Coffee, a shop within the bookstore, which gets much of its food from a neighborhood deli across the street.
Dallas Literary Scene: Events
LitNight Dallas
Every second Tuesday of the month, Dallas author Sanderia Faye (Mourner's Bench) invites established and emerging authors from the community to read at LitNight Dallas. The event takes place at Chocolate Secrets, a chocolatier and cafe, so you can eat and sip wine while you listen to prose. I never miss a LitNight and have been able both to read there and to hear and meet a variety of inspiring writers, from New York Times bestselling authors to emerging stars to everything in between.
Arts & Letters Live at the Dallas Museum of Art
This lecture series frequently brings in well-known authors from around the country for moderated discussions and book signings. Just this year, I've been able to hear from and meet Lauren Groff (Fates and Furies), Tessa Hadley (Late in the Day), Dani Shapiro (Inheritance: A Memoir of Genealogy, Paternity, and Love), Tayari Jones (An American Marriage), and Celeste Ng (Little Fires Everywhere).
Dallas Literary Scene: Publications
Whether you're here in person or want to learn about Dallas literary work from afar, you can get a taste of it in these publications:
The D Magazine July Issue always features short stories about the city by ten Dallas authors.
Dallas Noir is an anthology of shorts by Dallas authors.
Two local literary journals to check out are Carve and The Dallas Review.
See You in Dallas
Now that you have a list of things to do, hurry down and discover the Dallas literary scene for yourself. And if you're headed to more cities around the world, check out all the literary tourism from Book Riot here.