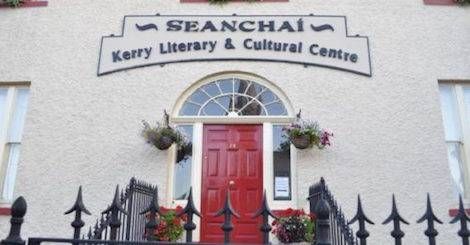 This content contains affiliate links. When you buy through these links, we may earn an affiliate commission.
People travel to the west coast of Ireland for the beautiful landscape, the cute towns, the history, the archeology, the music, the Guinness — probably not so much for bookish reasons. But if you find yourself in County Kerry, perhaps on the Dingle peninsula especially, there are some bookish things you're going to want to do. Here are some of my suggestions:
1. If you can, visit the Blasket Islands, off the coast of the Dingle peninsula. These are gorgeous islands, wind-swept and rugged-looking, but they can be difficult to get to because of the danger of taking tourist boats out on rough ocean waters. At the very least, you can visit the Blasket Center on the mainland.
But what is literary about the Blaskets? Up until 1953, people lived on these islands and produced some extraordinary books. In the early twentieth century, the islanders sensed that their time living on the islands was drawing to a close, and they wanted to capture their unique way of life in writing. A couple of the most famous authors include Tomás Ó Criomhthain who wrote An t-Oileánach, translated into English as The Islandman, and Peig Sayers, who wrote an autobiography called Peig: The Autobiography of Peig Sayers of the Great Blasket Island. These books offer a glimpse into a way of life that was uniquely isolated and rough, but also filled with beauty and art.

A perfect day would be to tour the Blasket Center to get a sense of the islands' culture and history and then head out on a ferry to Great Blasket island where you can read one of these books looking out at the ocean with the wind tousling your hair (and you'll probably get rained on too).
2. The town of Dingle has two bookstores you won't want to miss. The first is the Dingle Bookshop, which calls itself "The Westernmost Bookshop in Europe." It's a general-interest bookstore, small but with a good collection of all the usual genres. You'll find a well-curated mix of bestsellers and lesser-known books. You will also find a very good selection of Irish literature, in its own special section, as well as local authors and travel books.
The second is An Café Liteartha, which focuses on Irish literature, culture, and history. Roughly half its stock is in Irish and the rest is in translation. It's a small shop, but if you are looking for books in Irish, you will have hit the jackpot, and even if you aren't, you will find plenty to satisfy your curiosity about Ireland. And there's a cafe in the back for when you are ready to rest your feet and dive into your new books.
3. If you find yourself in the neighborhood of Listowel, east and a bit north of Dingle, make sure to stop at Seanchaí: Kerry Writers Museum. This museum focuses on five writers: John B. Keane, Bryan MacMahon, Brendan Kennelly, Maurice Walsh, and George Fitzmaurice. You can hear recordings of the authors reading their works and will learn about their lives and the land and culture in which they wrote. The tour guides are often local actors who will make your visit memorable.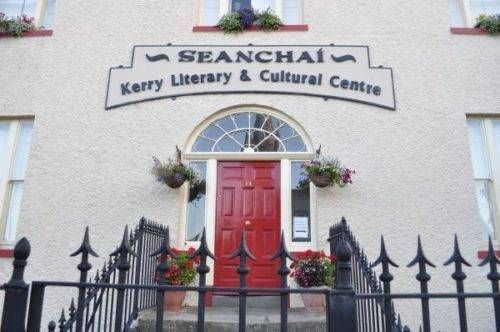 4. Listowel Writers' Week is over for the year, but if you happen to be in the area between May 30th and June 3rd, 2018, make sure to make it a part of your trip. The line-up for next year's event isn't available yet, but to give you a sense of the kinds of events they offer, this past year they had talks and readings by Colm Tóibín, Chris Cleave, MJ Hyland, Margaret Drabble, Alan Cumming, Akhil Sharma, and Sophie Hannah, as well as a Literary Pub Trail, theater productions, meetings at pubs, historical walks around town, and more.
The true literary hot spot in Ireland has to be Dublin, but Ireland has such a rich literary heritage, there are bookish things to do wherever you go.