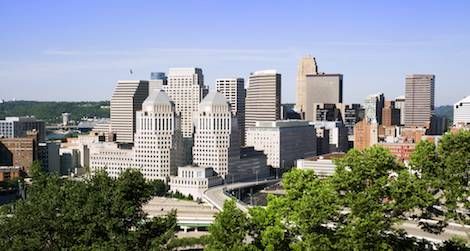 This content contains affiliate links. When you buy through these links, we may earn an affiliate commission.
When most people think of literary hotspots, they don't usually think of Ohio. But that doesn't mean Cincinnatians don't have bookish hearts beating in our chili-with-spaghetti loving chests, or that our city doesn't have a few places worth a visit for the visiting book lover. Let's check out some of the the things readers can do when in Cincinnati.
The Banks is the name for the revamped Cincinnati Riverfront area. It features riverfront swings, a new park, and of course, the Cincinnati Reds. The Banks also lends its name to Cincinnati's own regional book festival, Books by the Banks, which has drawn authors like Rainbow Rowell, Jenny Lawson, and Maggie Stiefvater. There are book signings, workshops, and events from 10am-4pm. Oh, and did I mention this festival is entirely free to attend?
This year's event takes place on October 15th, 2016, and the confirmed author lineup is already looking worth a trip to the Queen City.
Gatsby's Gazebo
Did you know that the man who inspired The Great Gatsby was a Cincinnati man? Lawyer/bootlegger George Remus is said to be the inspiration for the one and only Gatsby, and that means Cincinnati has its very own haunted Gatsby gazebo.
This gazebo, officially known as the Spring House Gazebo, is located in the beautiful Eden Park. Legend says it's haunted by the ghost of Imogene (inspiration for Daisy), who was shot by Remus after she filed for divorce. So if it's a spot haunted by Daisy Buchanan you're after, look no further than this Cincinnati gem.
Another exciting Cincinnati place to shop for books is the Ohio Bookstore. Located in the heart of downtown Cincinnati, this used book shop boasts five floors stacked high with books. Though I've never had the pleasure of going myself, friends have told me that you can search for hours without encountering anything familiar, making this place an exciting experience in rare and novel book finds.
In case that wasn't enough, Ohio Bookstore also happens to showcase its very own book binding and repair department that will fix or custom bind books for you.
Famous bookstores like The Strand get all the talk, but Cincinnati has an independent bookstore chain that has won my heart and the hearts of anyone I've dragged along with me: Joseph Beth Booksellers. While there are a few locations these days, they got their start in Cincinnati, my favorite location is in Rookwood Pavilion.
This store, in my opinion, mixes the charm of an independent bookstore with the convenience of a larger establishment, leading to a two floor book paradise that attracts a decent number of big names for tours and signings, such as Shane Dawson, Celeste Ng, and Felicia Day.
Joseph-Beth's Rookwood store also happens to be located near Hyde Park, where Liz and company live in the Austen Project revamp of Pride and Prejudice, Eligible. This means you could swing by for a little Skyline Chili in the Oakley Skyline that Darcy frequents, if you're trying to check the bookish and Cincinnati boxes all at once.
For more ideas on what a bookish tourist can do in the great state of Ohio, check out Literary Tourism: Ohio by rioter Susie Rodarme.
Save
Save
Save
Save