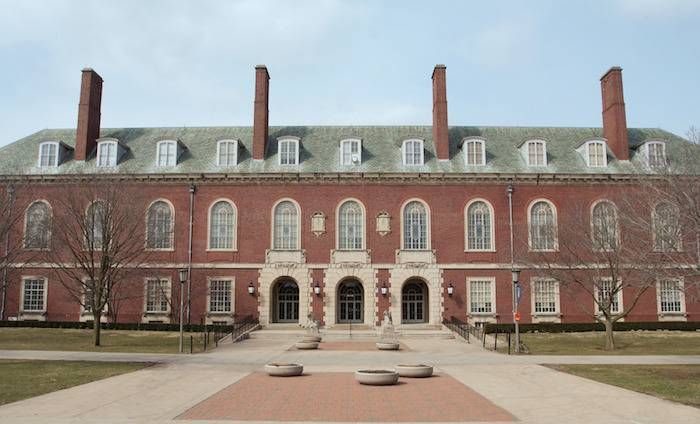 Smallish twin cities in East Central Illinois might not be everyone's first guess when asked where to go for excellent bookish tourism. But everyone would be kinda wrong. Sure, there are only about 200,000 people, and the Borders was long ago turned into a liquor store, but the presence of a world-class research university (and a location in Chicago's cultural watershed) means there's a lot of fascinatingly literary things to do in Champaign-Urbana.
First up: Thirteen million books. That's 13,000,000 books. Thirteen. Million. Books. The University of Illinois Library is the largest public university library in the U.S., which is awesome enough, but then they had to go and put many of those books in the weirdest, coolest academic library stacks I've ever been in. Built in two pieces decades apart, the library is like a bookish Jekyll and Hyde. Half is air-conditioned and standardized, with generally even ceiling heights and moveable shelves. The other is unairconditioned, with ceilings of varying heights (I've actually had to duck), shelves of varying ages, and lights of varying brightness. The whole thing is labyrinthine in the best, David-Bowie-could-pop-out-at-any-moment-wearing-sparkly-spandex way—in other words, just what I want in a library. The bad news: it takes special dispensation for anyone unaffiliated with the university (or even undergrads!) to gain access to the stacks.
But if you can't talk your way into the stacks, fret not. The university has other bits of bookish goodness stashed around campus for your delight and delectation. Take the Undergrad Library, which was—for maybe partly serious—built underground so as not to shade an experimental corn plot. That link suggest it was mostly for architectural reasons, but phooey: corn is a much more enjoyable explanation. Or if you want to put the young (the UGL, as it's known, is crawling with them) aside and focus on the old, check out the Rare Book & Manuscript Library, which has everything from a world-renowned Milton collection to the papers of H.G. Wells. And there's usually a fascinating exhibit on display, highlighting some aspect of the collections.
Maybe the RBML isn't enough to sate your thirst for the deliciousness that is literary history. Well, then, you're in luck. The University of Illinois is home to the ALA Archives, the historical repository for the American Library Association. Scrapbooks, correspondence, pamphlets, photographs, guidelines, and more—it's an absolutely incredible, endlessly delightful collection of all things library. Request a box at random, and you're likely to spend hours reading about some fascinating thing some fascinating librarians did in the past. In other words, a perfect way to spend an afternoon (or twelve).
You can also revel in the world of youth publishing on campus, browsing the 16,000 children's and YA volumes held by the Center for Children's Books, which is housed in basically a castle.
And if you decide looking at books that belong to other people (i.e., the citizens of Illinois) isn't enough for you and want to buy some books of your own, each of the twin cities is home to an amazing used bookstore. Jane Addams Book Shop in Champaign and Priceless Books in Urbana are both treasure troves, full of fascinating and sometimes just weird academic books (thank you, faculty and grad students selling their stashes!). And the Jane Addams space is extra-fun, with books filling odd nooks and crannies on three floors.
There are other bookish things going on in Champaign-Urbana, too, if you time your visit just right. There's the Ebertfest Film Festival, a celebration of interesting cinema and the criticism of a prolific (and hilarious) author. There's an Edible Books Festival sponsored by the University Library. There are seasonal book sales put on by Urbana Champaign Books to Prisoners, where you can get amazing books on the cheap and the proceeds of which send much-needed books to people in jail and prison in Illinois.
And there's more, too. As it turns out, this little corner of East Central Illinois has a lot to offer a discerning literary visitor. (And: Thirteen million books!)
____________________
Book Riot Live is coming! Join us for a two-day event full of books, authors, and an all around good time. It's the convention for book lovers that we've always wanted to attend. So we are doing it ourselves.