Here in Boston we are all about our history. Show up as a tourist, and you will have no trouble finding someone in quasi-period costume to lead you around, often for a ridiculous sum of money.
But when you live here, it's easy to forget how rich the city's past is — until you see the parishioners of Old South Church, decked out in their best hats, processing through Back Bay in a tribute to poet Phillis Wheatley, as they did last Sunday.
Wheatley, the first female African-American poet in the US, is honored with a statue in the Women's Memorial, sharing the block with Lucy Stone and Abigail Adams. You'll run into a few other writers as you stroll along Comm Ave (that would be Commonwealth Avenue for those who insist on all the syllables, but you'll rarely hear them pronounced), from Alexander Hamilton to Domingo Sarmiento.
Walk east a little from the Wheatley statue and pass by Emerson College, where you can find this year's winner of the Pulitzer Prize for biography, Megan Marshall, among the faculty. Across Boston Common from Emerson is the slope of Beacon Hill, which has been home to all sorts of interesting people. If you're in the mood to look at nice houses, 10 Louisburg Square is the house Louisa May Alcott bought when her writing really started to pay off. (It's possible that you'll see black SUVs parked across the street, at the present-day home of the secretary of state.)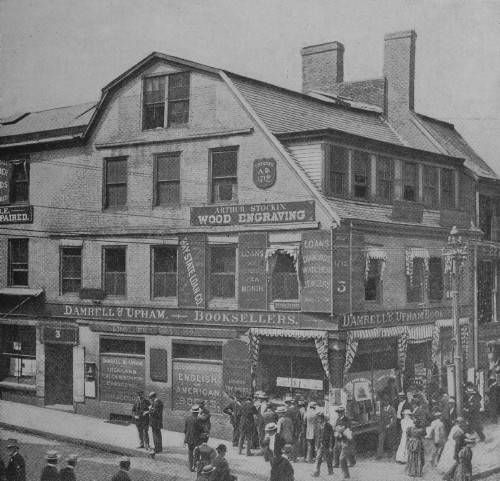 The Old Corner Bookstore is now the New Corner Chipotle, but it's one of the oldest structures in Boston, and came by its name honestly. Books were sold there throughout the nineteenth century, and for part of that time they were published there too. (Turn around and you'll see a massive storefront that was, until a couple years ago, a Borders. Today it's a Walgreen's with a liquor license.)
Grub Street, Boston's big community and education center for writers, is working on developing the first "literary cultural district" in the US, so check in with them if you're planning a visit.
For present-day book-related fun, drop by the main branch of the Boston Public Library, with its gorgeous courtyard, or Trident Booksellers and Cafe — I haven't tried the beer and wine selection, but they do a nice breakfast — and Tres Gatos, for a blend of books and tapas. If you prefer your books preowned, pay a visit to Commonwealth Books or the Brattle Bookshop.
And across the river? For poetry fans, the Cantab Lounge hosts a weekly slam. A mile and a half of Mass Ave separates Harvard Book Store and Porter Square Books (where — full disclosure and all — I work), and sci-fi fans will be at home in Pandemonium Books, and Grolier Poetry Book Shop and Schoenhof's Foreign Books have their own niches.
Also, there's Harvard. (Though don't try visiting Houghton Library without permission.)
One other thing we specialize in is lovely outdoor spaces. When you're ready for a break, find a bench in the Public Garden or spread a blanket on the bank of the Charles, and open a book.
Save