There are so many great things about living in Portland, Oregon that I'm aware our constant back-patting is becoming irritating to the rest of the world. Don't worry, we'll continue to do it anyway.
One of the best of all the things is that Portland genuinely feels like a reader's town, a distinction that's hard to define exactly, but that you can just feel in the atmosphere. And it goes beyond just Powell's, but of course, we have to start there.
Located off of West Burnside in a hulking building that isn't necessarily attractive on the outside, inside this behemoth is a booklover's paradise, albeit a slightly overwhelming one. Powells takes up the entire block and claims to be the largest used & new bookstore in the world, with over a million books on the shelves organized in an elaborate color-coded room system. Powell's has a few other branches around the city, including Powell's Books for Home and Garden on SE Hawthorne that is positively delightful. But some highlights of the flagship store include the Rare Books Room, where you can find a wide variety of old and autographed books, some behind glass, some of which you can peruse, and none of which the 99% could probably casually afford. A recent addition to the store is also the "Espresso Book Machine," where you can publish your own books on demand, which I don't really understand, but it sounds cool.
Beyond Powell's
Even with Powell's in our midst, there is still room for a number of independent bookstores to thrive, including Annie Bloom Books in the superbly quaint Multnomah Village neighborhood and Broadway Books, a little ways down the street from the Oregon Convention Center.
The feminist bookstore included on Portlandia is a real thing, but it's actually called In Other Words, and is located on North Killingsworth. The feminist Bitch Magazine also has their headquarters in Portland, where they house a lending library of books and media on feminism, queer studies, gender studies, and other bitchtastic things.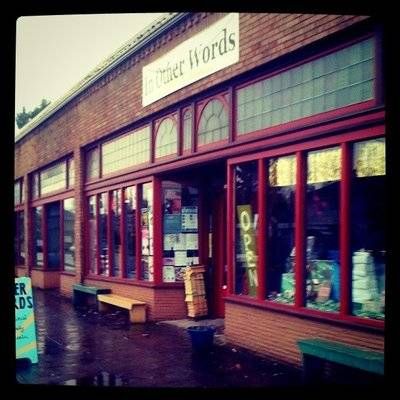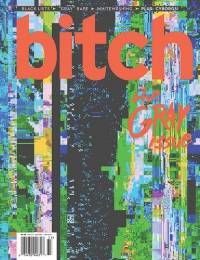 (Photos via inotherwords.org and bitchmagazine.org)
For the kiddos, Portland also has a couple children's bookstores: A Children's Place on NE Fremont, and the adorable Green Bean Books on uber-hip NE Alberta, one of the few bookstores where reclusive yet incredible local author Allen Say will often do signings for his award winning children's books.
Comic stores also abound: Things From Another World, Cosmic Monkey Comics, Bridge City Comics (pictured below, on North Mississippi), Excalibur, and more. We really like comics. Dark Horse, the third-largest comics publisher in the US, is also based just outside of Portland in the town of Milwaukie.
Multnomah County Library is the oldest library system west of the Mississippi, and it consistently ranks as the second-most used library system in the country, behind only New York. (*shakes fist at New York*) The central library downtown is worth a visit for the magnificent tree sculpture in the children's room, the John Wilson Special Collections room, tours of the eco-roof, and artwork in the Collins Gallery on the third floor.
The tree, designed by artists Dana Lynn Louis and Barbara Eiswerth, weighs over a ton and includes images from children's books such as The Little Engine That Could and The Wizard of Oz, among others.
MCL also runs Title Wave Used Bookstore, located off of Martin Luther King in Northeast Portland. Housed in a gorgeous old library branch, the store sells used library books and media with most prices ranging from a quarter to three bucks. [Full disclosure: I have been a volunteer here for six years, and it is the best.] It's a super excellent resource for members of the community of all income brackets, as well as educators, who get an additional discount with ID. Whenever I hear other people talking about library book sales in their towns, I think, "Whatever, we have a library book sale every day."
Perhaps Portland's most beloved literary legend is Beverly Cleary, who spent most of her childhood in Northeast Portland and used the names of actual streets in her neighborhood–Klickitat Street is my personal favorite–in her legendary children's books. When you walk into the Hollywood Branch of the MCL, you're presented with the large Beverly Cleary Neighborhood Map, pointing out major events from her books and where in the neighborhood you can find their locations. There is also the Beverly Cleary Sculpture Garden in nearby Grant Park, where you can frolic around statues of Ramona, Henry Huggins, and Henry's dog, Ribsy.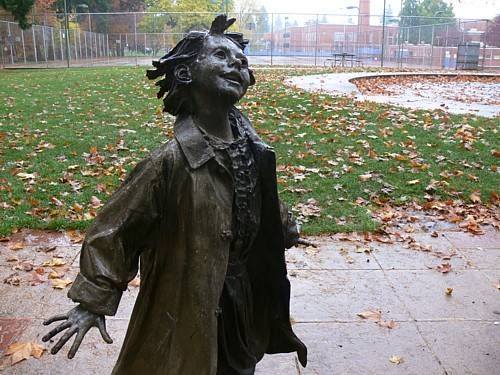 Other Random Nerdy Notes
Another one of Oregon's favorite literary residents was Ken Kesey, whose most favorite book, One Flew Over the Cuckoo's Nest, was based on the notorious Oregon State Hospital in the capital of Salem. The 1975 movie premiere in Oregon was hosted at the Bagdad Theater on SE Hawthorne (which, interestingly, used to be called Asylum Avenue) and attended by Jack Nicholson, Louise Fletcher, and Michael Douglass. The Bagdad Theater today is run by McMenamins, an Oregon staple that shows second run movies, lectures, and author appearances where you can eat a slice of gooey pizza and drink a pint of beer while you watch and listen.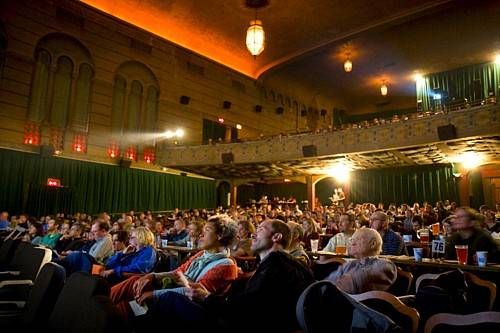 (Photos via mcmenamins.com)
For those who love both books and brews, you can continue the romance at Tugboat Brewing, one of the smallest breweries in downtown Portland among many much larger ones. But Tugboat, tucked into SW Ankeny Street, has a dark and cozy atmosphere, enhanced by a lovely selection of old books on shelves along its walls.
The best nerds can also head up to North Killingsworth where, down the street from In Other Words, you'll find a fish & chips restaurant that houses The TARDIS Room bar in the back of it, where you can play weekly Doctor Who trivia and order drinks such as a Gallifreyan Iced Tea, a Capt. Jack Harkness, or a Sunrise Over Bad Wolf Bay.
Bookish Things All Around You
If you're walking around downtown, take care to look both around you and underneath your feet. At SW Fourth and Morrison, you'll find an abundance of quotes among the bricks, including lines from Shakespeare, e.e. cummings, Ursula K. LeGuin (another local), and Chief Joseph, along with the most random of random pop culture references. My favorite brick simply says "Later." And if you walk into the Pioneer Courthouse Mall right next door, you'll also be trampling over quotes inscribed in the floor from Oregon's favorite poet, William Stafford.
Walk a little further east on SW Fifth towards Portland State University, and you'll find some larger than life book spines adorning the side of a PSU parking garage.
Things to Do; Places to Eat
If events are what you're looking for, then buy your tickets for October for the annual Wordstock festival, full of author appearances, book vendors, and writing workshops, all with a bit of spunky humor, sometimes verging on wonderfully inappropriate. (Example: some Wordstock pins I picked up at this year's festival said, "Wanna Faulkner?" and "Don't hate me 'cause I'm texty.") The organization Literary Arts also runs a lecture series that brings in heavy hitters; next up is Ann Patchett on November 20th.
Hungry? Check out some of Portland's most famous restaurants which have recently come out with fancy schmancy coffee table cookbooks.
Toro Bravo the Book: McSweeney's, October 2013. Toro Bravo the Restaurant: NE Russell Street.
Le Pigeon the Book: Ten Speed Press, September 2013. Le Pigeon the Restaurant: Lower East Burnside.
Pok Pok the Book: Ten Speed Press, October 2013. Pok Pok the Restaurant: SE Division Street.
If you're tired after all this walking and book browsing and are ready to rest your feet, and if you are also rich, you can stay at the historic Heathman Hotel, which includes an extensive library with books signed by authors who have stayed there. Alternately, if you're feeling personally inspired by it all, take your ideas and head down SE Division to the Independent Publishing Resource Center.
And if you want some weird Portland history, read Chuck Palahnuik's book about it.
And then–okay. You get it. Just move here.
_________________________
Sign up for our newsletter to have the best of Book Riot delivered straight to your inbox every two weeks. No spam. We promise.
To keep up with Book Riot on a daily basis, follow us on Twitter, like us on Facebook, , and subscribe to the Book Riot podcast in iTunes or via RSS. So much bookish goodness–all day, every day.