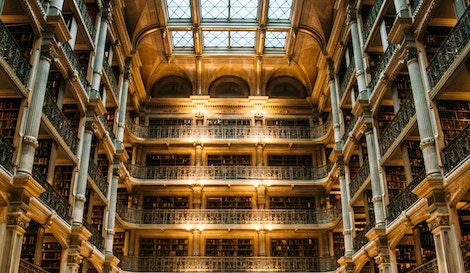 This content contains affiliate links. When you buy through these links, we may earn an affiliate commission.
Discover bookish Baltimore: a city of literary delights!
In 1987 the mayor of Baltimore dubbed it "the city that reads." It may not be the best-known moniker of "Charm City," but something about the name rings true to this day.
Whether it's because of Baltimore's amazing independent bookstores, world-famous libraries, or literary home-town heroes, "the city that reads" is not one to be missed by book-lovers.
Independent Bookshops
The Book Thing isn't technically a shop because it doesn't sell books. It gives them away. You can take as many free books as you can carry, which can be a dangerous thing for bibliophiles! People in the community donate books, while volunteers run the "store" to keep costs minimal. Open Saturdays and Sundays, this is a popular weekend destination, for obvious reasons!
Just around the corner from The Book Thing is a bookstore you do need money to shop in. But it's totally worth it! Normals carries an impressive selection of used books, records, and CDs. It looks small from the outside, but it contains an intricate maze of well-organized bookshelves. Well worth a visit!
Relatively new to the Baltimore scene, Greedy Reads provides a much-needed independent bookstore for the inner harbor area. It has a great selection of books and a friendly shop dog. Also, Greedy Reads hosts regular author events and a monthly book club that anyone can attend!
One of Baltimore's most active book scenes, the Ivy hosts frequent events, workshops, and book clubs. Their long-standing Mount Washington location has an extensive array of books covering every subject. A smaller selection can be found at their newer location in the Bird in Hand cafe in Charles Village: coffee, books, and pastries all in one place!
Atomic Books is a little off-beat: unsurprising, considering it's where John Waters picks up his fan mail. It has everything you could need in the way of comic books, graphic novels, and nerdy gifts. But you'll also find novels (even some classics, if you look hard enough), cookbooks, and popular non-fiction.
This radical, worker-run collective is both a café and a bookstore. It provides a safe space for everyone, promotes sustainability, and supports independent publishers. The book selection focuses broadly on issues of social justice, so you're guaranteed to find a read that's challenging and out of the ordinary.
Libraries

The Enoch Pratt public library system is one of the city's best resources. With 22 branches around Baltimore, the library has the whole city covered. Some of its buildings are old and beautiful, whilst others are brand new with modern facilities. They host events aimed at everyone from babies to senior citizens and, of course, the public library is free for all users.
Originally part of the Peabody Institute, this historic library is now owned by Johns Hopkins University. People call it "The Cathedral of Books" because of its dramatic architecture. The Peabody Library is open to the public as a workspace from Monday to Friday.
Literary Landmarks
Baltimore has been home to a remarkable number of writers. You probably already know that it's the birthplace of H.L. Mencken and Ta-Nehisi Coates. You may also have heard that the city's residents have included Edgar Allan Poe, Frederick Douglass, F. Scott Fitzgerald, W.E.B. Du Bois, and Zora Neale Hurston.
The literary legacy continues, with writers like Marion Winik (The Baltimore Book of the Dead) and Alice McDermott (The Ninth Hour) in residence. Johns Hopkins boasts a successful MFA program, notable graduates of which include John Barth (The Tidewater Tales) and Chimamanda Ngozi Adichie (Half of a Yellow Sun, We Should All Be Feminists).
Therefore, it's not surprising that Baltimore is full of literary locations. You can visit Poe's house or the bar he went to the night he died. You can drink in the prohibition-era Owl Bar where Mencken and Fitzgerald dodged the police, or visit the literary-themed cocktail bar The Bluebird, where the delicious drinks are named after novels.
If you want to be sure not to miss anything, you can go on a literary walking tour with Maryland Humanities. And, if you're in Baltimore at the right time (November), you can attend the literary event of the year: the Baltimore Book Festival at the inner harbor. Three days of bookish events in "the city that reads" – what more could you want?