Welcome to Alaska's Mat-Su Valley!
I'm so glad you're here. In Alaska's Mat-Su Valley (short for Matanuska-Susitna), we're surrounded by enormous mountains, rushing rivers, and willow-eating moose.
But you can see all that later, after we find all the fantastic, bookish spots in the Mat-Su. Because we are readers, first and foremost! Not mountain climbers. (Says someone who hasn't done cardio in, ahem, too long.)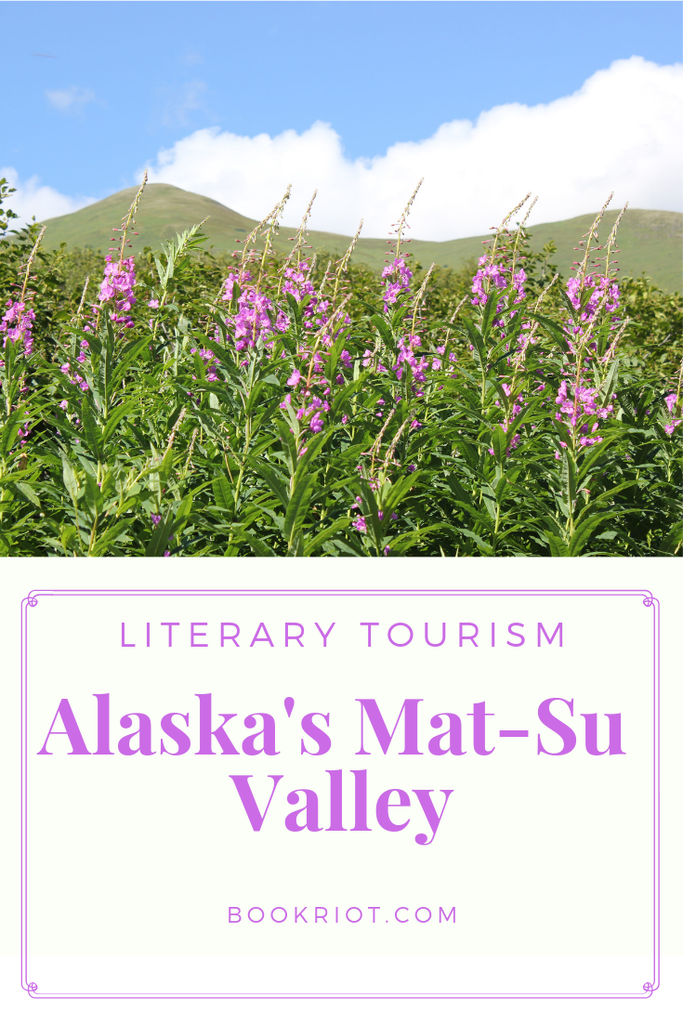 When I moved here a year and a half ago, I instantly hit up lots of literary spots with my baby son. I want him to grow up surrounded by books, and Palmer, Alaska, is a great first stop for readers of all ages. A town of just over 7,000 people, there are three lovely bookish places within easy walking distance of each other. All are located in downtown Palmer.
Palmer's Bookish Spots
First, there's Fireside Books, an independent bookstore on Alaska Street. Fireside's selection includes new and used books. It's got everything: an Alaskana section. Nonfiction, fiction, poetry. Cooking and baking. The latest and greatest in children's board books, picture books, and paperbacks/hardcovers. Two big shelves packed with YA.
Plus, you can buy bookmarks, stickers, and other neat, Palmerish book accessories. I bring my son here every time we're in Palmer. While it stresses me out that he likes to pull books off shelves, the employees are really cool about kids.
Fireside also holds literary events together with local authors, writer's groups, and other bookstores.
Just a one-minute (or less) walk from Fireside Books is my favorite coffee shop ever, Vagabond Blues. It's bookish in the sense that it's a perfect place to read or write with a cup of vanilla chai or espresso. Or listen to audiobooks while you eat a massive pecan sticky roll.
It's got lots of natural light, spacious tables, and paintings by different local artists hanging on the wall. While you read, enjoy that comforting coffeehouse hum of people chatting and working. You can get breakfast, lunch, and light dinner items there, too. Every single thing I've ever tried on their menu? Delicious.
The third bookish spot is the Palmer Public Library. It's a five-minute walk from Vagabond Blues or Fireside Books, and it's got a nice selection of books, movies, audiobooks, and magazines.
But my favorite part of Palmer Public Library is its storytime programs. You may be visiting from out of town, but storytime leader Katie will give you and your little ones a big smile and welcome you to join the loud, messy crowd.
My son is currently in the toddler storytime group, and it's the best: Katie reads three picture books to the kids, and then they do a craft based on the picture book theme for the week. After that she pulls out all sorts of Melissa & Doug toys on a big, colorful rug. The kids get to play while parents and caregivers chat. It's a highlight of my week.
Wasilla's Treasures
Now that we've seen Palmer, let's head about 20 minutes west to Wasilla. Named in the early 1900s for a prominent Dena'ina Athabascan chief, Wasilla has over 10,000 residents and boasts several notable bookish spots. The first is Black Birch Books & Curiosities on Main Street.
Who wouldn't want to enter a bookstore with a name like that?
It's a newer bookstore, and the only one in Wasilla. Kid-friendly like Fireside Books, Black Birch Books' owner has a section devoted to Harry Potter and even makes and sells Harry Potter-themed wands (!!).
Not far from the bookstore is the Wasilla Public Library, which moved to a spacious new building in 2016. I adore this library for its many windows, high ceilings, and plentiful writing and reading nooks.
And their kid's section! It's amazing. Stocked with colorful cushions, huge windows, books, toys, and woodland animal-themed tables and chairs, it is a child's paradise. (And a parent's, too.)
Venture a little farther from the busyness of Wasilla to Grizzly Grounds for a cozy place to read. It's small but features comfy armchairs for reading. Plus they're perched right beside a massive stone fireplace.
Grizzly Grounds offers an array of teas and coffees and—of course—food to eat while you read. Mocha Moose, Crema Coffee House (another of my favorites!), and Keely's Coffee House are other fantastic Wasilla-area coffee shops where you can sip a latte and dive into your latest read.
Notable Local Authors
Now let's talk about some of my favorite authors from the Mat-Su and around Alaska. There are lots and lots, plus amazing poets, but alas, I don't have room to list them all.
Eowyn Ivey: her first novel, The Snow Child, was a Pulitzer Prize finalist. To the Bright Edge of the World, her second book, is another deeply compelling Alaskan novel. I own both and I'm just waiting to bump into Ivey one of these days so she can sign them!
Ernestine Hayes: Tlingit Kaagwaantaan author Hayes teaches at the University of Alaska Southeast and has written several books about her experience growing up, moving away from, and returning to Alaska. Blonde Indian and The Tao of Raven are two of my favorites.
Velma Wallis: a Gwich'in Athabascan author, Wallis's books include fiction and nonfiction. Her novels Two Old Women and Bird Girl and the Man Who Followed the Sun are on my TBR list. I'm currently devouring her memoir, Raising Ourselves.
Thank You For Visiting!
I hope you've enjoyed this literary tour of Alaska's Mat-Su Valley! Come again soon. You've still got mountains, rivers, and moose to see.
Check out these awesome literary tours, too:
A Book-Lover's Guide to Mexico City
Literary Tourism: Oz's Real Emerald City – Sydney, Australia