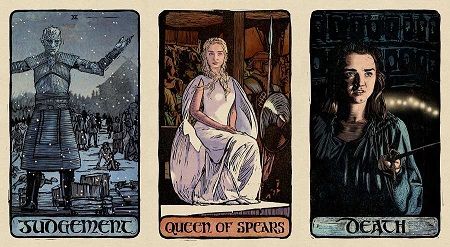 7 Literary-Themed Tarot Card Decks to Celebrate Pisces Season
This content contains affiliate links. When you buy through these links, we may earn an affiliate commission.
Welcome to Pisces Season, a time highlighted by increased dreamy, romantic, and creative energies. Are you feeling the urge to reconnect with old friends or embark on a new project? Now's the time! Or maybe you want to indulge in some true Piscean past-times and tap into your inner intuitive? If you've ever wanted to learn how to read tarot cards, nothing could be more suited to this time of year. But even if you don't believe in their utility, there's no denying how pretty these divination cards can be. So whether you're buying your first deck or your tenth, or if you're an avid reader who likes book-related novelties, here are some literary-themed tarot card decks to get you started!
I feel like a tarot deck inspired by Maggie Stiefvater's ultra-popular Raven Cycle YA fantasy series was a foregone conclusion. An artist in addition to an author, Stiefvater drew the artwork for these cards. The set also includes instructions written by Stiefvater herself.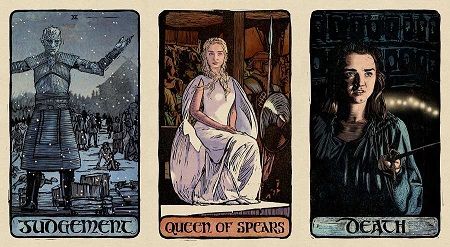 Considering how ubiquitous the TV show is, and how well-known the original A Song of Ice and Fire books were before that, it's a little surprising that Game of Thrones didn't get a tarot deck until this month. Like all literary-themed tarot card decks, the Game of Thrones tarot puts its own spin on things, such as swapping out the suits of pentacles and wands for coins and spears, respectively. Fans of the show will especially like this one since the artwork features characters and scenes as depicted in the HBO series.
When we talk about beloved fantasy series, we absolutely cannot ignore the works of J.R.R. Tolkien. The Hobbit Tarot was originally released in anticipation of the film adaptations. Regardless of how you feel about the movies, this is still a good deck to pick up if you loved the original book and characters.
If you prefer Lord of the Rings over The Hobbit (or just want a complete set), there's a themed tarot deck for you too. There are a couple things to note about this deck, however. It depicts the characters of Tolkien's influential work as they were in the books, not the movies. And it is an intuition-based deck—meaning that if you intend to use it, you'll need to rely on your intuition to interpret the cards versus the traditional meanings as laid down in a book. To be fair, experienced tarot readers should be operating this way anyway.
Alice in Wonderland Tarot
If you're a fan of Lewis Carroll, you're in luck. You have two literary-themed tarot card decks to choose from: a set that comes in a tin and a newer deck set that comes out in April. The newer set sticks closely to the traditional Rider-Waite-Smith tarot if you're familiar with that style and imagery, while the older set replaces the Minor Arcana suits of swords, wands, cups, and pentacles with flamingos, peppermills, hats, and oysters. If you're buying one of these tarot decks as a collector's item versus for divination use, the older set also features playing card suits on the Minor Arcana cards. That way, you can use them for your favorite playing card game!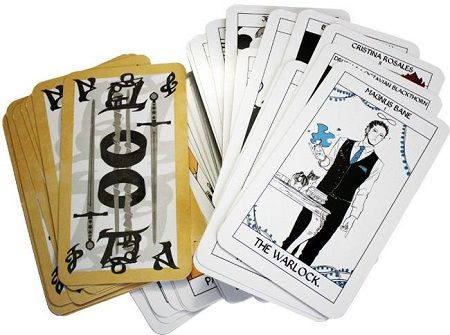 Are you a fan of Cassandra Clare's Shadowhunters series? Maybe you watch the show on Freeform? There's a tarot deck for you too. With its own Shadowhunter-themed spin, of course—like replacing The Magician with The Warlock.
This deck draws imagery and inspiration from the works of William Shakespeare. Considering the breadth of his works, I imagine there was a lot of material to work with!
Are you interested in tarot cards? Thinking of picking up one of these literary-themed tarot card decks? Let us know in the comments!