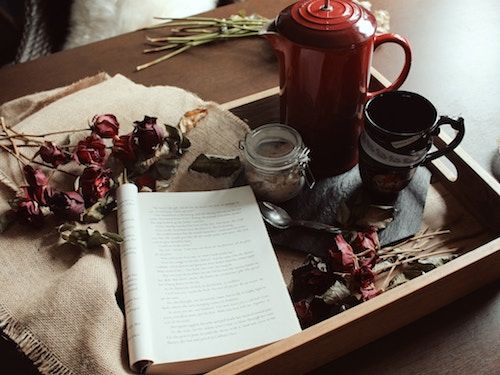 25 Literary Tea Gifts and Accessories for the Bookish Tea Lovers in Your Life
It is a truth universally acknowledged that bibliophiles love hot beverages, so give the gift of literary tea to the bookworm in your life. Looking for a special blend inspired by your best friend's favorite author? A bookish tea infuser for your teacher? The perfect punny novel-tea tin for yourself? No matter the occasion, we've got you covered with these 25 literary teas, gift sets, and accessories.
Click on the picture or the link below it to be connected to the Etsy shop or website where these literary tea gifts are sold.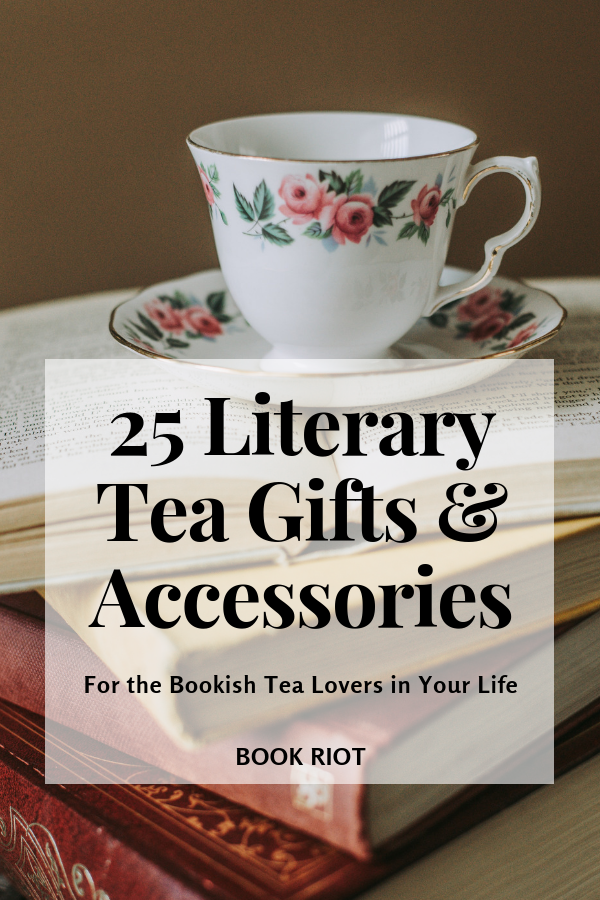 Literary Tea Gift Sets – Tea Inspired By Your Favorite Books and Authors
A Christmas Carol, Twas the Night Before Christmas, The Winter's Tale, The Nutcracker—choose two of four Christmas stories for this literary tea gift set, each tea blended to complement the corresponding tale.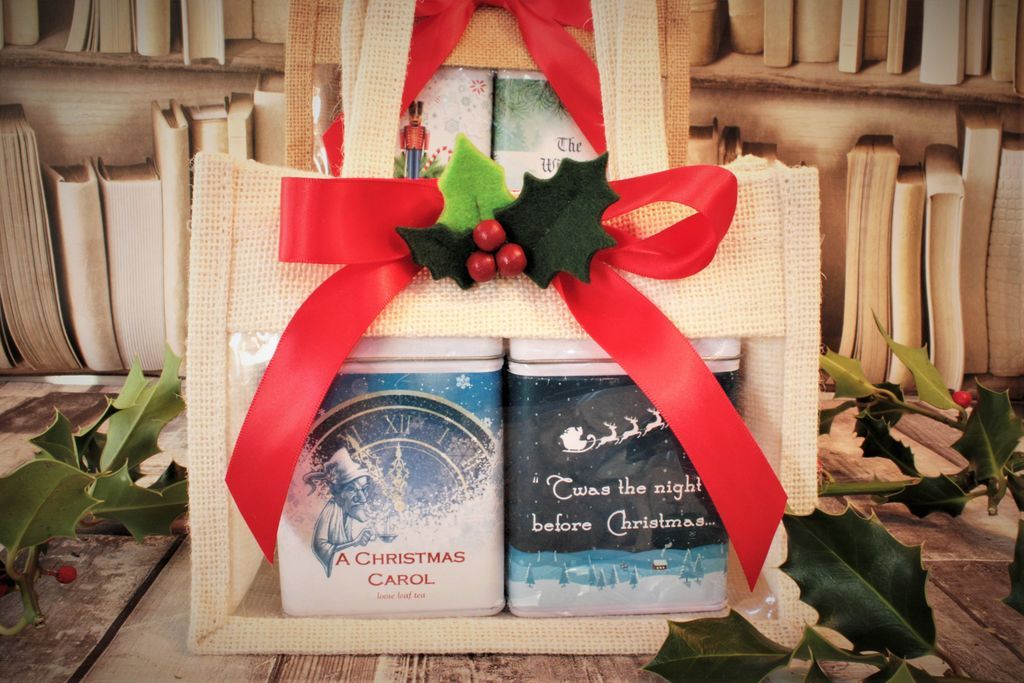 The Christmas Literary Tea Gift Set by LiteraryTeaCompany
Know your tea-lover's favorite classic author? Buy them a blend inspired by that writer in a cute collectible tin featuring a quote from their work. Choose from 48 authors and poets ranging from A.A. Milne to William Wordsworth. You can also choose two and have them packed in a gift bag!
Literary Teas – 48 Authors and Poets to Choose From by RosieLeaTeaUK
If you don't know which author to pick, why not go for this literary tea sampler? It comes with ten different teas blended for ten different authors, including Maya Angelou, Frederick Douglass, and Beatrix Potter. You can read more about each blend on the company's website!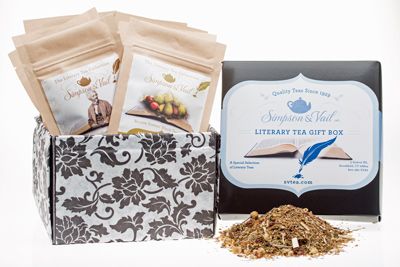 Literary Tea Sampler Gift by Simpson & Vail
Dive back into Regency England with this Jane Austen literary tea gift set. Enjoy a sampling of earl grey, Darjeeling, lemon ginger, and jasmine tea, all stored in collectible tins that come gift-wrapped in a cloth bag and fancy purple box.
Jane Austen Organic Tea Tins Gift Boxed Set by FavorFavour
The Picture of Earl Grey, War and Peach, Don Quixotea—the Man of la ManChai—these bookish tea tins are both the classiest and the punniest thing ever. (They also have Pride and Peppermint, Oliver Lemon Twist, Matcha Do About Nothing, Anise in Wonderland…)
Original NovelTea Tins by NovelTeas
"To thine own self be true" and order a set of these Shakespearean tea bags.
Shakespeare Tea Gift Set by victoriamaedesigns
Each of these "Novel Teas" has a quote from a modern American classic like The Invisible Man, The Bell Jar, and To Kill a Mockingbird. (The tea is English breakfast, though.)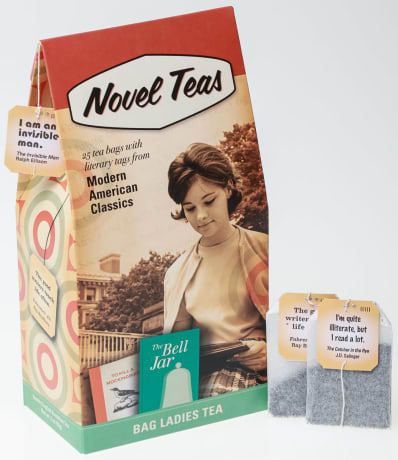 Novel Tea English Breakfast Gift Set by BagLadiesTea
Weasley's Christmas Morning, Hogsmeade Christmas Village, Yule Ball Brew—this bookish Harry Potter tea is just what you need to get cozy this winter.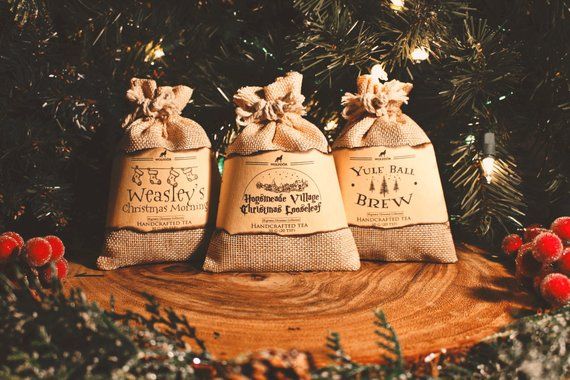 Hogwarts Christmas Collection Looseleaf Tea by Wolfdor
For a great year-round gift for the Potterhead in your life, check out this literary tea gift set inspired by potions and magical cures from Harry Potter. Dragon's Blood is fruity and floral, Felix Felicis is a sweet black tea, Phoenix Tears is a caramel rooibos, and Wolfsbane is Japanese sencha.
Tea Potions Harry Potter Inspired Tea Magic Gift by LiteraryTeaCompany
Join the Mad Hatter's tea party with this adorable Alice in Wonderland-themed literary tea gift set. Each contains six mini book boxes with two tea bags in each.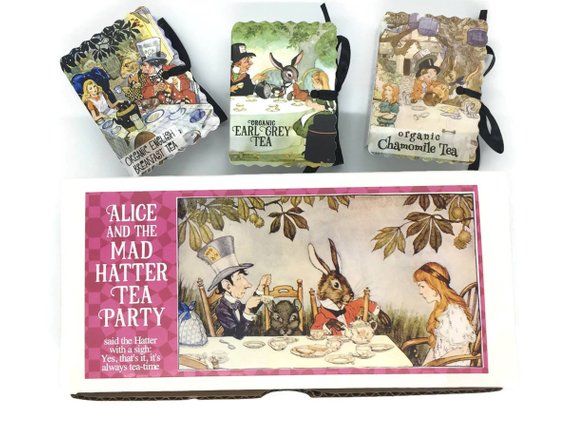 Alice in Wonderland Tea Gift by FavorFavour
Middle-Earth is a land of all creatures, so this Tolkien-inspired tea is a drink of many flavors: a fruity blend of apple, rosehip, kiwi, strawberry, and hibiscus.
Middle-Earth Tolkien Literary Tea by BookAndNook
If you can't decide what to get the bookish tea-lover in your life, give them a "novel-tea" blind date with a book! This gift set comes with a surprise vintage novel, a bookmark, and a tea bag. Because it's a surprise, this also makes a great gift to buy for yourself! You can even specify your preferred genre or flavor of tea.
Novel-Tea Date with a Book Lite Tea Gift by CraftingKates
Literary Tea Accessories
Make every tea party a mad tea party with this Alice in Wonderland-inspired tea infuser.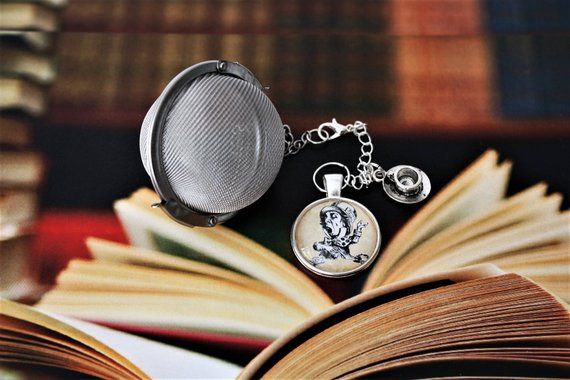 Mad Hatter's Inspired Tea infuser by LiteraryTeaCompany
Each of these vintage tea spoons is hand-stamped with a reminder of the important things in life: tea, books, and happiness.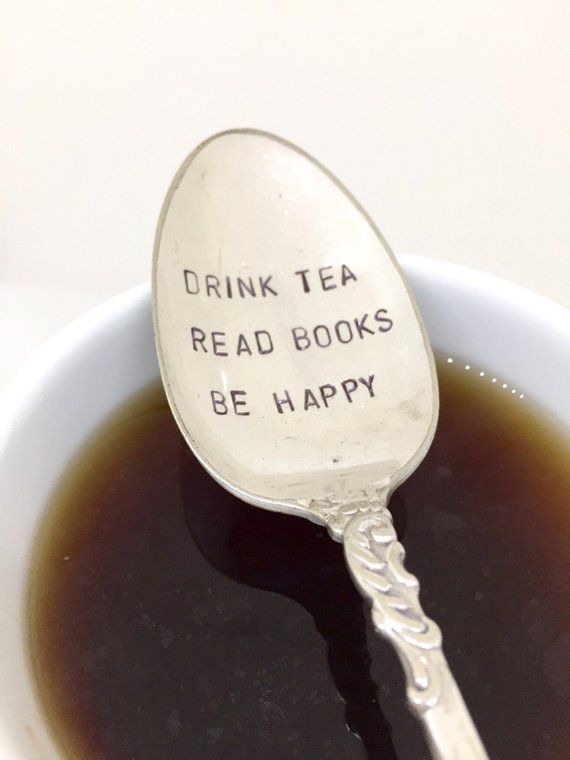 Drink Tea Read Books Be Happy Tea Spoon by billetsdoux
Let this Harry Potter-inspired grim tea spoon rest be both a memento mori and a convenient way to avoid dripping all over your book.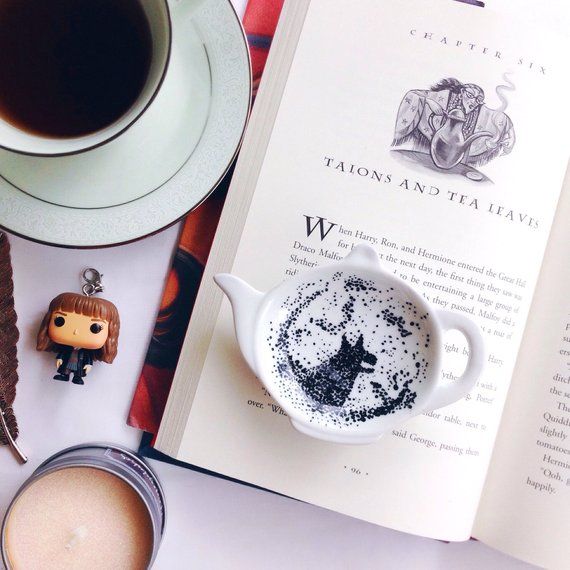 Chances Looking Grim Wizard Tea Spoon Rest by InfiniTeasandBeyond
If the Grim is too, well, grim for your taste, how about this sweet "Mis-tea Mountains" spoon rest inspired by Tolkien's Middle-Earth?
Lord of the Rings Mis-tea Mountains Tea Bag Tidy by madebymegane
This gorgeous hand-painted teapot is perfect for book club.
Book-A-Holic Hand-painted Porcelain Teapot by roootreee
And if you've got the teapot, you need the literary teacup and saucer to go with it.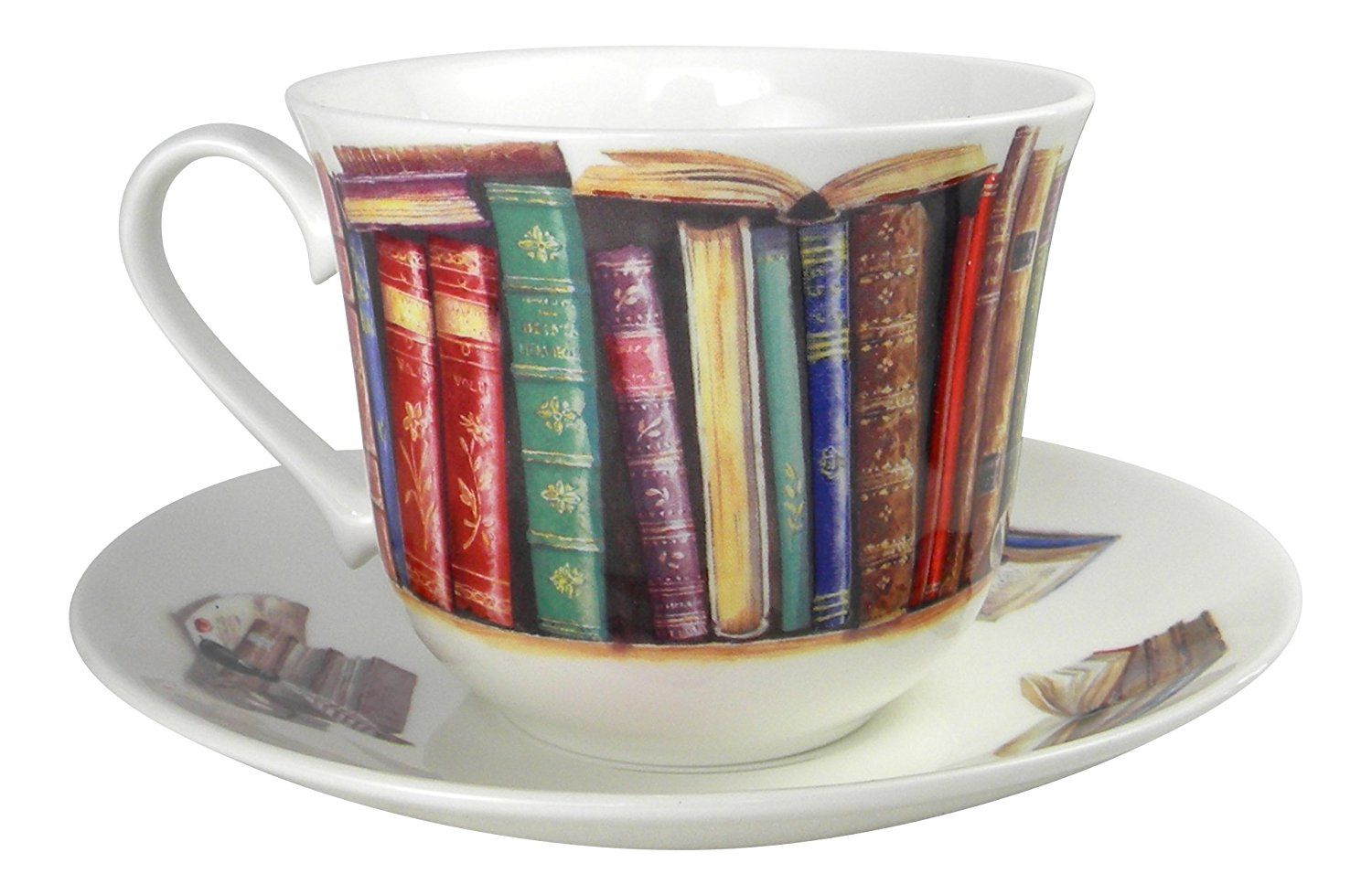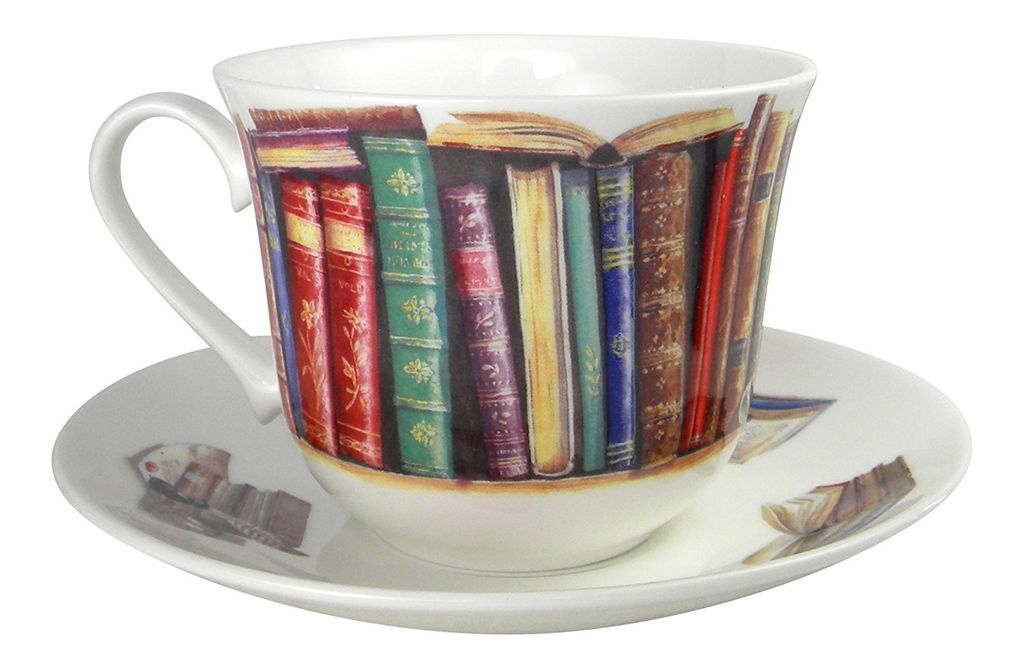 Book Lovers Breakfast Tea Cup and Saucer Set Fine Bone China by Roy Kirkham
If you're more of a mug person, one with this C.S. Lewis quote is perfect for bookish tea lovers: "You can never get a cup of tea large enough or a book long enough to suit me."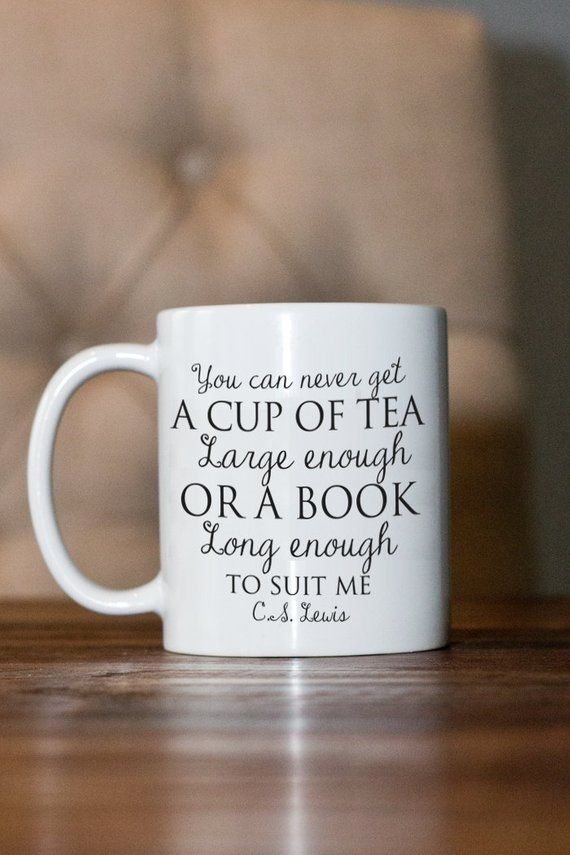 C.S. Lewis Quote Mug by DesignsKepiDomestic
Break out these vintage library card coasters at your next tea party. Four designs include The Great Gatsby, Pride and Prejudice, Alice's Adventures in Wonderland, and Great Expectations.
Vintage Library Card Coasters by iGotCrafts
Set the mood at your tea party with this Mad Hatter candle that smells like cucumber sandwiches, earl grey, and shortbread.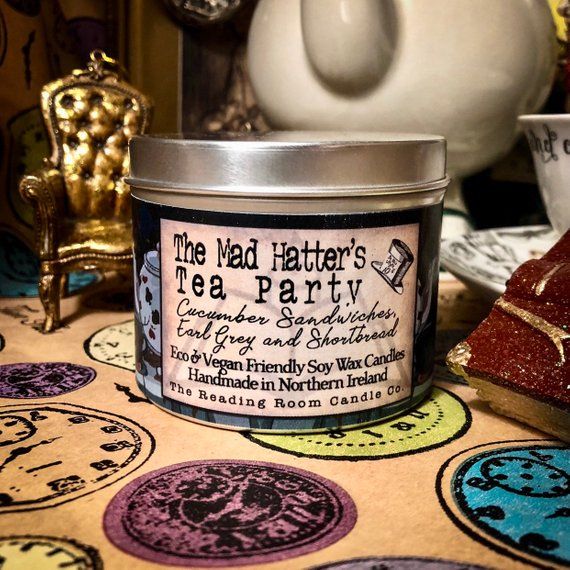 The Mad Hatter's Tea Party Soy Wax Candle by ReadingRoomCandleCo
Take Your Literary Tea Love on the Go
Bring your favorite blend to book club with this tea wallet. Holds four tea bags.
Bookshelf Tea Wallet by DriSewing
Protect your books with this teacup-patterned book sleeve. Comes in three sizes.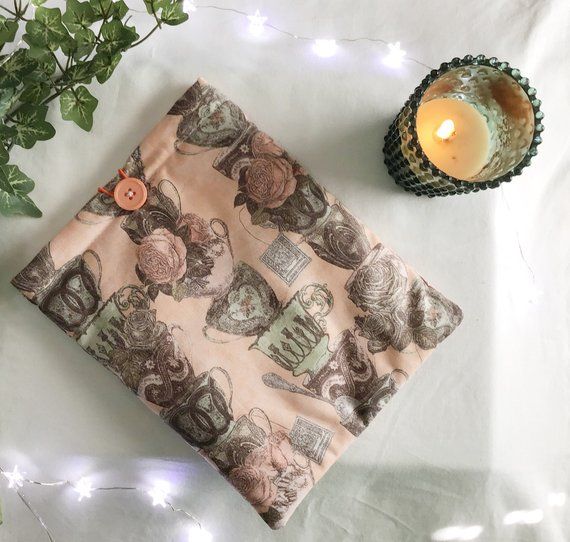 Tea Cup Book Sleeve with Closure by FabricBound
Show off your love of tea and books with this adorable enamel pin.
Tea and Book Lovers Enamel Pin by infiniteANDdarling
And to finish it all off, you need a tote bag to carry all of these literary tea goodies around (or, er, give them to your friend). This one has a quote from Peter Pan: "Would you like an adventure now, or would you like to have your tea first?"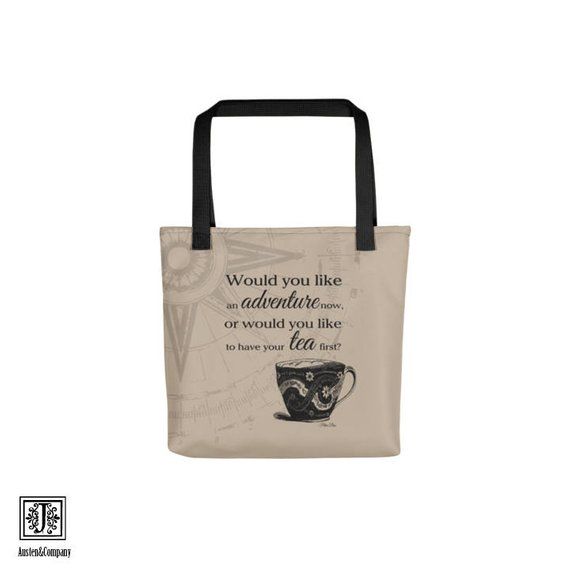 Literary Tote Bag with Peter Pan Quote and Vintage Tea Cup by JaneAustenAndCompany
Also be sure to check out more Bookish Goodies for Tea Lovers!