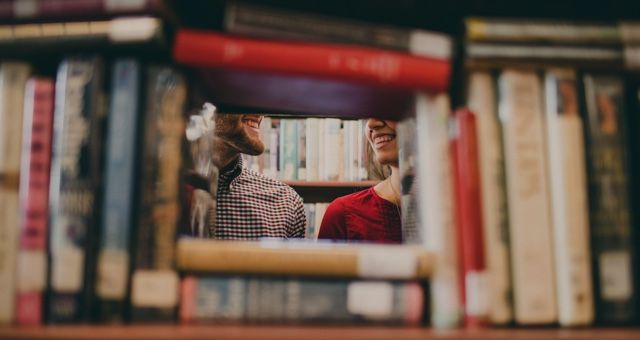 This content contains affiliate links. When you buy through these links, we may earn an affiliate commission.
I have recently entered my first relationship with a truly avid reader. My boyfriend has a stack of books on his bedside table that rivals mine. We walk together to our nearest library and browse the stacks together. Finally, I'm not the only one in my social circle who has more to say about what they've been reading than what they've been doing. Over the course of our time together, we have hit several bookish milestones which have made me appreciate this common interest more and more.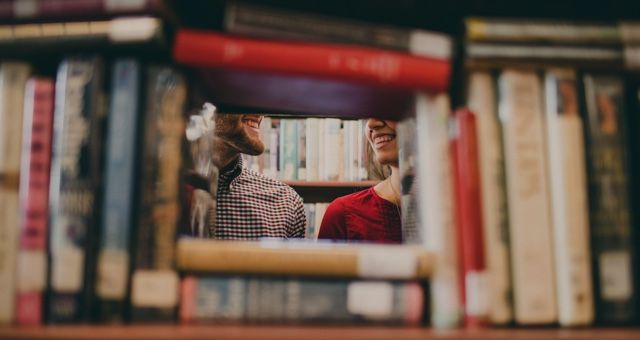 My First Recommendation
I met my boyfriend on Tinder. His profile didn't say much, but he did include this gem: "Give me a book recommendation and I will do my best to read it." With an intro like that, of course I'm going to message you! My first recommendation for him was The Virgin Suicides by Jeffrey Eugenides, because it is my favorite novel and I wanted him to experience it. I laughed with him about sections of the book I had forgotten, and experienced a new layer of enjoyment in seeing the narrative through his perspective.
His First Recommendation
When I told my boyfriend I wanted to read more fantasy, he offered a slew of recommendations. First I read Ursula K. LeGuin's A Wizard of Earthsea. It was the first book, in fact the first item, I ever borrowed from my boyfriend. Turning the pages of a book which has been well loved by someone you love adds a little extra magic to the experience of reading.
Copying the TBR
I briefly went through a phase of copying my boyfriend's reading choices. It's not that I don't have my own never-ending To Be Read list. But I would pick up a book off his nightstand out of curiosity and find myself unwittingly sucked in.
That is how I came to read Trust Exercise by Susan Choi. I was intrigued enough by the first few pages of his copy that I ran out and got my own. I happened to read at least half of Trust Exercise in my boyfriend's apartment, laughing out loud and shouting at the book as it unfolded. Since he had already read it, I could tell him exactly which parts were making me laugh. I read several passages out loud for us to discuss at together. It was some of the most fun I've ever had reading.
I similarly copied my boyfriend's choice to read The Female Persuasion by Meg Wolitzer. I found myself immediately enticed the beautiful cover. While the main character fell in love with her boyfriend, I thought about the man who had inadvertently put this book into my hands. I wondered how he felt when he read it, and I couldn't wait to discuss it with him.
Gifting Books
When it came time for our first holiday season together—a non-book milestone—I considered buying my boyfriend a gift book. But I had seen him walk into our local bookstore with a gift card and walk out without a single book! He's a reader, not a collector. Thus, I decided against it.
To my delight, he bought me Eating Animals by Jonathan Safran Foer. I was a few months into my journey to become vegan and he gave me the book that he read when he was similarly early on in that transition. We had marked a life milestone with a book milestone.
Lending My Books
The first time I entered my boyfriend's apartment, I studied his bookcase like a detective. I was overjoyed that he read varied genres, a combination of classic and contemporary titles. I analyzed his bookcase like I was peering into his soul. He probably did not take such a psychoanalytic view the first time he looked at my bookcase in search of something to borrow. Still, I felt exposed. My bookcase tells a story beyond the narratives it contains—it is the story of my life. When I lend you a book, you enter the story.
Reading Together
What greater joy is there than slipping off into a far off universe, while your partner slips away beside you? Your bodies touching, you remain tethered to each other as you sail off in opposite directions. The world becomes quiet except for the sound of turning pages. This one, while so simple, might be my favorite.