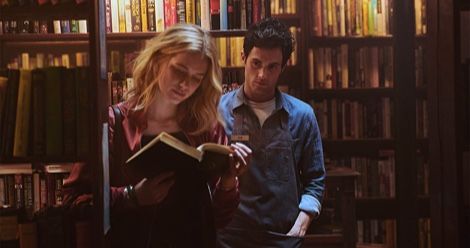 Pop Culture
All the Literary References in Netflix's YOU
This content contains affiliate links. When you buy through these links, we may earn an affiliate commission.
You is a wonderfully creepy Netflix series, with season 1 available for streaming since December 26. It stars Penn Badgley, of Gossip Girl fame, and while it may have some similarities—Badgley is kind of a loner and a big book nerd—it is very not Gossip Girl. But the literary references are on point.
Joe is a bookstore manager who falls for a lovely woman, Beck, when she visits the store for a book—Desperate Characters by Paula Fox. Witty banter ensues (the book is in the celebrity author section because she's the grandmother of Madonna or something), and after scanning her credit card, Joe looks her up on the internet. Like ya do. Then he learns everything about her and starts showing up at places she frequents. Actually, this could be Dan Humphrey: 10 Years Later and I would believe it.
Somehow, I missed all the info about this being about book nerds and writers. So I was THRILLED to find all these literary references sprinkled throughout the 10-episode show.
Almost every episode has luxurious shots of beautiful leather-bound books lined up on dusty shelves, or of Joe rebinding a leather-bound book. It's perfect.
Joe recommends classics to his young neighbor, Paco. They have a cute little book club, and Joe lends him gorgeous leather-bound copies of The Three Muskateers, Frankenstein, Ozma of Oz, Don Quixote, Wuthering Heights, and The Count of Monte Cristo.
Beck's best friend Peach is a distant relative of J.D. Salinger.
We get to see the bookstore set up for a launch event for Sleeping Beauties by Stephen King and Owen King. Ethan has the best line before the event: "Let's give thanks to our Lord Stephen King, who bestowed books so that our bookstores in third dimensional locations may live."
Joe throws Beck a literary party where everyone dresses up as classic writers. Joe is Hemingway, with slicked-back hair and a turtleneck sweater. I also spotted a Shakespeare walking around.
Book snobbery at its finest: Joe and Beck watch a customer browse the shelves looking for something "respectable" to buy (Franny and Zooey by J.D. Salinger) with his coveted copy of a Dan Brown book. Later, Beck scolds a customer for trying to buy An American Tragedy, because she hates Theodore Dreiser.
Joe follows Beck to a Charles Dickens festival, where everyone is dressed in Victorian attire.
In one cozy-looking scene, Joe and Beck are reading in bed—he Black Swan Green by David Mitchell, she On Beauty by Zadie Smith.
Beck is a writer, attending MFA classes, and at one point, cry-reads at a poetry reading.
Joe and Beck play Scrabble, only playing with made-up words.
Moral of the story: Please watch this show. It's drama and suspense and comedy and so many tidbits for book lovers to adore.