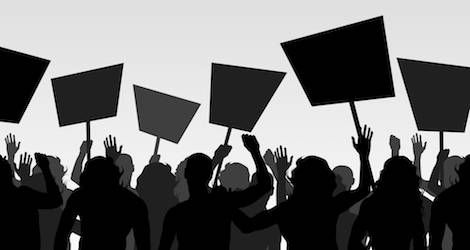 Lists
50 Literary Quotes for Fighting the Good Fight
This content contains affiliate links. When you buy through these links, we may earn an affiliate commission.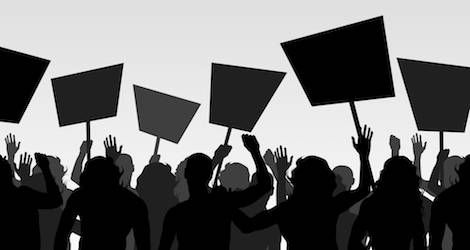 The world often feels bleak right now. With civil liberties being violated, targeted and violent hatred aimed toward marginalized groups, and the imminent threat of suppression of opposition, this feels like a new kind of dark ages. In these times, books are needed now more than ever. One place to find hope, comfort, and inspiration is through literature and reading. This collection of 50 quotes, organized by themes like Resistance + Protest and Endurance, are from classic and contemporary writers, creators, leaders, and literary-adjacent figures. Whether from pivotal texts like dystopian The Handmaid's Tale finding a renewed relevance or newer books like Legend carrying on the drumbeats of resistance, this collection of literary quotes about fighting the good fight should help you find power in community and in your own voice to endure—and affect change.
REBELLION + REVOLUTION
"We have it in our power to begin the world over again."
―Thomas Paine
"All revolutions are, until they happen, then they are historical inevitabilities."
―David Mitchell, Cloud Atlas
"A great human revolution in just a single individual will help achieve a change in the destiny of a nation and, further, can even enable a change in the destiny of all humankind."
―Daisaku Ikeda, The Human Revolution
"A great human revolution in just a single individual will help achieve a change in the destiny of a nation and, further, can even enable a change in the destiny of all humankind."
―Daisaku Ikeda, The Human Revolution
"If you want to rebel, rebel from inside the system.That's much more powerful than rebelling outside the system."
―Marie Lu, Legend
"This is an inevitable and easily recognizable stage in every revolutionary movement: reformers must expect to be disowned by those who are only too happy to enjoy what has been won for them."
―Doris Lessing
"The only way of discovering the limits of the possible is to venture a little way past them into the impossible."
―Arthur C. Clarke
"Revolution is not a one time event."
―Audre Lorde, Sister Outsider: Essays and Speeches
RESISTANCE + PROTEST
"Protest beyond the law is not a departure from democracy; it is absolutely essential to it."
―Howard Zinn
"Just because something bears the aspect of the inevitable one should not, therefore, go along willingly with it."
―Philip K. Dick, The Transmigration of Timothy Archer
"I believe in the resistance as I believe there can be no light without shadow; or rather, no shadow unless there is also light."
―Margaret Atwood, The Handmaid's Tale
"They have assumed the names and gestures of their enemies, but have held on to their own, secret souls; and in this there is a resistance and an overcoming, a long outwaiting."
―N. Scott Momaday, House Made of Dawn
"And we, from the whole of our life experience there, have concluded that there is only one way to withstand violence: with firmness."
―Aleksandr Solzhenitsyn, Warning to the West
"You said, 'They're harmless dreamers and they're loved by the people.' 'What,' I asked you, 'is harmless about a dreamer, and what,' I asked you, 'is harmless about the love of the people? Revolution only needs good dreamers who remember their dreams."
―Tennessee Williams
"Learn the rules like a pro, so you can break them like an artist."
―Pablo Picasso
"I hate to hear you talk about all women as if they were fine ladies instead of rational creatures. None of us want to be in calm waters all our lives."
―Jane Austen, Persuasion
"Gender as it functions today is a grave injustice. I am angry. We should all be angry. Anger has a long history of bringing about positive change. But I am also hopeful, because I believe deeply in the ability of human beings to remake themselves for the better."
―Chimamanda Ngozi Adichie, We Should All Be Feminists
ENDURANCE
"I must not fear. Fear is the mind-killer. Fear is the little-death that brings total obliteration. I will face my fear. I will permit it to pass over me and through me. And when it has gone past I will turn the inner eye to see its path. Where the fear has gone there will be nothing. Only I will remain."
―Frank Herbert, Dune
"I was the kind to endure. No one had said you couldn't become a better person through endurance."
―Karl Ove Knausgaard
"At the end of the day it's about how much you can bear, how much you can endure. Being together, we harm nobody; being apart, we extinguish ourselves."
―Tabitha Suzuma, Forbidden
"If you can learn to endure pain, you can survive anything. Some people learn to embrace it—to love it. Some endure it through drowning it in sorrow, or by making themselves forget. Others turn it into anger."
―Sarah J. Maas, The Assassin's Blade
"I used many times to touch my own chest and feel, under its asthmatic quiver, the engine of the heart and lungs and blood and feel amazed at what I sensed was the enormity of the power I possessed. Not magical power, but real power. The power simply to go on, the power to endure, that is power enough, but I felt I had also the power to create, to add, to delight, to amaze and to transform."
―Stephen Fry, Moab Is My Washpot
"The breath of wind that moved them was still chilly on this day in May; the flowers gently resisted, curling up with a kind of trembling grace and turning their pale stamens towards the ground. The sun shone through them, revealing a pattern of interlacing, delicate blue veins, visible through the opaque petals; this added something alive to the flower's fragility, to it's ethereal quality, something almost human ,in the way that human can mean frailty and endurance both at the same time. The wind could ruffle these ravishing creations but it couldn't destroy them, or even crush them; they swayed there, dreamily; they seemed ready to fall but held fast to their slim strong branches—…"
―Irène Némirovsky
"Nobody can hurt me without my permission."
―Mahatma Gandhi
KINDNESS + COMMUNITY
"In every community, there is work to be done.
In every nation, there are wounds to heal.
In every heart, there is the power to do it."
―Marianne Williamson
"So the small things came into their own: small acts of helping others, if one could; small ways of making one's own life better: acts of love, acts of tea, acts of laughter. Clever people might laugh at such simplicity, but, she asked herself, what was their own solution?"
―Alexander McCall Smith, The Good Husband of Zebra Drive
"'Because when everything is said and done…the world runs on kindness. It simply has to, or we'd never be a able to bear ourselves. It might not seem so to you now, but it will when you're older.' ~Ariel"
―Kathleen Glasgow, Girl in Pieces
"Be a little kinder than you have to."
―E. Lockhart, We Were Liars
"We live in a world in which we need to share responsibility. It's easy to say 'It's not my child, not my community, not my world, not my problem.' Then there are those who see the need and respond. I consider those people my heroes."
―Fred Rogers (Mr. Rogers)
"We are only as strong as we are united, as weak as we are divided."
―J.K. Rowling, Harry Potter and the Goblet of Fire
LITERATURE + LIBRARIES + FREE SPEECH
"A library in the middle of a community is a cross between an emergency exit, a life-raft and a festival. They are cathedrals of the mind; hospitals of the soul; theme parks of the imagination. On a cold rainy island, they are the only sheltered public spaces where you are not a consumer, but a citizen instead"
―Caitlin Moran
"History is entirely created by the person who tells the story."
―Lin-Manuel Miranda, Hamilton: The Revolution
"Life is not a PG feel-good movie. Real life often ends badly. Literature tries to document this reality, while showing us it is still possible for us to endure nobly."
―Matthew Quick, The Silver Linings Playbook
"Books, you know, they're not just commodities. The profit motive often is in conflict with the aims of art. We live in capitalism. Its power seems inescapable. So did the divine right of kings. Any human power can be resisted and changed by human beings. Resistance and change often begin in art, and very often in our art—the art of words."
―Ursula K. Le Guin
"A word to the unwise.
Torch every book.
Char every page.
Burn every word to ash.
Ideas are incombustible.
And therein lies your real fear."
―Ellen Hopkins
"It's funny that we think of libraries as quiet demure places where we are shushed by dusty, bun-balancing, bespectacled women. The truth is libraries are raucous clubhouses for free speech, controversy and community. Librarians have stood up to the Patriot Act, sat down with noisy toddlers and reached out to illiterate adults. Libraries can never be shushed."
―Paula Poundstone
"Lock up your libraries if you like; but there is no gate, no lock, no bolt that you can set upon the freedom of my mind."
―Virginia Woolf, A Room of One's Own
"And on the subject of burning books: I want to congratulate librarians, not famous for their physical strength or their powerful political connections or their great wealth, who, all over this country, have staunchly resisted anti-democratic bullies who have tried to remove certain books from their shelves, and have refused to reveal to thought police the names of persons who have checked out those titles.
So the America I loved still exists, if not in the White House or the Supreme Court or the Senate or the House of Representatives or the media. The America I love still exists at the front desks of our public libraries."
―Kurt Vonnegut Jr., A Man Without a Country
"We live for books."
―Umberto Eco
"Actions are the first tragedy in life, words are the second. Words are perhaps the worst. Words are merciless…"
―Oscar Wilde
"But I suppose the most revolutionary act one can engage in is…to tell the truth."
―Howard Zinn, Marx in Soho: A Play on History
"Never be afraid to raise your voice for honesty and truth and compassion against injustice and lying and greed. If people all over the world…would do this, it would change the earth."
―William Faulkner
"Our masters have not heard the people's voice for generations and it is much, much louder than they care to remember."
―Alan Moore, V for Vendetta
HOPE
"We know the battle ahead will be long, but always remember that no matter what obstacles stand in our way, nothing can stand in the way of the power of millions of voices calling for change.
We have been told we cannot do this by a chorus of cynics…they will only grow louder and more dissonant…We've been asked to pause for a reality check. We've been warned against offering the people of this nation false hope.
But in the unlikely story that is America, there has never been anything false about hope."
―Barack Obama
"That which does not kill us makes us stronger."
―Friedrich Nietzsche
"All that is gold does not glitter,
Not all those who wander are lost;
The old that is strong does not wither,
Deep roots are not reached by the frost.
From the ashes a fire shall be woken,
A light from the shadows shall spring;
Renewed shall be blade that was broken,
The crownless again shall be king."
―J.R.R. Tolkien, The Fellowship of the Ring
"You may trod me in the very dirt
But still, like dust, I'll rise."
―Maya Angelou
"Do not lose hope—what you seek will be found. Trust ghosts. Trust those that you have helped to help you in their turn. Trust dreams. Trust your heart, and trust your story."
―Neil Gaiman, Fragile Things: Short Fictions and Wonders
"Listen to the mustn'ts, child. Listen to the don'ts. Listen to the shouldn'ts, the impossibles, the won'ts. Listen to the never haves, then listen close to me…Anything can happen, child. Anything can be."
―Shel Silverstein
"Only in the darkness can you see the stars."
―Martin Luther King Jr.
"Hope can be a powerful force. Maybe there's no actual magic in it, but when you know what you hope for most and hold it like a light within you, you can make things happen, almost like magic."
―Laini Taylor, Daughter of Smoke & Bone
"Hold fast to dreams,
For if dreams die
Life is a broken-winged bird,
That cannot fly."
―Langston Hughes
"This is where it all begins. Everything starts here, today."
―David Nicholls, One Day