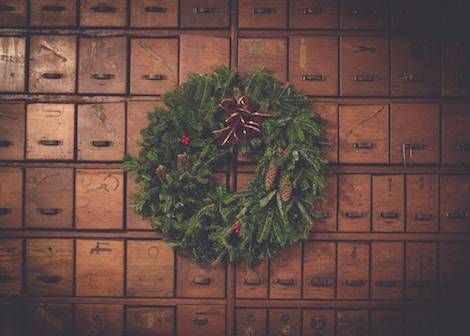 Classics
12 Literary Quotes for Your Holiday Cards
This content contains affiliate links. When you buy through these links, we may earn an affiliate commission.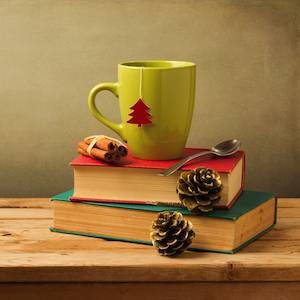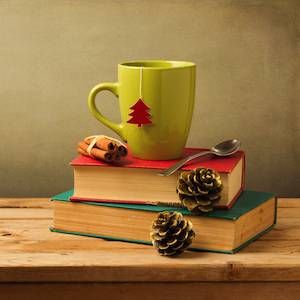 One of my favorite pastimes is pushing my interests on my poor, unsuspecting family and friends. Who am I kidding? They probably suspect by now. I am hardly subtle.
Therefore, when it's time to order my Christmas cards, I've taken to using a photo of my daughter reading at my beloved local indie. (It involves a lot of me yelling "LOOK LIKE YOU'RE READING EVEN THOUGH YOU'RE FOUR AND DON'T YET KNOW HOW TO READ!" and "WHY ARE YOU TRYING TO RUIN MY LIFE BY READING A BOOK ABOUT CATS AND NOT SOMETHING MORE CHRISTMAS-Y???" Her childhood memories of the holidays are going to be just top-notch.) I usually throw in a great literary quote about Christmas and a note that I've donated to a book-related charity in their name (it's usually First Book). Lucky them…being blessed (harassed) with my love of literature and my (forced) charitable contributions.
So I figured I'd share with you some great literary quotes about the holiday season that I believe would be great with which to annoy your own family.
I will honor Christmas in my heart and try to keep it all the year.
—Charles Dickens, A Christmas Carol
Christmas doesn't come from a store. Maybe Christmas, perhaps, means a little bit more.
—Dr. Seuss, The Grinch Who Stole Christmas
Fine old Christmas, with the snowy hair and ruddy face, had done his duty that year in the noblest fashion, and had set off his rich gifts of warmth and color with all the heightening contrast of frost and snow.
—George Eliot, The Mill on the Floss
There are two ways of spreading light; to be the candle or the mirror that reflects it.
—Edith Wharton, "Vesalius in Zante"
The rooms were very still while the pages were softly turned and the winter sunshine crept in to touch the bright heads and serious faces with a Christmas greeting.
—Louisa May Alcott, Little Women
Our hearts grow tender with childhood memories and love of kindred, and we are better throughout the year for having, in spirit, a child again at Christmas-time.
—Laura Ingalls Wilder, A Little House Sampler
Kindle the taper like the steadfast star
Ablaze on evening's forehead o'er the earth,
And add each night a lustre till afar
An eightfold splendor shine above thy hearth
—Emma Lazarus, The Feast of Lights
Amidst the general call to happiness, the bustle of the spirits, and stir of affections, which prevail at this period, what bosom can remain insensible? It is, indeed, the season of regenerated feeling—the season for kindling not merely the fire of hospitality in the hall, but the genial flame of charity in the heart.
—Washington Irving, Old Christmas
To me every hour of the light and dark is a miracle,
Every cubic inch of space is a miracle.
—Walt Whitman, Leaves of Grass
Happy, happy Christmas, that can win us back to the delusions of our childish days, that can recall to the old man the pleasures of his youth; that can transport the sailor and the traveller, thousands of miles away, back to his own fire-side and his quiet home!
—Charles Dickens, The Pickwick Papers
I heard the bells on Christmas Day
Their old, familiar carols play,
All wild and sweet
The words repeat
Of peace on earth, good-will to men!
—Henry Wadsworth Longfellow
Let the straight flower bespeak its purpose in straightness—to seek the light.
Let the crooked flower bespeak its purpose in crookedness—to seek the light.
Let the crookedness and straightness bespeak the light.
—Allen Ginsberg, "Psalm III"