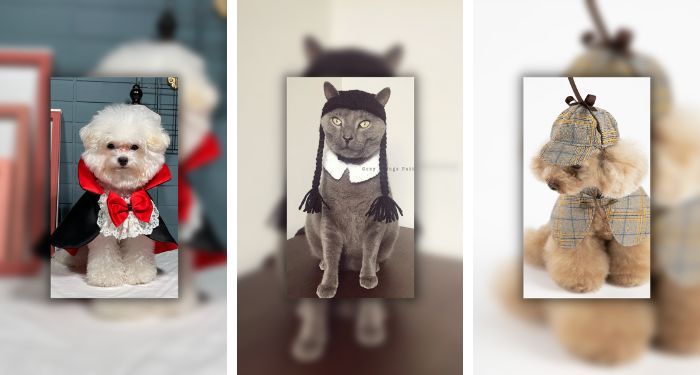 This content contains affiliate links. When you buy through these links, we may earn an affiliate commission.
Halloween is almost here! There are so many reasons to love Halloween: the candy, the scary movies, the friendly ghosts, the lovely fall weather. But the most important reason why Halloween should be your favorite holiday? PETS IN COSTUMES. It's absurdly adorable. If you're looking for the perfect bookish Halloween costumes for pets, we've got you covered. Check out these outfits to transform your pets into your favorite book characters, from spooky classics to trending titles.
Of course, no one should ever force a pet into a costume if they're not feeling it. My cat, for example, will only tolerate a hat long enough for one photo, and she demands many treats in exchange. But my dog loves a cute little sweater. It's like a blanket that doesn't fall off! Whenever I put him in a hoodie or jacket, he snuggles right up and falls asleep. How can I deny him that cozy adorableness?
We've got costumes for dogs and cats, obviously, but that's not all. Have you got a rabbit, guinea pig, hamster, or hedgehog? They can get in on the trick-or-treating fun too! Or maybe you don't even have a pet, and you're just here for the cute pictures. I feel you! Researching this article lowered my blood pressure and added a year to my life.
---
We hope this list helped you find the perfect bookish Halloween costumes for pets! You might also enjoy:
Bookish Accessories for Your Cat
Bookish Accessories for Your Dog
8 Novels Where Pets Play a Significant Role