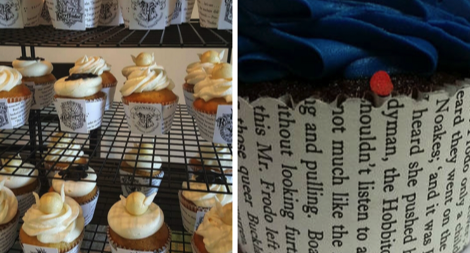 Baking with Books: Come Get Your Literary Cupcake Liners
Remember that time we showed you the Bookish Cupcakes That Are (Almost) Too Pretty to Eat and they were so amazing that we all dreamed we'd become baking pros and create cute cupcakes of our own? If you're anything like me, that dream flew out the window real quick-like, but there's good news for us non-bakers: Literary cupcake liners exist and they can make even the simplest cupcake display your favorite tomes.
Hungry for more H.P. Lovecraft?
Is Cthulhu calling you? Then these Cthulhu cupcake liners from Geeky Hostess are right up your alley. With creepy tentacles and a passage from the beloved H.P. Lovecraft short story, these are fantastic as they are creepy.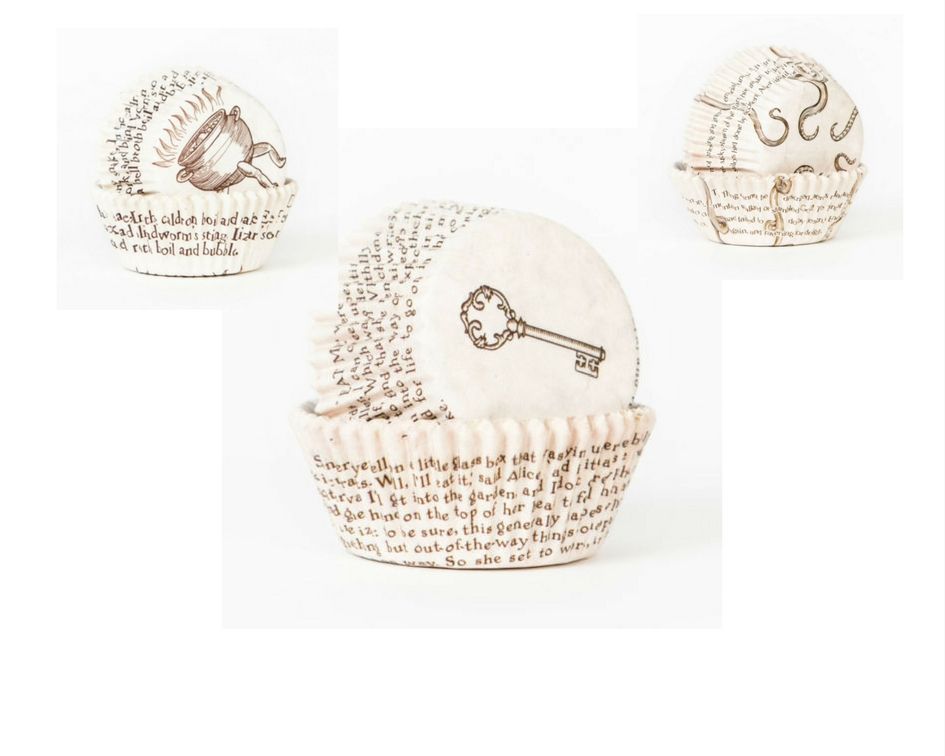 While you're there, Geeky Hostess offers a few other literary cupcake options, including Macbeth cupcake liners complete with everyone's favorite "double, double toil and trouble" passage, and Alice in Wonderland cupcake liners with one of the beloved "EAT ME!" passages from the book.
Alice in Wonderland cupcake liners
In fact, if Alice in Wonderland is your jam then you may want to move beyond that site and over to Etsy where you have tons of literary cupcake liner options, from simple mini Mad Hatter tea cup cupcake liners to these fancy dancy tea party cupcake liners with Alice curtseying and that ole rabbit looking friendly. If you want maximum color and maximum whimsy, then might I suggest this delightful Mad Hatters Tea Party cupcake liner set?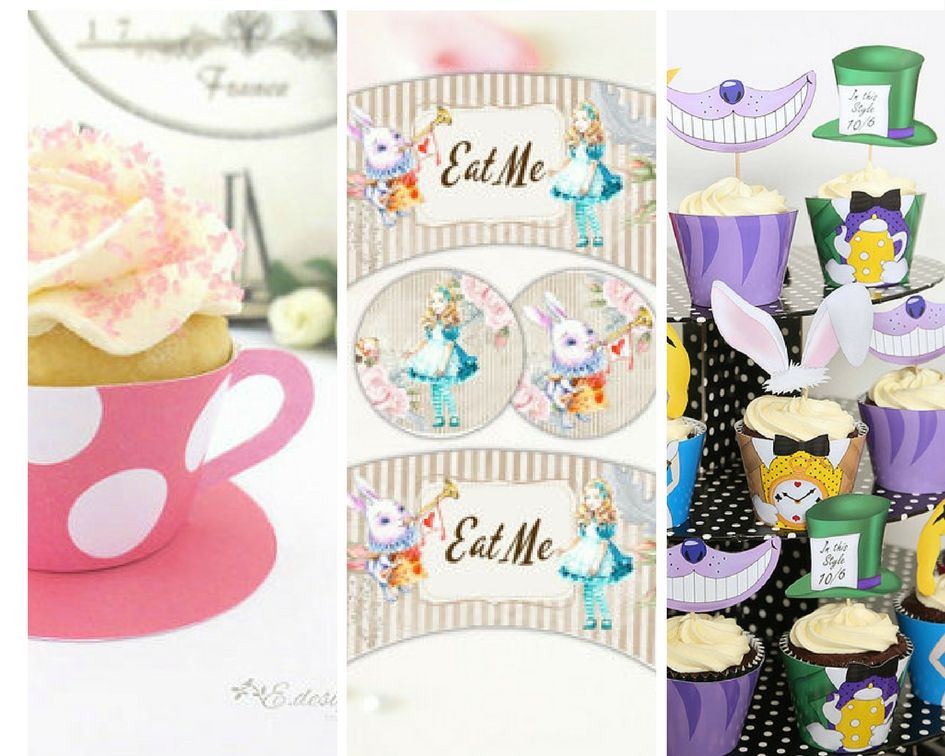 Words, words, and more words
Legal nerds have it made with these cupcake wraps cut from the Federal Rules of Civil Procedure. Fascinating! Or perhaps you want cupcakes lined with pages from a vintage dictionary? You're covered there too!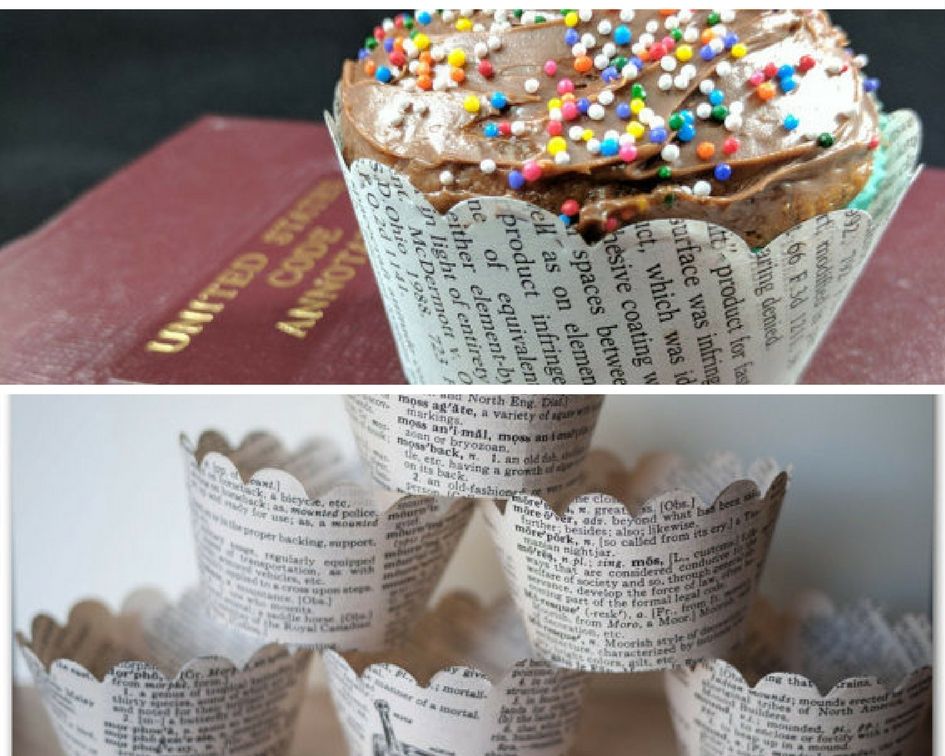 Fandoms have fantastic options
If you're a member of a major fandom then you can likely find cupcake wrappers that fit your bill. From cupcake wrappers made from upcycled pages of Harry Potter books to custom Hogwarts cupcake wrappers to Harry Potter cupcake wrappers based on the house you've been sorted into, there are tons of options.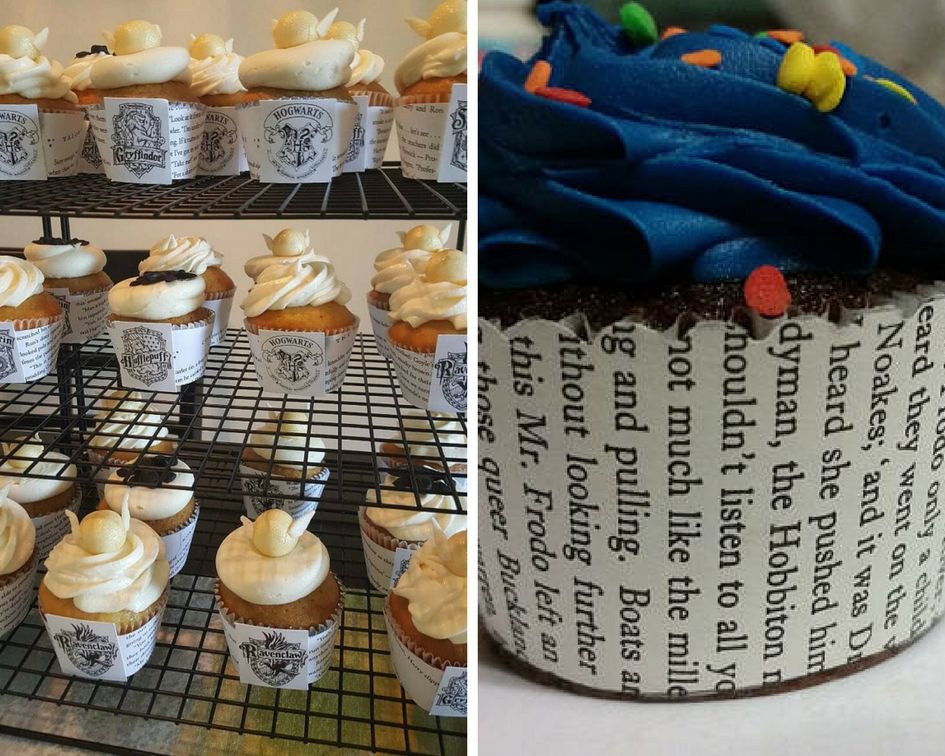 Lord of the Rings cupcake wrappers are available, Game of Thrones cupcake wrappers are a thing, and you can even wrap your cupcakes in upcycled pages from The Hunger Games.
Superheroes and comic cupcake liners abound
Comic nerds have got it made, whether they want general generic comic cupcake liners that get all BANG! YUM! BOOM! WOW!, comic cupcake liners that focus on the birthday folk, or they want to embrace specific characters like these Thor cupcake liners, Batman cupcake liners, the Flash cupcake liners, Captain America cupcake liners, Spiderman cupcake liners, or, my favorite, Wonder Woman cupcake liners.
Kids stories make delightful Literary cupcake liners too
Kiddos or those young at heart are sure to giggle with delight at these Dr. Seuss cupcake wrappers. Pooh fans can start with these simple, black and white Winnie the Pooh cupcake liners. These Peter Rabbit cupcake liners are perfect for a sweet, vintage-inspired birthday party, though more modern young'uns may wish for these How to Train Your Dragon cupcake liners.