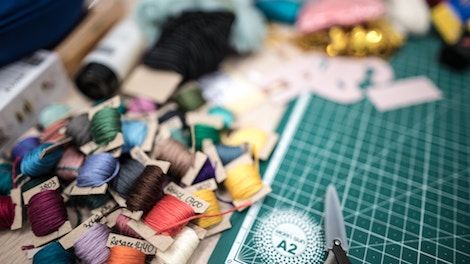 70 Badass Literary Cross-Stitch Patterns To Buy Right Now
As the weather begins to cool down and more time is spent inside with waning hours of evening sunlight, I find myself needing to do more making of things with my hands. I find myself cooking more, baking more, cleaning more, and wanting to dig back into the crafts I enjoy. I am notoriously good at starting these projects (such as the blanket I started crocheting 5 years ago that is still in a tub), but I have found that when it comes to cross-stitch, especially because it requires more concentration than crocheting does for me, I can start and end a project pretty routinely. It got me thinking about all of the awesome literary cross stitch patterns you can score online, ranging from inexpensive to intricate, more pricey projects–be sure to start with our collection of literary cross stitch patterns, Lit Stitch: 25 Cross Stitch Patterns for Book Lovers.
Find below a round-up of badass bookish cross-stitch patterns. Some of these are for bookmarks, others are for wall decor, and still others can take on a whole host of finished outcomes. What they have in common is their literary bent. Most, if not all, of the patterns are available for immediate purchase and download, so you don't even have to wait a week for it to show up in the mail. Instant stitchification!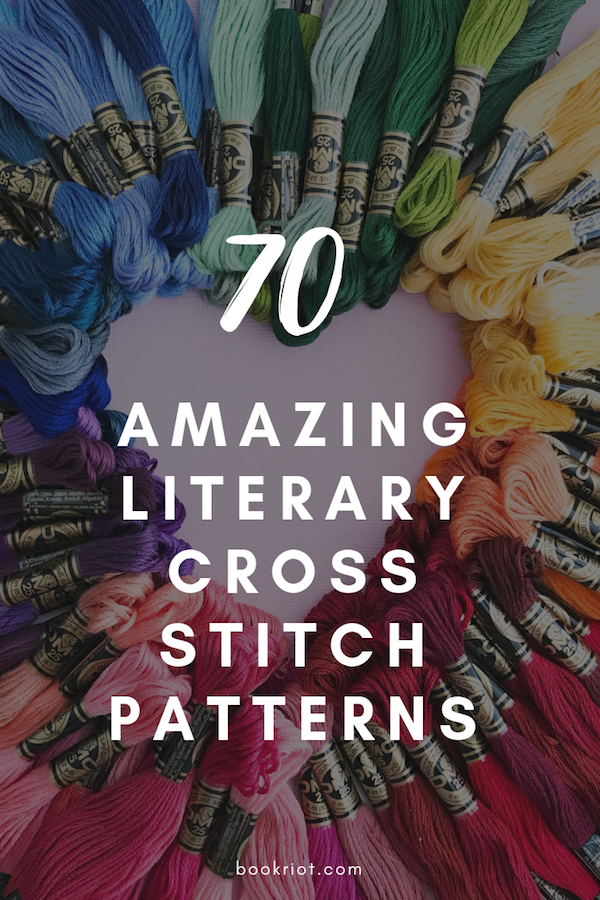 Grab yourself some excellent embroidery floss, hoops, and needles, and pick out one or more of these great literary cross stitch patterns for your next project.
Literary Cross-Stitch Patterns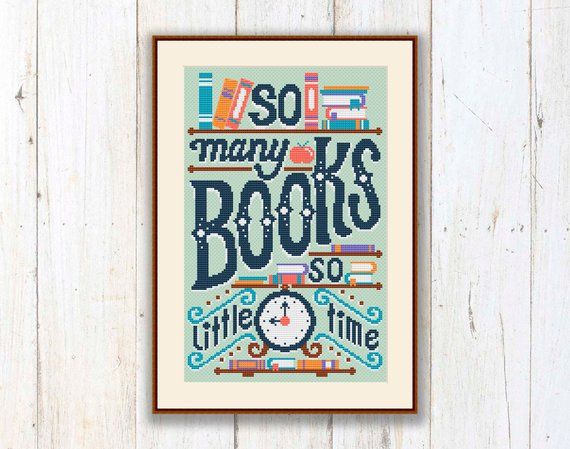 The truth, the whole truth, and nothing but the truth! "So many books, so little time" cross-stitch pattern is $3.65.
Talk about the perfectly wizarding Harry Potter cross-stitch. $3.
"She is too fond of books and it has turned her brain" cross-stitch pattern. $4.66.
Do you need a new bookmark? How about one featuring cats and a bookshelf? It's purr-fect. $4.65.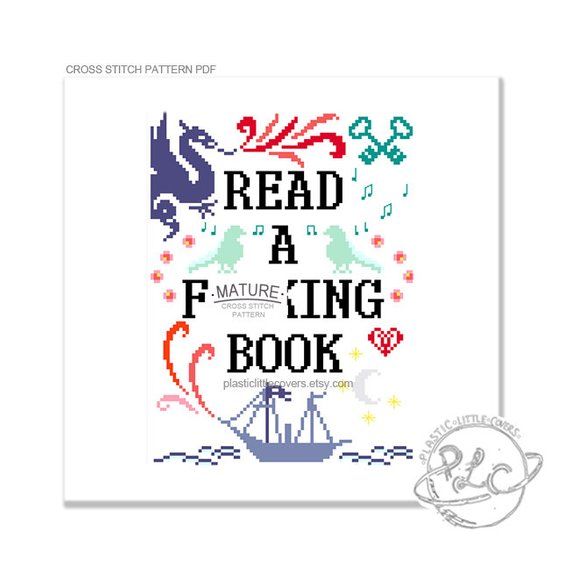 This literary cross-stitch pattern is for those among us who love a little profanity with our bookishness.
This set of classic book covers would look great hanging above your real classics. $5.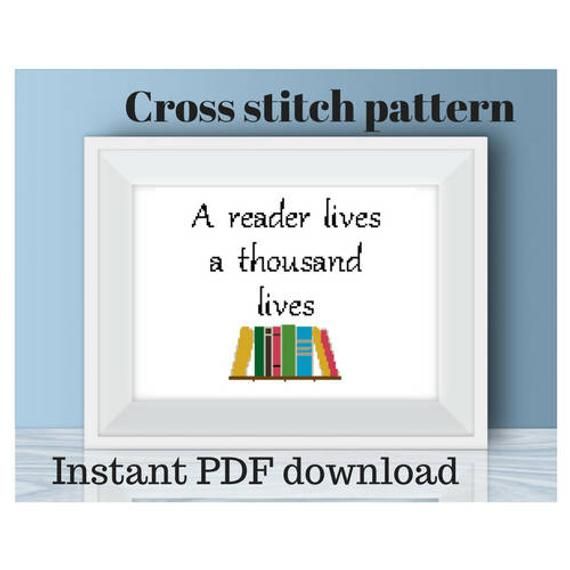 "A reader lives a thousand lives" cross-stitch pattern. $3.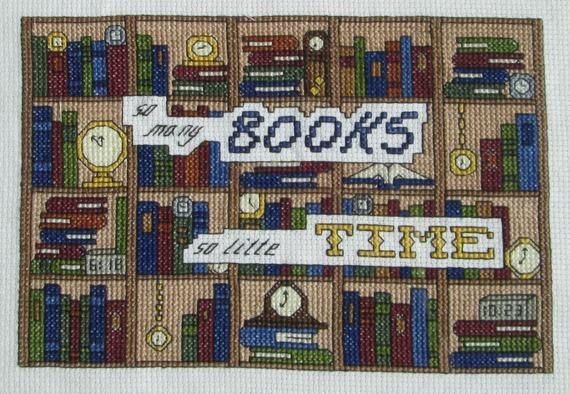 Another variation on the "so many books" pattern. $10.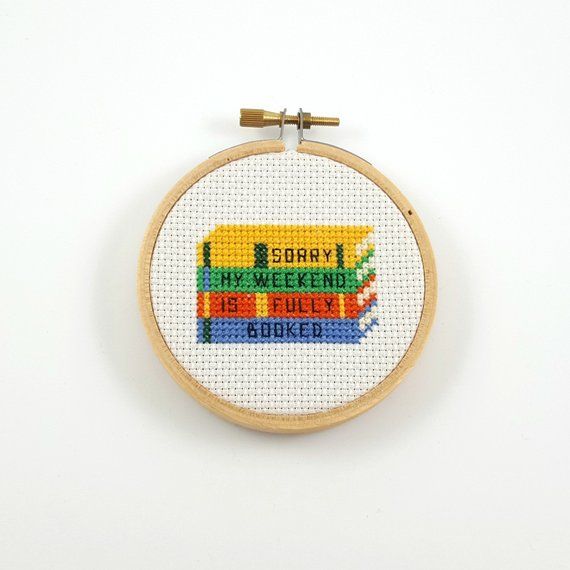 My weekend is booked cross-stitch pattern. So little! So cute! $3.
For those cross-stitchers at the intersection of "book lover" and "pun lover." $3.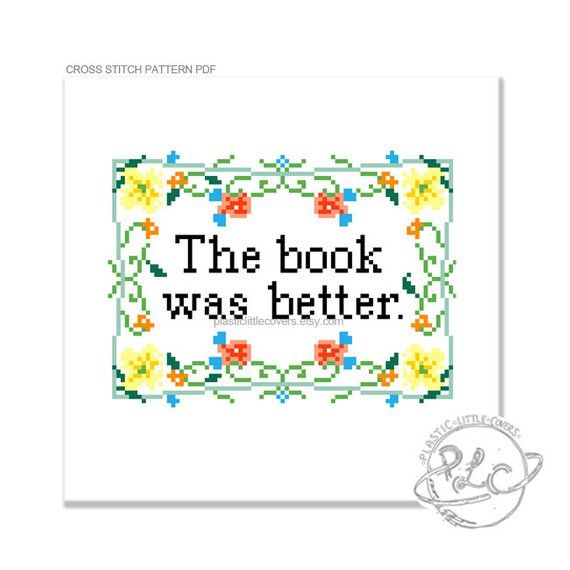 "The book was better" cross-stitch pattern. $3.33.
It's a spell book! How great is this one for witchy readers or those who love fantasy? $4.72.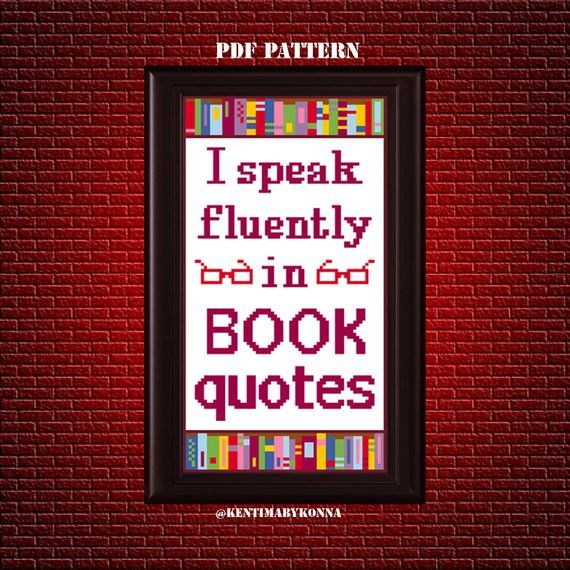 Do you speak fluently in book quotes? This cross-stitch pattern is for you. $5.50.
The perfect cross-stitch pattern for fans of Agatha Christie. $5.
Get ready to have these bookworms check you out while you needle on through. $4.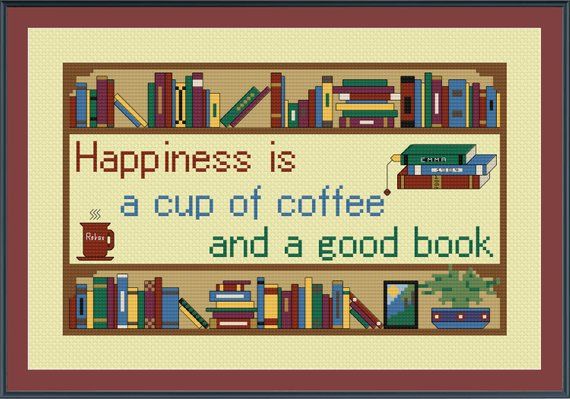 Coffee + books = a magical cross-stitch pattern. $4.75.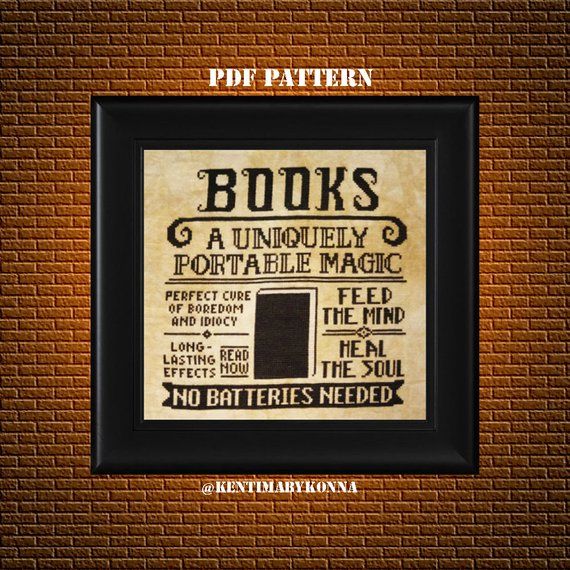 Check out the happiest little bookworm, complete with his own little mortar board. $3.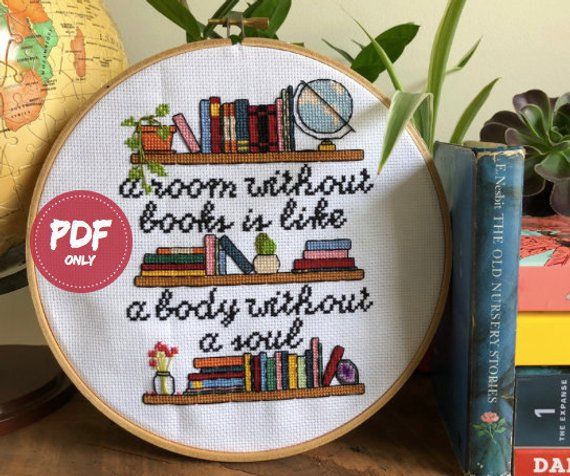 "A room without books is like a body without a soul" literary cross-stitch pattern. This might be one of my favorites! $3.30.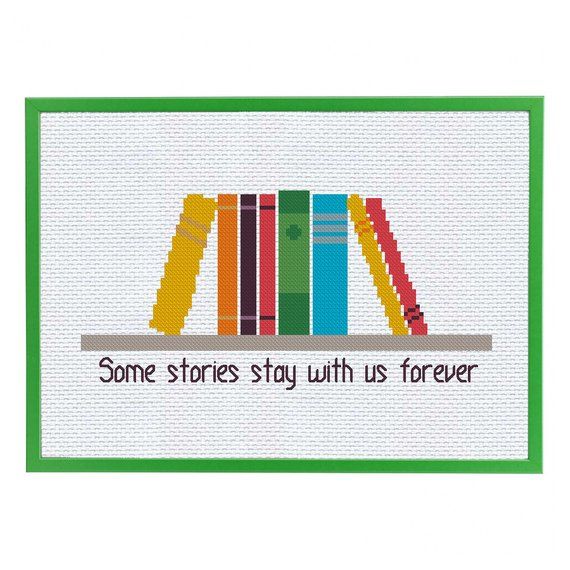 A pattern for those who love holding on to their stories. $3.
Aliens! Space! Robots! This science fiction literary cross-stitch has it all. $6.07.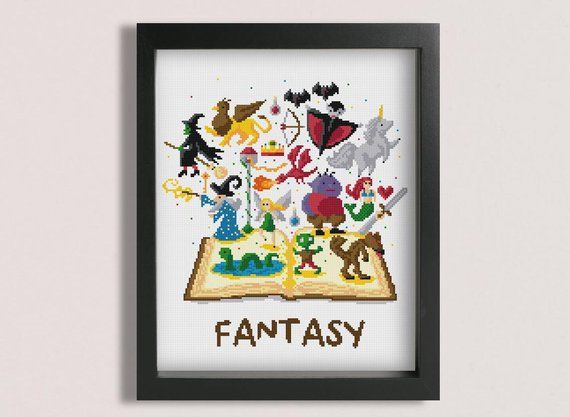 Maybe you prefer a fantasy-themed cross-stitch? $6.07.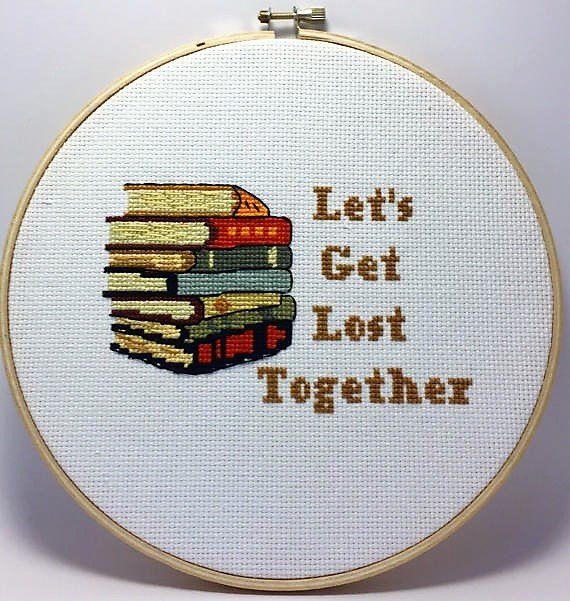 A romantic cross-stitch for book lovers. $7.
Librarians who can't get over the end of Parks and Rec will love this cross-stitch pattern. $3.50.
For the cross-stitcher who wants a challenge, this pattern features old foxed books and uses 39 different colors on the spines alone. $4.66.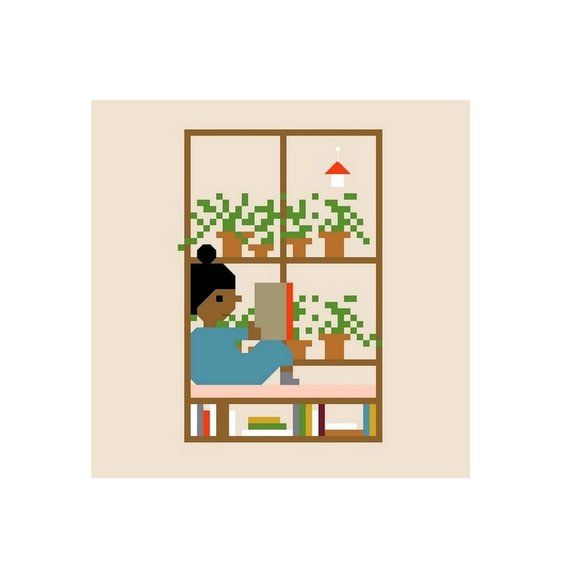 A great starter cross-stitch pattern would be this one, featuring a girl reading in a window. $3.17.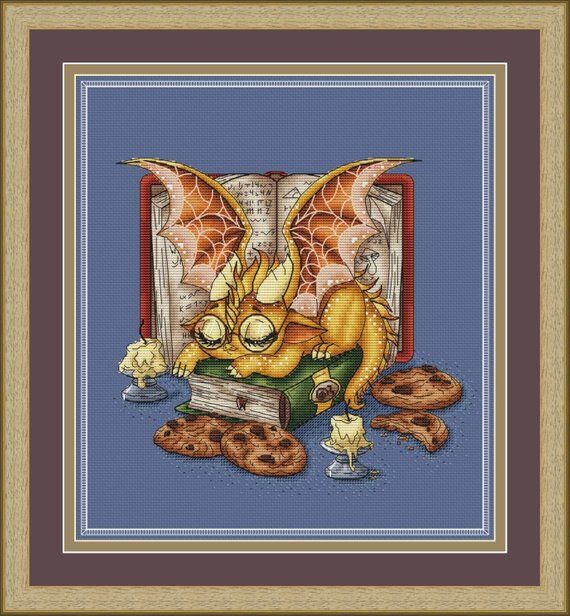 The ultimate fantasy lover cross-stitch. $10.80.
A cross-stitch pattern for all of the Doctor Who fans. $3.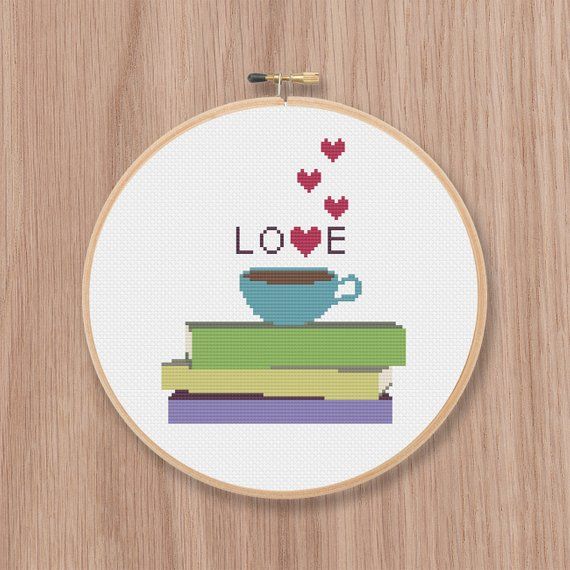 Love is a hot beverage and stack of books. $3.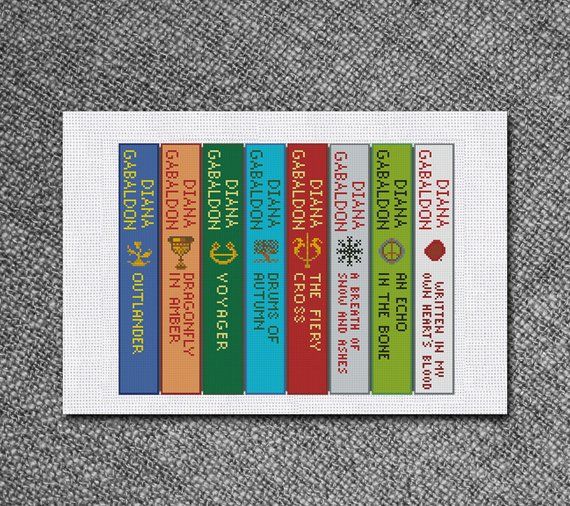 The ultimate cross-stitch for Outlander fans. $5.
This messy bookshelf cross-stitch still manages to have more organized shelves that me. $12.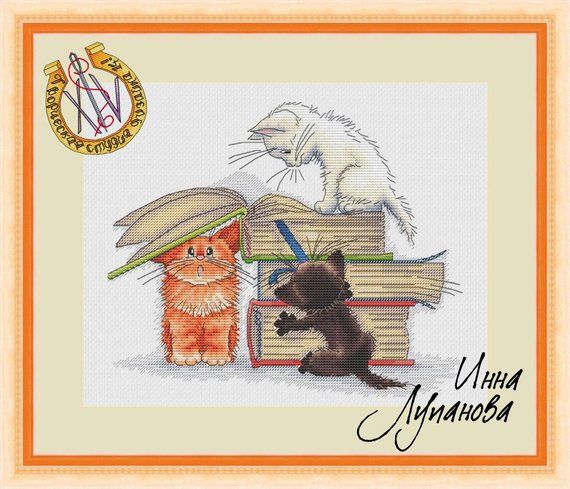 Cats and books, forever getting in trouble together. $9.50.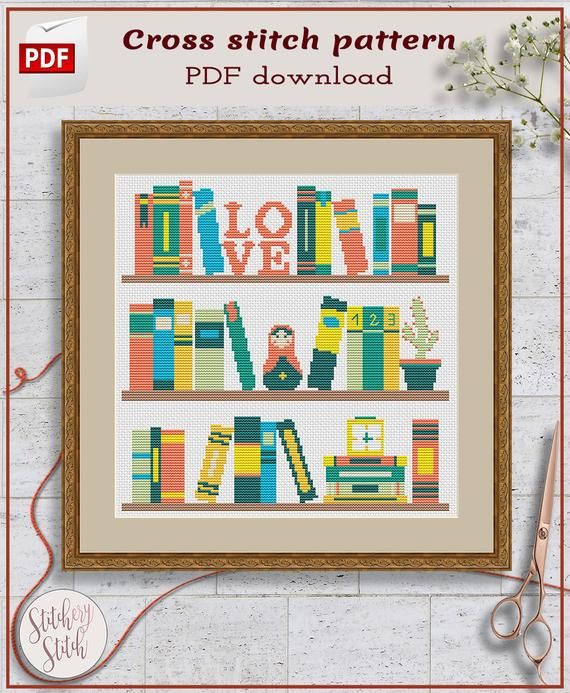 What a bright, fun literary cross-stitch. $5.
For new stitchers, this bookmark pattern makes for an easy introduction to the craft. $1.50.
Guilty as charged. $6.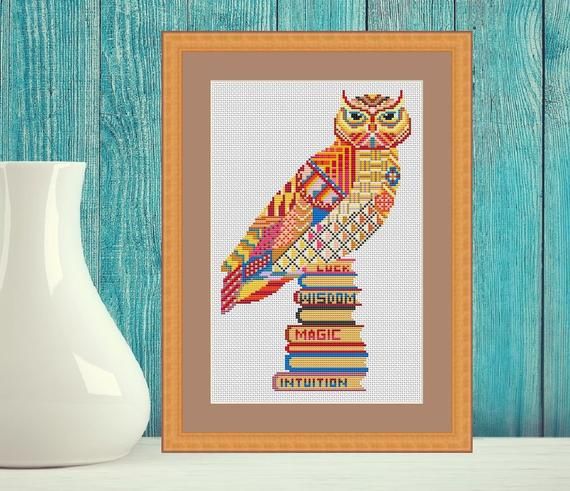 A beautiful owl perched upon a stack of books. $7.19.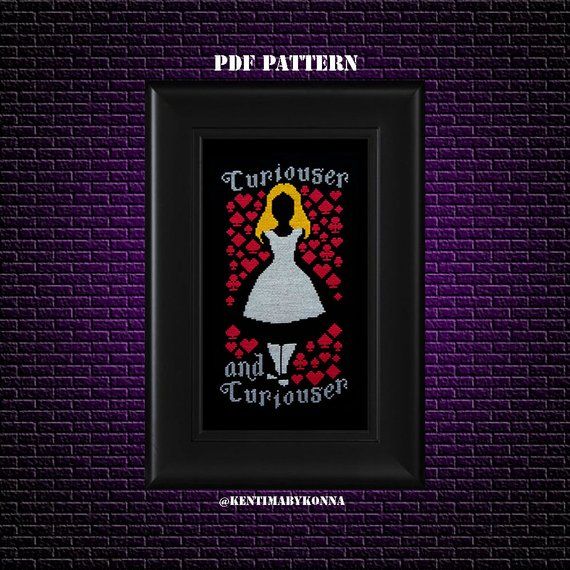 The perfect Alice in Wonderland cross-stitch pattern. $5.50.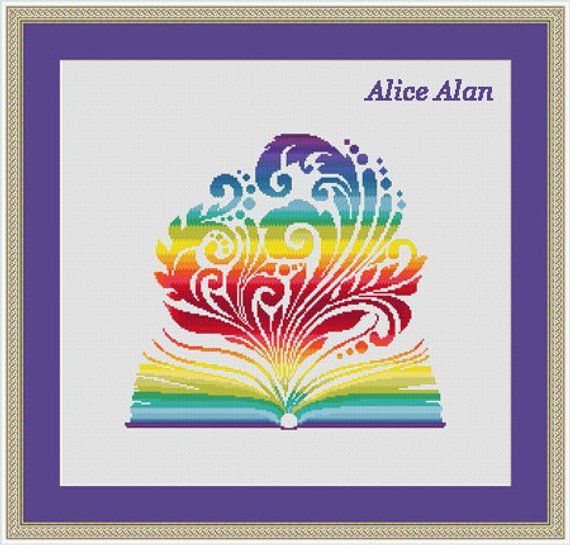 Read the rainbow. $3.85.
Love The Hobbit? Then you'll love this cross-stitch. $7.
Take a trip down memory lane with this cross-stitch pattern of The Pokey Little Puppy. $7.50.
Cats are not easy to cross-stitch around, so the number of homages to cats in these literary cross-stitches is amusing. This one is too cute to pass up. $6.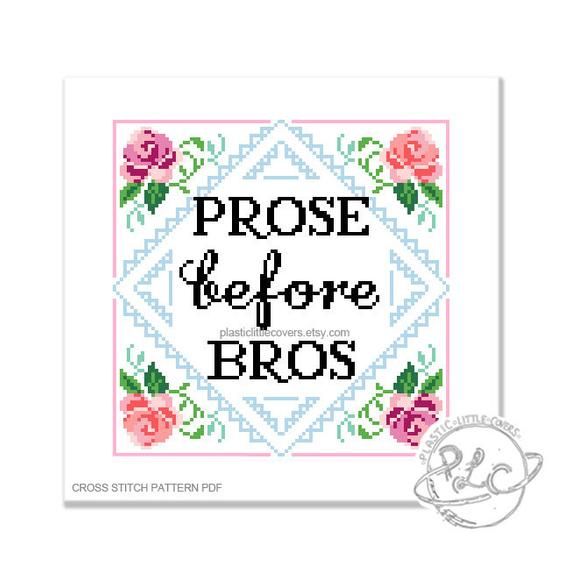 Billy Shakes would love this cross-stitch pattern. $5.
A sweet cartoon style owl cross-stitch. $10.
Make your own book nerd cross-stitch bookmark. $4.50.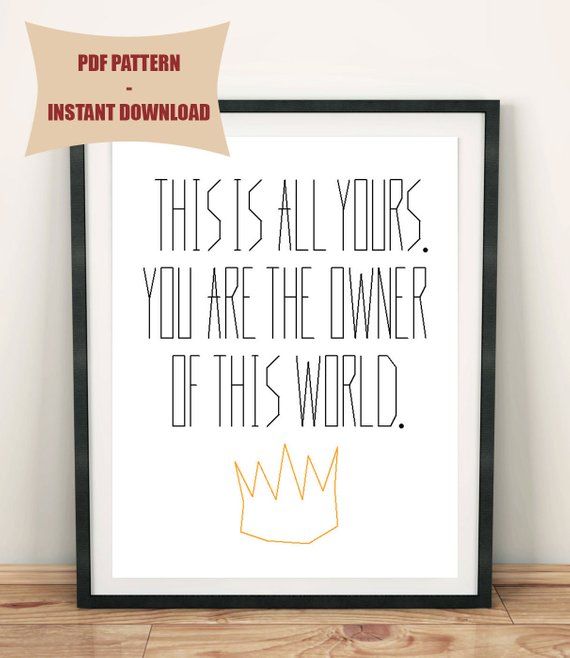 A sweet homage to Where The Wild Things Are. $3.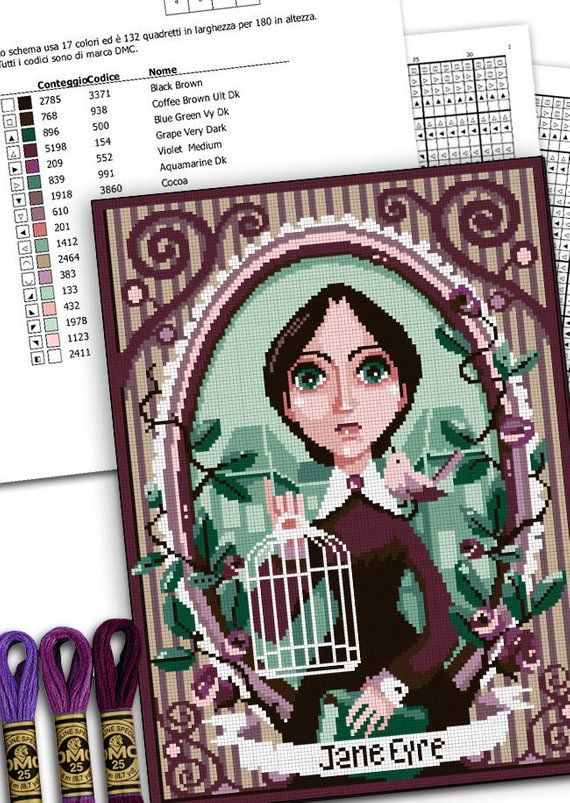 The range of colors on this Jane Eyre cross-stitch pattern are gorgeous. $7.
Don't let the bastards get you down. $4.35.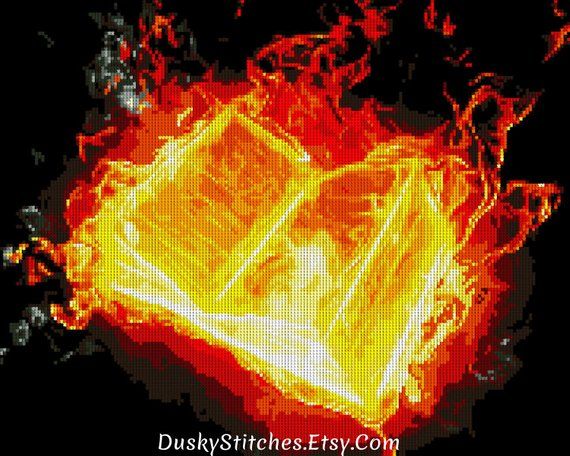 It's not burning books. It's a book aflame with greatness. $5.39.
Relax as you stitch this woman reading in a tub. This would be some great bathroom art. $5.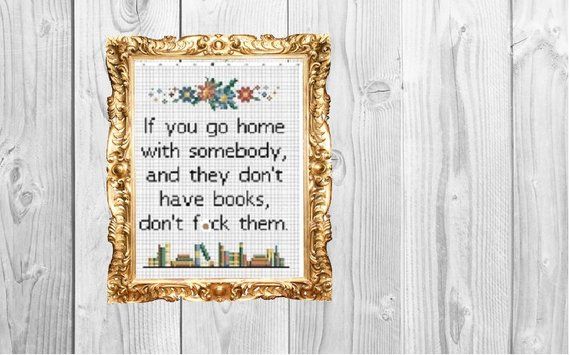 The most perfect literary cross-stitch pattern is the most perfect John Waters quote about the book life. $4.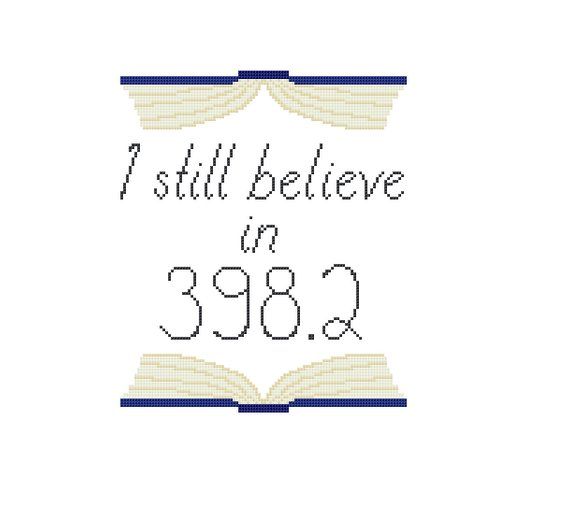 Cross stitch your belief in fairytales. $6.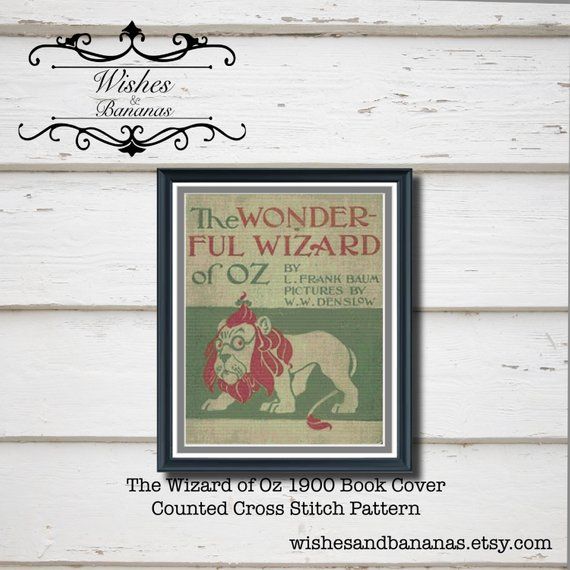 Cross-stitch the 1900 cover of The Wizard of Oz. $7.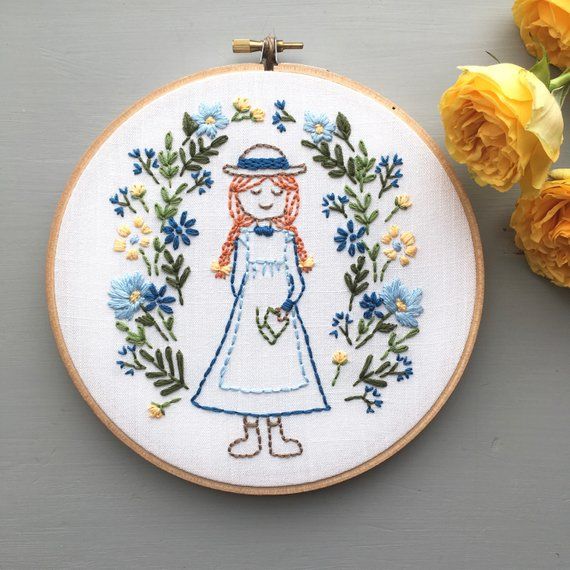 How lovely is this Anne of Green Gables cross-stitch? $6.50.
This cross-stitch is for every Edgar Allan Poe fan. $5.25.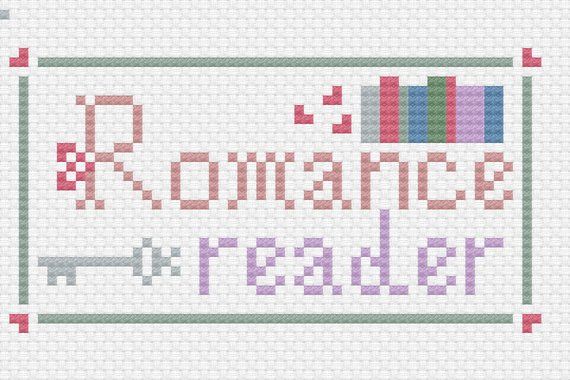 Make a bookmark for your favorite romance reader. $5.
Indeed, every book is an adventure. This is a lovely literary cross-stitch. $6.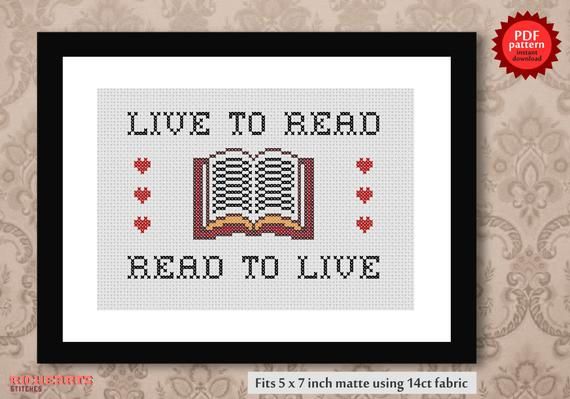 The reader motto. $4.50.
Read more, finger tattoo style. What a great literary cross-stitch. $3.31.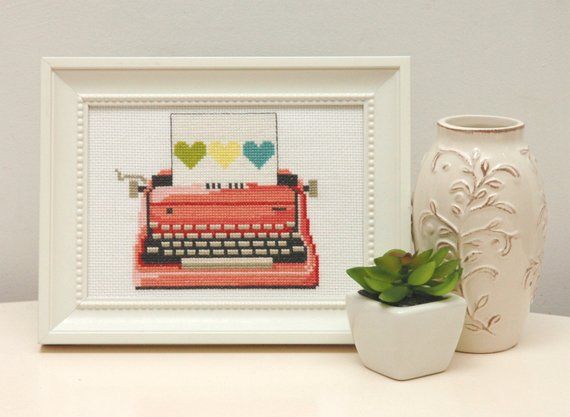 Stitch a lovely vintage typewriter. $6.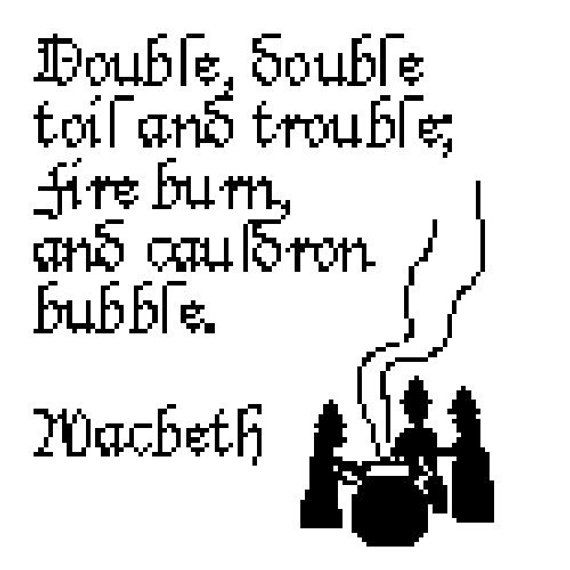 The perfect witchy Macbeth cross-stitch. $5.23.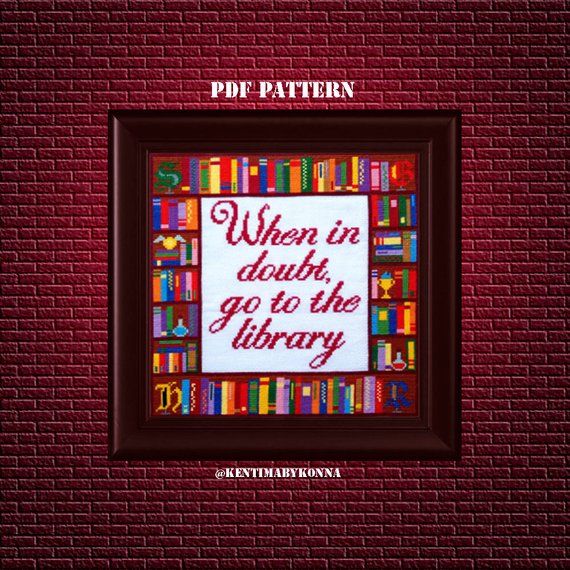 "When in doubt, go to the library." $5.50.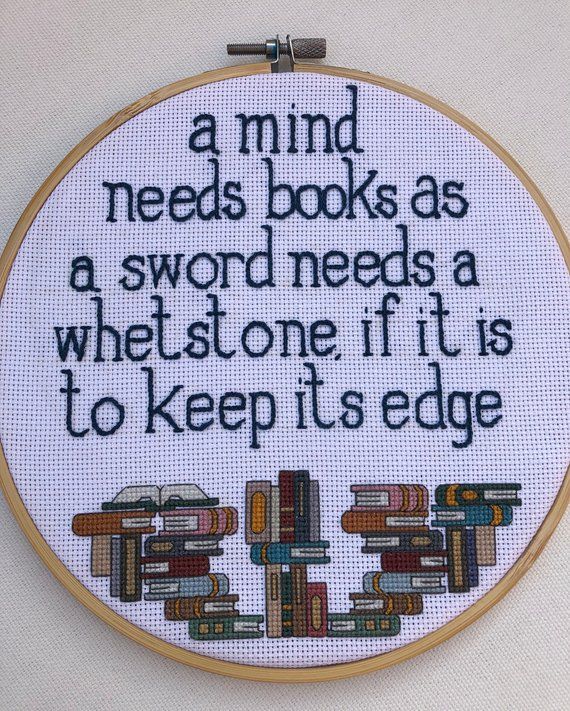 A mind is kept sharp and strong through books. What a great cross-stitch. $4.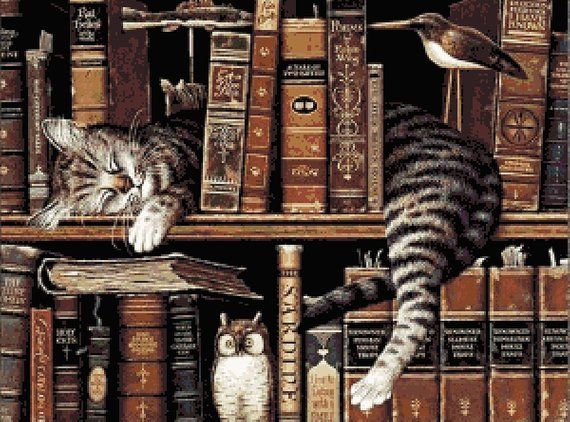 This literary cross-stitch features a cat, an owl, a bird, and books. $5.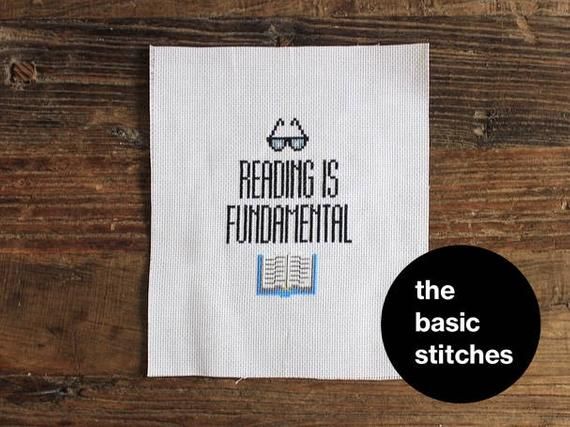 For the beginning cross-stitcher, this "reading is fundamental" cross-stitch is a great place to begin. $4.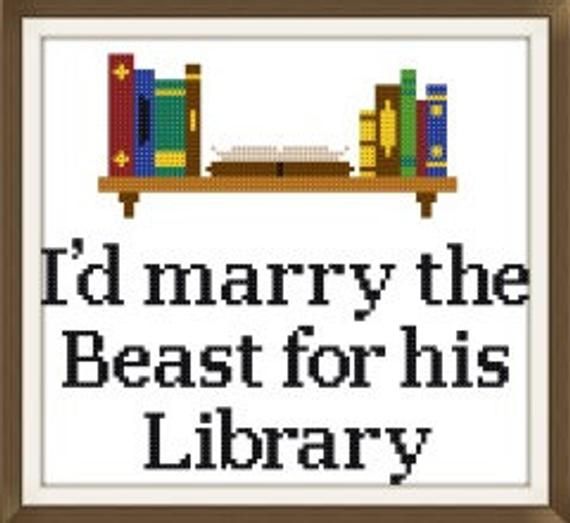 Who wouldn't, though? Beauty and the Beast fans, get stitchin'. $3.16.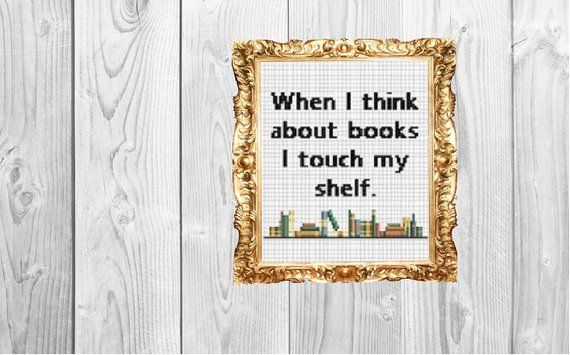 This cross-stitch is too funny. $4.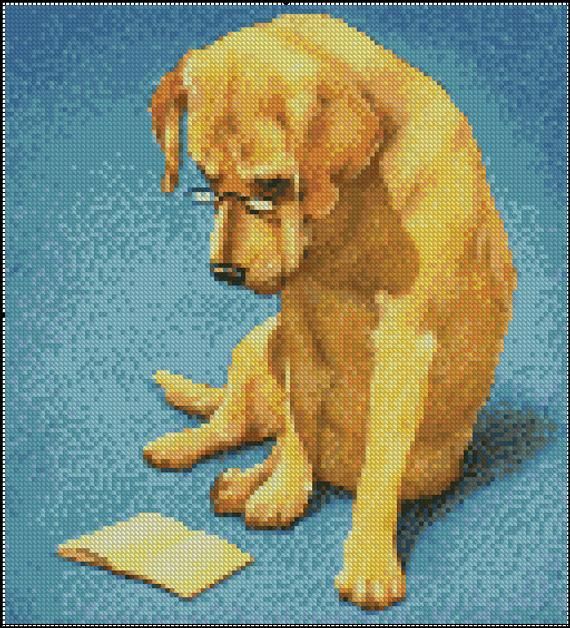 Man's best friend isn't a dog. It's a dog who reads. $4.50 for the pattern.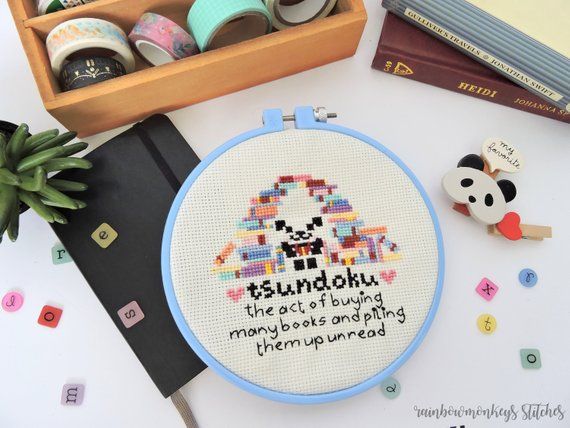 Tsundoku is the word for buying too many books and leaving them unread. Readers relate. This cross-stitch includes an adorable panda.
If you love superheroes and comics, this comic alphabet cross-stitch is up your alley. $10.25.
Want more cross-stitch? Check out the best cross-stitch books, quick cross-stitch bookmarks, and a DIY to making your own cross-stitch Hogwarts House badge.