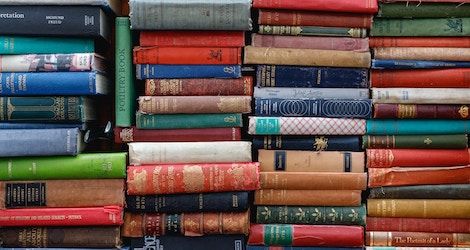 Lists
50 Must-Read Literary Biographies
This content contains affiliate links. When you buy through these links, we may earn an affiliate commission.
I live vicariously through the lives and stories of the writers I love and admire. Sometimes I read biographies of authors whose lives parallel aspects of my own; small lives that eventually produce great art. Lives like Jane Austen and Emily Dickinson, or Penelope Fitzgerald who didn't write her first book until she was 58.
I like to read biographies that share a commonality with my own life, but like the best fiction, I'd rather be transported to worlds with characters that are larger than life. Lives that are tumultuous, scandal-ridden, and full of perils. Lives that are exciting and rich and full of conflict. Lives that produce stories like Native Son, The Bell Jar, Lolita, A Rage in Harlem, or Frankenstein.
I also like to read about the lives of the authors of some of my favorite books—Iris Murdoch and The Sea, The Sea, Philip K. Dick and A Scanner Darkly, Mary Shelley and Frankenstein, Penelope Fitzgerald and The Blue Flower—but this can be a perilous exercise. Some authors were pretty terrible people, which can ruin your perception of their writing. But like most of us, artists and writers lived lives rife with nuance, and through even-handed, well-researched biographies, readers can take a peek into the minds that have created some of the stories we love.
50 Must-Read Literary Biographies
The supposed "American Brontës," the three Peabody sisters influenced the thinking of writers like Thoreau and Hawthorne. The youngest sister, Sophia, married Nathaniel Hawthorne.
After you finish the story of the Peabody sisters and are searching for more stories about American Romanticism and the role women played in the literary scene at the time, pick up Megan Marshall's other book, about Margaret Fuller.
This is a biography of the biographies that have been written about Sylvia Plath. It tries to correct the myth surrounding Plath and Ted Hughes.
Mary Wollstonecraft died a week after giving birth to Mary Shelley, but in many ways, despite not knowing each other, their lives were very alike. A wonderful book about the mother who wrote A Vindication of the Rights of Women and the daughter who wrote Frankenstein.
A Biography of the Chilean poet Pablo Neruda:
"In this part of the story I am the one who
Dies, the only one, and I will die of love because I love you,
Because I love you, Love, in fire and blood."
—from Pablo Neruda's "I Do Not Love You Except Because I Love You"
This is the most recent biography of Frederick Douglass. It's a wonderfully rendered story of a complex and brilliant man who greatly influenced American history.
I'm not a huge fan of Little Women—I find Louisa May Alcott's life much more interesting than her writing.
Genet is the pen name for Janet Flanner, a woman who fled her home in Indianapolis at 30 to live with her girlfriend in Paris in the 1920s. While in Paris, she became a correspondent for the New Yorker.
Audre Lorde did not live a quiet life, and this biography relishes in the myth and power of Lorde as an early black lesbian feminist.
What was it like to be married to the author of Lolita? The story of Vera and Vladimir Nabokov was a love story that spanned 52 years. Stacy Schiff, if you've never read any of her other biographies, is a master.
This has all the bad: racism, sexism, abuse, sexual assault—so I warned you! It's a hard story. I hesitate to call it a romance—maybe there was love, but the relationship between Dunbar and Moore was definitely not stable. This is a relatively short biography, but it certainly packs a punch!
I've always been hesitant to read Jean Rhys's most famous book, Wide Sargasso Sea, because I've always loved Jane Eyre. But recently I picked up Jane Eyre for a reread and I thought, God, Rochester is an ass. Maybe it's time for Wide Sargasso Sea.
Chester B. Himes is probably most famous for his crime noir series the Harlem Cycle, which starts with A Rage in Harlem. Himes was arrested for armed robbery and spent almost ten years in prison, but while in prison his articles were featured in publications like Esquire. Plagued by racism in America, Himes moved to Paris where he became famous for his Harlem series.
Mary Shelley was the daughter of the feminist Mary Wollstonecraft, and wife to the poet Percy Shelley, who drowned when she was only 24. The idea for Frankenstein was born on a stormy night as a group of writers were telling scary stories.
David Leeming was friends with Baldwin for 25 years before writing his biography. This is a wonderful glimpse into the life of one of the preeminent voices of African American literature in the world.
A man who created creepy comics and lived with a horde of cats and thousands of books automatically sounds sounds like the kind of person whose biography I want to read.
Both a poet and visual artist, Mina Loy moved in the most influential circles of her time. She bumped shoulders with Gertrude Stein, Man Ray, and Marcel Duchamp—to name a few.
A great selling point for a biography is when the subject is described as a sexual rebel. I'm also a sucker for a story about a dysfunctional English family, which Rebecca West famously wrote with The Fountain Overflows.
Okay, I'd rather read about the Wollstonecrafts/Shelleys, or the Peabodys, because I think the Brontës are a bit overrated…but like the Plath biography, which was a biography of her biographies, this book tries to demystify the myth that surrounds the Brontës.
Best known for her sexual exploits, diaries, and relationships with leading intellectuals of her time, Anaïs Nin was more than the sum total of her famous idiosyncrasies.
A biography collected from conversations with de Beauvoir, who's best known for her philosophical writing on existentialism and her relationship with Jean Paul Sartre.
A well balanced biography about a woman whose life is as well known as her books; still, you'll find some tidbits in this biography that you've probably never known, and might come to see Woolf in a new light—for better or worse. Hermione Lee is a master biographer.
A writer whose work has seen a resurgence in recent years—Clarice Lispector was born in post–War World I Ukraine, and emigrated to Brazil in her early years. Her writing and life is steeped in mysticism.
It's hard to find biographies about black female writers. Especially writers from the 20th and 19th centuries. Jane Crow was a lawyer, writer, and civil rights crusader. She's an example of a woman we should know more about.
I wish there were more biographies about Flannery O'Connor, the master of the short story. This is a good biography, but I want more.
Four hundred years ago Montaigne wrote The Essays, where he tried to answer the universal question: How to live? This biography explores his questions and answers in a historical context.
A wonderfully in-depth story of Ralph Ellison's life. He was born in 1913 in the south and moved to New York City in 1936. He had a grandiose personality that was sometimes at odds with other writers and politically active intellectuals of his time.
Langston Hughes's life is told in three volumes. The first relates Hughes's early years as he traveled the world.
I own this book. It's HUGE. I bought it after reading Edna St. Vincent Millay's biography in which it is mentioned that Edith Wharton was in Paris at the same time as Millay. But while Millay struggled at times with finances, Wharton was born to privilege.
In high school we had to choose a book from a list of 100 American classics to read every month. Their Eyes Were Watching God was the best book I read from that list. Zora Neale Hurston's life was fascinating.
A Scanner Darkly is a favorite book. A life as strange as the stories he wrote: "It is sometimes an appropriate response to reality to go insane."
This powerful story about the author of Native Son weaves Wright's own writing and quotations into the biography.
There are a lot of biographies of Emily Dickinson, but this is my choice.
Penelope Fitzgerald was nearly 60 before publishing her first book, which makes me love her. She's best known for writing The Blue Flower, The Bookshop, and Offshore.
"Pale Horse, Pale Rider" is one of my favorite short stories. A woman is in bed with a fever during the influenza epidemic, and in her fever she remembers her childhood, and worries about her fiancé who is a soldier fighting in the first world war. The author, Katherine Anne Porter, lived a life that was no less compelling.
Zelda by Nancy Milford
A woman driven mad by her husband's lecherous appropriation of her personality and writing. Confession: I'm not a huge fan of F. Scott Fitzgerald, so it doesn't pain me to discover he was a jerk.
The Sea, The Sea is one of my favorite books. Charles Arrowby is absurd, frustrating, and totally realized as a man coming to the end of his life, but fighting like hell to delay the breakdown into old age. Iris Murdoch at first imagined herself to be the next George Eliot, but ended up embracing Dostoevsky's influence.
Fisher wrote extensively about her own life in memoirs like The Gastronomical Me and How to Cook a Wolf, in which she writes about food and its relationship with life and love.
Alice Walker was the first black woman to win a Pulitzer Prize for her novel The Color Purple. This might be the only biography on the list whose subject is still alive, which brings a new dynamic to the biography.
Your life can't be all rainbows and unicorns if you're writing stories like The Haunting of Hill House and We Have Always Lived in the Castle. This is a biography about the woman, the books, and the times in which they existed.
Li Bai was a Chinese poet who lived a long, long time ago, but whose work and legacy is still greatly revered today in China.
My favorite literary biography. Edna St. Vincent Millay was fashioned as a modern Sappho, and a holdover of Victorian era poets like Elizabeth Barrett Browning. But despite her writing style, her personal life was very modern.
The life of the illustrious war correspondent Martha Gellhorn who reported from the frontlines of most of the biggest wars of the 20th century. A fascinating figure.
Best known for her play A Raisin in the Sun, Lorraine Hansberry counted James Baldwin and Nina Simone as friends. She was a prominent voice in the civil rights movement, she joined one of the first lesbian organizations, and challenged JFK to take a wider stance on civil rights. Why don't we hear more about Lorraine Hansberry more? She died at 34.
To read his books and short stories, it would be easy to imagine that Borges's life could be stranger than fiction. But this biography focuses on the human side of Borges and brings new light to his work and thinking.
Ida B. Wells was an African American reporter who investigated and fought to end lynching in the south. This is the story of a brilliant and fearless reporter, and an indictment against the United States.
I've never read Little House on the Prairie. I prefer reading about the rocky life story of the author behind the books.
Yes, an autobiography. I included it because I don't think anyone should try to retell Maya Angelou's story. Her telling, and poetry, should be the last word.
A biography about the author of the morbid and gothic fairytales like The Bloody Chamber and gothic novels like The Magic Toyshop.
Jessica B. Harris writes about her early life in New York City when she moved in social circles that included James Baldwin, Toni Morrison, and Maya Angelou. A vibrant city, full of vibrant people.
Harriet Jacobs wrote the memoir Incidents in the Life of a Slave Girl, which became the most well-read slave narrative written by a woman. Jean Fagan Yellin expands on Harriet Jacobs life, and the world into which she escaped.
---
Need more? Check out these articles too:
7 Great New Literary Biographies for Your TBR