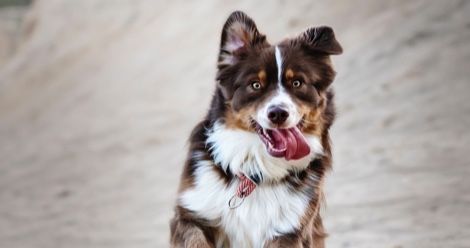 Humor
Who Doesn't Love Literary Animal Puns?
Who doesn't love literary animal puns? No one, that's who. And when they're combined with adorable illustrations? You get We Name Pets!
Based on Kristen Arnett's "If I had a pet…" tweets and Mary Laura Philpott's animal cartoons, the two combined talents to form adorable images of animals with names of authors, musicians, and more. Which is just what everyone's soul needs right now, tbh.
Says Philpott: "Honestly, the world is such a crazy trash fire these days, it feels good to lean into the nerdy goofiness of this little project—and I hope it gives people a moment of delight from time to time. It certainly brings me some joy, especially because I get to work on it with Kristen, who's a genius."
Says Arnett: "Working collaboratively on the pet pun project has been a lot of fun. It's one of the first 'writing' things I've done with another person and it's been really interesting to see how that changes the creative process. The puns started out as just a goofy way for me to blow off steam on twitter (I love to write something needlessly dumb), and when the illustrations were added it just kind of took it to a whole new level. It's been really easy and fun to do it, no pressure, and it's been excellent to see how much people enjoy them. We have a great time working together and I really love seeing what kind of bizarre iterations we churn out. Honestly, it's been a great time! More like hanging out with a buddy than doing any kind of work."
The collaboration was originally featured on McSweeney's (along with a sequel) and the posts are now all collected on Instagram.
I smell a book! Scroll down to see a few of their recent literary animal name posts and to learn more about Arnett and Philpott (both of whom have new books coming in 2019).
"Arnett and Philpott will distract themselves with the work of naming hypothetical pets while both are preparing for their second books to be published in spring 2019. Arnett's novel, Mostly Dead Things, is forthcoming from Tin House (June 2019). Philpott's essay collection, I Miss You When I Blink, will be published by Simon & Schuster's Touchstone Books (April 2019). Both writers also have day-jobs in the book world: Arnett is a librarian and circulation supervisor at the Barry University School of Law Library in Orlando. She writes a column about her library experiences for Lit Hub, and her writing has also run in the North American Review, The Normal School, Gulf Coast, and Guernica, among a bunch of other places. Philpott is a 'book enthusiast at large' for Nashville's local bookstore, Parnassus Books, and founding editor of Musing, the shop's online magazine. She also co-hosts an Emmy-winning literary interview show, A Word on Words, for Nashville Public Television. Her essays have appeared in The New York Times, Los Angeles Times, Washington Post, and more."
(Biography provided by Arnett and Philpott. A big thanks for their contributions to this post!)