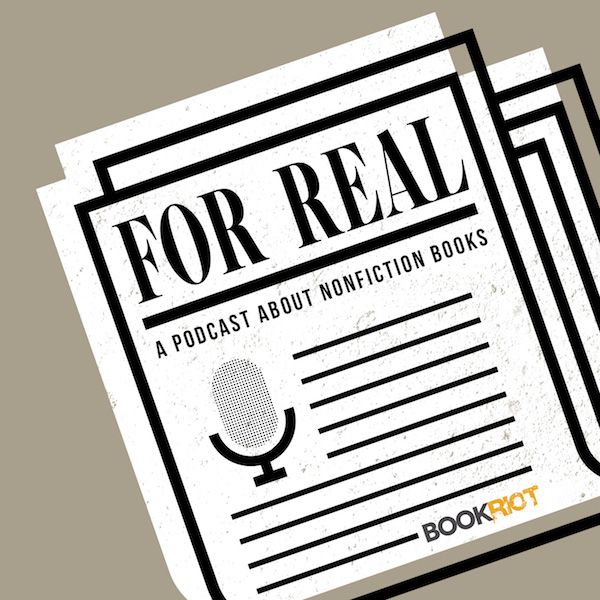 This post contains affiliate links. When you buy through these links, Book Riot may earn a commission.
This week, Alice and Kim discuss arson, mesmerism, and murder in a true crime-themed episode. Find your scary nonfiction here this month on For Real.
This week's episode is sponsored by Are You There, God? It's Me, Margarita by Tim Federle, and The Golden Boy: A Doctor's Journey With Addiction by Grant Matheson. Don't forget to check out Book Riot's new subscription service offering Tailored Book Recommendations for readers of all stripes. Visit mytbr.co to learn more.
FOLLOW UP
Spook: Science Tackles the Afterlife by Mary Roach
Boom Town: The Fantastical Saga of Oklahoma City, Its Chaotic Founding, Its Apocalyptic Weather, Its Purloined Basketball Team, and the Dream of Becoming a World-Class Metropolis by Sam Anderson
NEW BOOKS
The Library Book by Susan Orlean
Invisible: The Forgotten Story of the Black Woman Lawyer Who Took Down America's Most Powerful Mobster by Stephen L. Carter
Noncompliant: A Lone Whistleblower Exposes the Giants of Wall Street by Carmen Segarra
My Squirrel Days by Ellie Kemper
In the Hurricane's Eye: The Genius of George Washington and the Victory at Yorktown by Nathaniel Philbrick
Impeachment: An American History by by Jon Meacham, Timothy Naftali, Peter Baker, and Jeffrey Engel
WEEKLY THEME: True Crime Bonanza
The Red Parts by Maggie Nelson
The Stranger Beside Me by Ann Rule
After the Eclipse: A Mother's Murder and a Daughter's Search by Sarah Perry
I'll Be Gone in the Dark by Michelle McNamara
The Infamous Harry Hayward: A True Account of Murder and Mesmerism in Gilded Age Minneapolis by Shawn Francis Peters
American Fire: Love, Arson, and Life in a Vanishing Land by Monica Hesse
SEGMENT THREE: Short Nonfiction II
Tell Me How it Ends: An Essay in 40 Questions by Valeria Luiselli
My Friend Dahmer by Derk Backderf
Hyperbole and a Half by Allie Brosh
Men Explain Things to Me by Rebecca Solnit
READING NOW
Good and Mad by Rebecca Traister
The Good Pig by Sy Montgomery
In Cold Blood by Truman Capote
EXTRAS