Welcome to the Dear Book Nerd podcast, a bi-weekly show that answers your questions about life, love, and literature! My special guest host this week is the wonderful Amanda Nelson. Amanda and I discuss four listener-submitted questions relating to topics such as reading taste, avoiding distractions when trying to read, what it really means to be a book snob, and decorating tips if you own many books. Don't miss it!
Amanda is the Managing Editor of Book Riot, host of the Get Booked podcast, and writes a TinyLetter on parenting called Madame Ovary. You can find her on Twitter @ImAmandaNelson. Thank you, Amanda!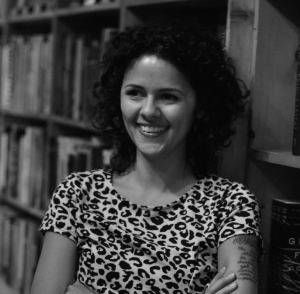 This episode is sponsored by The Reader by Traci Chee and The Call by Peadar O'Guilin.
_______________________________________________
QUESTIONS DISCUSSED:
Dear Book Nerd,
I read a lot, and always have. I love recommendations and I'm certainly willing to try new things. If it's bad, I stop, no great loss. My cousin is a dear lady with terrible taste in books. I've lent her some things she has liked, but in turn she wants me to read stuff like 50 Shades of Gray and Twilight (which I DID suffer through. Never again. ) I tried, I really did. About 3 pages into [book name redacted] the hero's name was something like Rock Hard, I knew I could not go on.
Of course she keeps asking me about them, hoping I like them as much as she does. What can I say that doesn't sound like, your books suck, just read mine?
Adrienne
Dear Book Nerd,
I love to read but keep getting distracted by the internet (either on the phone or computer). Any suggestions on how I can stay focused?
Sarita
Dear Book Nerd,
I have read some books that were very popular at the moment when I choose to read them but when I finish them I find that they didn't live up to the expectation and sometimes I find myself hating the books altogether. Am I turning into a book snob? Does this happen to anybody else?
Renald
Dear Book Nerd,
My books are taking over my house. Any decorating ideas?
Quail Quest
_______________________________________________
LINKS DISCUSSED:
DIY: How to build a bookshelf in a door
Shelf Floor Lamp With Shade (Target)
/10-cheap-bookshelves-actually-pretty-nice/
/coolest-bookshelves-ever-part-uno/
/coolest-bookshelves-ever/
/coolest-bookshelves-ever-part-dos/
/19-rad-bookshelves-home-dream-home/
/9-awesome-unusual-bookshelves/
_____________________________________________________________________
Listen to past episodes and read past columns of Dear Book Nerd here!
And you can subscribe to the podcast via RSS here, or via iTunes here.
The show can also be found on Stitcher here.
Do you have a bookish question about life, love, or literature for Dear Book Nerd? Fill out the form below or email DearBookNerd@bookriot.com. Don't be shy, ask away!
Oops! We could not locate your form.